Art for Radio? Radio for Art? – an artist-led symposium
Can radio be art, rather than just be about art? Is it more than media, as a medium for art; not just a material for making art, but a means to an 'elsewhere,' a beyond? What shapes have artists given to radio as medium and media to bring out its communicative, artistic, and activist potential? How has radio shaped the artists who have explored it, transforming them into channels for radical imaginings?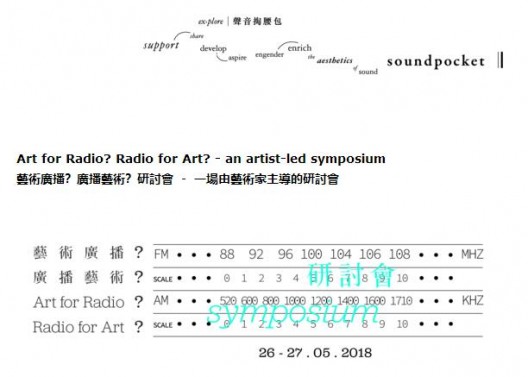 Art for Radio? Radio for Art? symposium is artist-led: all of its programmes have been devised around artists' processes, practices, and inspirations. Through discussions about specific works by artists in Hong Kong, Japan, USA, Canada, and elsewhere, we ask: how is radio as idea, object, and material a source of an artists' creative thinking? How could materials not created for radio transmission be transformed for the purpose of art for radio? Beyond transmission, is radio a medium, device, apparatus, concept, or way of life? Can radio for art, or art for radio, be a cultural action? Can it be a nexus within which not only living audio heritage but also life and art can be activated?
The radio work Ghost, Chicken (2018) will be on view in the conserved holding cell of the former West Kowloon Magistracy, now SCAD-Hong Kong. Created for the occasion of Art for Radio? Radio for Art?, this new collaborative work by artist and art historian Emily Verla Bovino and artist András Blazsek aims to encourage Hong Kong artists to submit proposals for similar interventions in the former holding cell.
* All programmes are free and open to public. Online registration is now open.
>> Artists and Speakers' Biography