CAC Summer Reading Camp: Chthulucene, After Life, Hyperobject
Guest moderator: JIANG Yuhui
Date: July 29–30, August 5–6 & 12–13, 2017
Time: 15:00–18:00
Language: Chinese (with texts/visuals in English and Chinese)
Venue: Chronus Art Center
Address: 18 BLDG, 50 Moganshan Road, Putuo District, Shanghai
Organized by Chronus Art Center
My father is a sculptor. My childhood home is in the woods, and that surrounding has affected both of us very deeply. He said that the presence of the forest is so important to him because it constantly reminds him of eternity, in that silent, indifferent way that nature does. And that for him art is a way of managing his relation to that eternity.
Terike Haapoja
Conceived as part of the public program series, in conjunction with the exhibition "Closed Circuit, Open Duration" by the Finnish artist Terike Haapoja on view at Chronus Art Center from June 3rd till September 3rd, 2017, this CAC Summer Reading Camp 2017 titled "Chthulucene, After Life, Hyperobject" inquires into the fundamental concepts and questions regarding human life and its relation to the environment (including nature-culture, technology, politics, etc.) and especially other, non-human, species in the Anthropocene.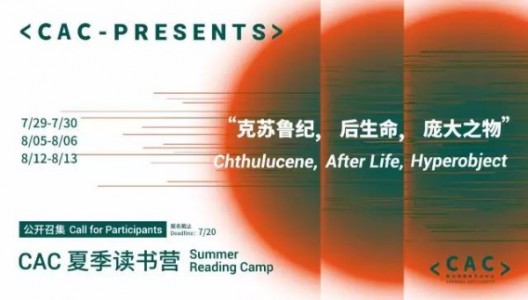 Structured as three sessions, this reading camp will cover three weekends lasting from the end of July till mid-August. For each session, participants will engage specific topics addressed in one book selected as the guiding text for discussions. The authors of these three books are: Donna Haraway, Eugene Thacker, and Timothy Morton. The event will be moderated by our guest philosopher JIANG Yuhui, Professor at the East China Normal University in Shanghai, joined by invited artists and researchers working at the intersection between art, science and technology.
\ Call for Participants /
Roundtable Members:10 /session
Sitting in:  unlimited
< Structure >
| 3 sessions, 1 book each |
7.29 – 7.30, 8.5 – 8.6, 8.12 – 8.13
| 2 days of 3 hours per session | 
15:00 – 18:00
including:reading, introduction, tea break, roundtable dicussion, guest lecturers, performances…
* The language of the Reading Camp is Chinese (with texts/visuals in both English and Chinese ),
foreign speakers are welsome to bring your own interpreter.
< Reading materials >
Session 1
7.29 – 7.30
Staying with the Trouble: 
Making Kin in the Chthulucene
Donna Haraway
Duke University Press (Durham and London, 2016)
Donna Haraway is Distinguished Professor Emerita in the History of Consciousness Department, Feminist Studies Department, Anthropology Department, Environmental Studies Department at the University of California, Santa Cruz, United States. https://en.wikipedia.org/wiki/Donna_Haraway
Session 2
8.5 – 8.6
After Life
Eugene Thacker
The University of Chicago Press (Chicago and London, 2010)
Eugene Thacker is associate professor in the Media Studies program at the New School.https://en.wikipedia.org/wiki/Eugene_Thacker
Session 3
8.12 – 8.13
Hyperobjects: 
Philosophy and Ecology after the End of the World
Timothy Morton
University of Minnesota Press (Minneapolis and London, 2013)
Timothy Morton is Professor and Rita Shea Guffey Chair in English at Rice University.
https://en.wikipedia.org/wiki/Timothy_Morton
Roundtable members will be offered a copy of [Reading Materials] for each session, consisting of excerpts from the original books above. ( Which requires a print fee of 10 RMB per copy )
Feel free to download the digital version of the [Reading Materials] for pre-reading (The materials are for internal exchange only):http://pan.baidu.com/s/1kUDCC4n (password: u5zh)
If you intend to buy the original books, please go to:
1. https://www.dukeupress.edu/staying-with-the-trouble
2 .http://press.uchicago.edu/ucp/books/book/chicago/A/bo9131245.html
3. https://www.upress.umn.edu/book-division/books/hyperobjects
< Open Call Details >
The event is free of charge, while the [Reading Materials] require a print fee (10 RMB/copy, for Roundtable Members only).
For Roundtable Members:Maximum number of participants is 10/session, while all candidates shoud have a basic understanding of the reading materials, and shoud fill in a questionnaire when apply. To sit in:unlimited number.
All participants can sign up for 1-3 session(s).
Click the links below to sign up, the deadline for Roundtable Members is July 20th.
The Roundtable Members will be notified by email/SMS on July 21th.