Design Society, Shenzhen now open
Minding the Digital
December 2, 2017–June 3, 2018
Values of Design
December 2, 2017–August 4, 2019
Nurturing Dreams in Recent Work: Fumihiko Maki + Maki and Associates
December 2, 2017–June 30, 2019
Design Society
Sea World Culture and Arts Center
1187 Wanghai Road
Shekou, Nanshan District, Shenzhen
China
info@designsociety.cn
designsociety.cn
Weibo / Instagram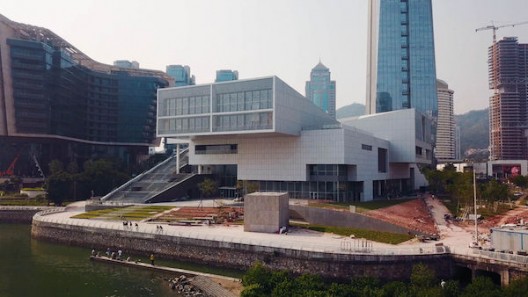 Design Society, China's first dedicated cultural design hub established by China Merchants Shekou (CMSK), was officially inaugurated on 2 December, as was its home venue the Sea World Culture and Arts Center (SWCAC), a 70,000sqm complex, designed by the legendary Fumihiko Maki. Design Society will welcome the public from Saturday, December 2, 2017, with a public program of exhibitions and events over the opening weekend aimed to encourage audiences to engage in the global debate of the power of design.
The new collaborative platform presents the pioneering creativity and spirit of Shenzhen, highlighting innovation and creation which lies at Design Society's core. Encompassing an evolving annual program highlighting all aspects of design, the center presents a thought-provoking experience for visitors, in turn, bolstering China's connection to the rest of the world as a global cultural player. Design Society provides a place to cultivate new talents, nurture and develop design opportunities, while underlining the intrinsic potential of contemporary design in China and beyond.

The opening of Design Society also celebrates the pioneering collaboration between China Merchants Shekou and the Victoria and Albert Museum (V&A) in London, the first of its kind between a Chinese partner and an international museum. The collaboration comprises the provision of professional advice and training; the concept, development and design of a V&A Gallery devoted to international design with the site-specific inaugural exhibition, Values of Design; and in addition, the presentation of two major touring V&A exhibitions.

"CMSK is proud to have established Design Society as an innovative platform to enhance and inspire the design industry in the region and beyond. Dedicated to ongoing urban development in Shenzhen, we aim to continue to provide opportunities and support for the rising level of talent and enterprise here," says Xu Yongjun, General Manager of CMSK.
Ole Bouman, Director of Design Society says: "Today we present a new podium for China to show its creative drive to the world and to nurture its quest for international inspiration. We are excited and eager to present Design Society, as a place dedicated to expanding and enriching the design environment of Shenzhen and China, and to offer a platform to our global counterparts. Through our vast network of likeminded cultural institutions and partners, and our programme of creative events, exhibitions and activities, we welcome and embrace a long-standing discussion and exploration to further enrich our goal to design society."

Tim Reeve, Deputy Director of the V&A says: "The opening of Design Society is a significant moment for Shenzhen, China and the wider design world. I am proud that as a founding partner of Design Society Foundation, the V&A has collaborated with China Merchants Group and colleagues at Design Society to establish this important cultural destination, and that the dedicated V&A Gallery and touring exhibitions will showcase the best of international design. Our world leading curatorial and education experts have also provided the very best training to share skills and deepen research as part of an exchange that benefits us all."