FRIENDS WITH BOOKS
ART BOOK FAIR, BERLIN 2017
[Press Release]
FRIENDS WITH BOOKS: ART BOOK FAIR BERLIN 2017 takes place on the weekend of 22–24 September, 2017, at Hamburger Bahnhof – Museum fur Gegenwart – Berlin as Europe's premier event for contemporary artists' books and periodicals by artists and art publishers. Featuring 160+ international participants and a series of public programmes: discussions, readings, presentations, performances, and art installations that explore the perimeters of today's art publishing. Admission is free.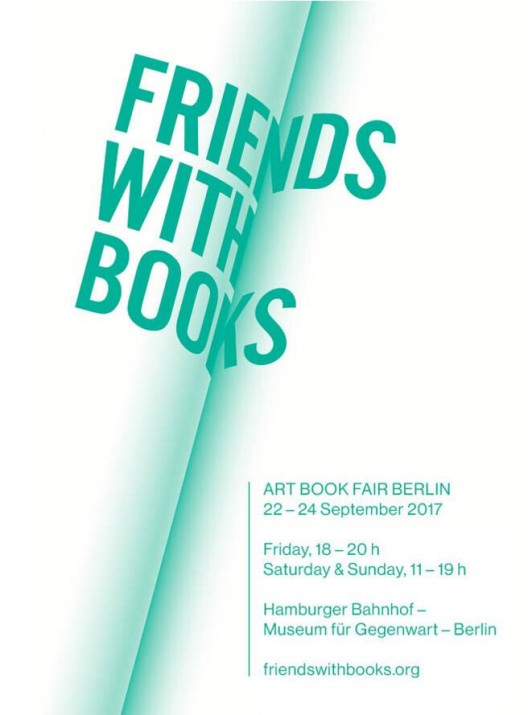 The public programmes series ARE YOU FRIENDS WITH BOOKS…? features lectures, performances, conversations, and panel discussions presented in partnership with Ran Dian: Chris Moore; Archive Books: Gitte Villesen and Jasmijn Visser; Display Distribute: Elaine Ho and Ming Lin; La Plaque Tournante: Frédéric Acquaviva and Loré Lixenberg; Annika Larsson and The Real Housewives of Neuklln; Hatje Cantz: Holger Liebs and Albrecht Kastein; DHL – Drucken Heften Laden: Nikola Richter (Digital Verlag), Janine Sack (A Book Edition), and Simon Worthington (Mute and Hybrid Publishing Group); Edition Taube/edcat.net: Jan Steinbach; Broken Dimanche Press/Vice Versa: Alex Turgeon; and others.
Also featured are a series of curated temporary solo art installations and performances linked with artists' books and art publishing by Caroline Achaintre courtesy of Farbvision; BlackPalm; Karma Clarke-Davis; Display Distribute; Annika Larsson; The Paper Channel;Lorenzo Sandoval; Gitte Villesen courtesy of Archive Books; Robin Watkins; and Loré Lixenberg courtesy of La Plaque Tournante.
The annual FRIENDS WITH BOOKS POSTER EDITIONS by Berlin artists features a new poster edition by Marc Bijl in an edition of 200; additionally, 25 of each edition are signed and numbered and benefit Friends with Books at a special offer of 50 .
FRIENDS WITH BOOKS is organised by Vanessa Adler, argobooks, and Savannah Gorton, Curator. Friends with Books is a registered non-profit organisation founded in 2014offering greater visibility to contemporary artists' books and art publications, including an annual art book fair, public programming, and partnerships with art organisations and institutions, facilitating the engagement of diverse audiences with the book works of artists and publishers worldwide.
WEBSITE: www.friendswithbooks.org
PRESS CONTACT: Marianne Jacquet, MAGIC Ink, pr@friendswithbooks.org