FROM CHINA TO TAÏWAN. Pioneers of abstraction (1955-1985)
[press release]
Curator: Sabine Vazieux
Artists: Chen Tingshih, Chu Tehchun, Chu Weibor, Chung Che, Fong Chungray, Ho Kan, Hsiao Chin, Hsiao Minghsien, Hu Chichung, Lee Chunshan, Lee Shichi, Li Yuanchia, Richard Lin , Liu Kuosung, Tsai Hsialin, Zao Wouki.
Date: 2017.6.15 – 2017.9.24
Venue: Le Musée d'Ixelles (71, Rue Jean Van Volsem 1050 Brussels – Belgium)
Le Musée d'Ixelles presents the large group exhibition "FROM CHINA TO TAÏWAN. Pioneers of abstraction (1955-1985)" on 15th, Jun. The exhibition is on view through 24th, Sep. Tracing the origins and evolution of Chinese abstract painting as it unfolds during the second half of 20th Century, it also tells the epic story of the Chinese artists forced to leave their native country to find refuge in Taiwan in 1949.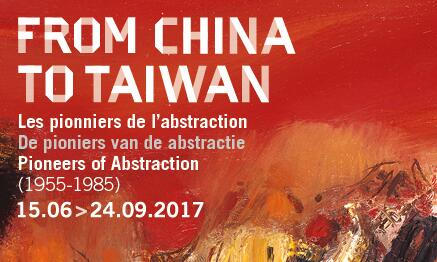 Under the cultural impact of Western countries, the spirit of innovation has grown Taiwanese young artists' mind. The "Tan Fan Group" and the "Fifth Month Group" have come into being. Abstraction was a means for them to become part of the international modernist movement, while expressing their deep cultural roots.
About the Museum
Le Musée d'Ixelles was founded in 1892. Their major collection includes realism, abstraction to contemporary art, through impressionism, neo-impressionism, symbolism, fauvism, expressionism and surrealism. In recent years, the museum has held the Zao Wouki's retrospective exhibition, Nobel Prize winner Gao Xingjian's creative exhibition, and is committed to promoting the exchange of the East and the West. "FROM CHINA TO TAÏWAN. Pioneers of abstraction (1955-1985)" is the first time to retrospect the Chinese abstraction masters' creativity and development in Western world.