GArt is presenting the group exhibition "Event Notes",
featuring artists from China, Taiwan, and Hong Kong
[Press Release]
GArt is proud to present the group exhibition "Event Notes" from October 22 to November 20, 2016. The exhibition will showcase five individual artists and two group art projects from mainland China, Taiwan, and Hong Kong. Their differing artistic attitudes, creative perspectives, and working methods transform the exhibition into an inspiring art event.
Globalization is now entering an awkward phase, which has made us return to local contexts and engage with the self and everyday life, as well as the needs of the individuals and groups that underpin this everyday experience. Here, the issues discussed transcend abstract clichés such as globalism and regional politics; the artists instead look to precise personal experiences. In a sense, these artists use vivid and specific everyday details to re-enact and create another interesting dimension that contains the daily drama of cultural orientation, which they narrate, represent, and condense into physical form before re-introducing it into the audience's field of view. A stretch of road or a market are everyday stages on which the artists encounter and remold themselves, and the unusual objects or scenes they see can be solidified into a kind of calm poetry. In another sense, the artists must abandon all "artistic" themes; Joseph Beuys' statement that "aesthetics = human being" may be boring, but it also removes some unrealistically aestheticized visions. The actions of artists (or anyone for that matter) may be creative, or that is to say, these actions may replace knowledge production. With this exhibition, we juxtapose these different working methods, and while these juxtapositions may be irresponsible, after we accept the consequences, they might lead us to some interesting conclusions.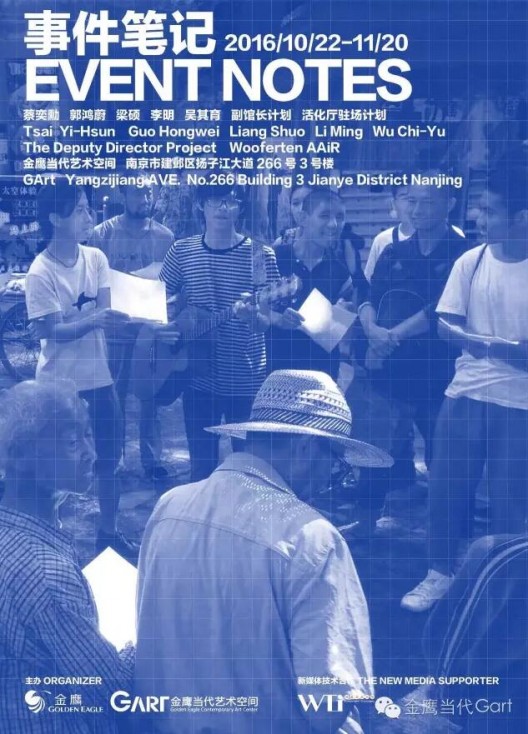 The participating artists and groups include Tsai Yi-Hsun, Guo Hongwei, Liang Shuo, Li Ming, Wu Chi-Yu, the Deputy Director Project, and Wooferten AAiR. The exhibition is curated by Bian Ka. New media equipment and technical support was provided by WTi, a producer of high-end AV solutions from ShangHai. The exhibition was organized by Golden Eagle International Group and GArt. GArt has continually supported the development and presentation of tenacious, intriguing art projects and provided a platform for the public to interact with a diverse range of cultural disciplines.