GEORGE CONDO
Expanded Portrait Compositions
Skarstedt and Sprüth Magers
at the Maritime Museum, Hong Kong
24 January 2018, Hong Kong – Skarstedt and Sprüth Magers are delighted to present Expanded Portrait Compositions, the first major exhibition by American artist George Condo in Hong Kong. Showcasing a brand-new body of paintings and works on paper that have been created by Condo specifically for the Maritime Museum in Hong Kong, the exhibition will be on view for two weeks only, from March 27 through April 6, 2018.
Coinciding with the sixth edition of Art Basel Hong Kong, Expanded Portrait Compositions will be comprised of eight paintings on canvas and five works on paper that display the artist's unique method of integrating myriad techniques of drawing and painting into singular artworks. Incorporating the dynamic speed of action painting as well as the methodical layering of dense pigments in various media, Condo's recent portraits of single and multiple figures present a bold view of humanity in a state of psychological cubism, reconfigured faces and abstracted bodies which exploded out of the picture frame in a chaotic charge of manic energy. Condo's bold gestural lines of oil pigment stick, acrylic and metallic paint and pastel create a tour-de force of painting, an expression that raucously shifts between abstraction and figuration all at once in bold and surprising new ways.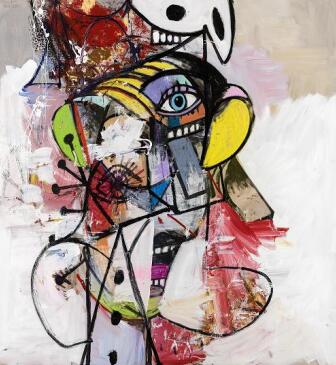 With a recent focus on multiple mediums over the last decade that accentuates the artist's mastery of color and texture, these new works are a true representation of this direction in full force. As his method of picture making has become increasingly complex and daring, Condo's experience with line has altered his portrait paintings: now, the electrified colors and the use of black outline to delineate space and form is noticeably more prominent in these works. In effect, Condo is using the materiality of paint to recreate the immateriality of the human psyche.
The sneering teeth, the purple hair, the contorted faces, the delicately delineated nudes often surrounded by their more lascivious male counterparts, reflect today's ongoing moral morass and social strife within the headquarters of some abandoned alley of human values. The classical faces interrupted by grimacing profiles and the shifting between thick and thin pastel lines with acrylic overlay create a pulsating rhythm across the surface of the canvas, further echoing today's sociological angst. Condo's proficiency as a draughtsman and a painter are evident in the multilayered approach to composition, creating a push and pull between positive and negative space and reflecting positive and negative energies, situating the portrait in a field of psychological activation.
Born in New Hampshire in 1957, the artist moved to New York City in late 1979 and began his professional career as a painter in 1980. Condo was recently the subject of a major retrospective of works on paper titled The Way I Think at the Phillips Collection in Washington D.C, in early 2017, which travelled to the Louisiana Museum of Modern Art in Denmark. In 2016 Condo's work was the feature of a museum-wide exhibition, Confrontation, at the Staatliche Museen zu Berlin – Museum Berggruen, Berlin, curated by Udo Kittelmann.