Guggenheim advances Contemporary Chinese Art Initiative with Appointment of Curators Hou Hanru and Xiaoyu Weng
[press release]
(NEW YORK, NY—August 12, 2015)—The Solomon R. Guggenheim Foundation strengthened its longstanding commitment to the study and support of contemporary Chinese artists with the appointment of Hou Hanru as Consulting Curator, The Robert H. N. Ho Family Foundation Chinese Art Initiative, and Xiaoyu Weng as The Robert H. N. Ho Family Foundation Associate Curator of Chinese Art. Led by Alexandra Munroe, the Guggenheim's Samsung Senior Curator of Asian Art and newly named Senior Advisor, Global Arts, they will work as a team to develop the next two exhibitions scheduled as part of The Robert H. N. Ho Family Foundation Chinese Art Initiative, which was launched in 2013. The next exhibition, a thematic group show of newly commissioned works, will open at the Solomon R. Guggenheim Museum in November 2016.
"We are delighted to welcome Hou Hanru and Xiaoyu Weng, who will move this initiative into its next phase," said Richard Armstrong, Director of the Solomon R. Guggenheim Foundation and Museum. "Their contributions will broaden our curatorial purview as the Guggenheim, through its global arts initiatives, continues to engage with and present the creative achievements and fresh perspectives of artists working around the world. Distinguished by direct commissions of new work, this program relies on a highly collaborative method between the curators and artists. We are fortunate to have such a seasoned global arts curator as Hou Hanru to advance the initiative with Xiaoyu Weng. We are grateful to The Robert H. N. Ho Family Foundation for their inspired dedication to expanding international awareness of contemporary Chinese art and culture."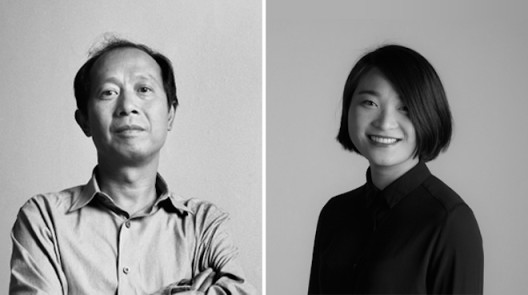 Conceived to enhance and extend the work of the Guggenheim's Asian Art Initiative, founded in 2006 and the first of its kind at a contemporary art museum in the West, this program has allowed the museum to contribute to both Chinese and international scholarship while further developing the Guggenheim's related global arts initiatives. The first exhibition, Wang Jianwei: Time Temple, opened at the Guggenheim in October 2014 and featured a sculptural installation, paintings, a film, and a performance by Wang Jianwei, one of China's leading conceptual artists.
The Robert H. N. Ho Family Foundation Chinese Art Initiative enables the Guggenheim to commission major works from individual artists or groups of artists born in mainland China, Taiwan, Hong Kong, or Macao and presents them in exhibitions at the Guggenheim in New York. An expansive offering of publications, lecture series, education programs, and public interactions with the artists is developed for each exhibition. The commissioned works will enter the Guggenheim's permanent collection as The Robert H. N. Ho Family Foundation Collection.
"We are thrilled that Hou Hanru will join the Guggenheim as a consulting curator to guide our intellectual approach to contemporary Chinese art in an international context. Xiaoyu Weng's scholarship and bold curatorial insight will help realize the potential of this significant exhibition and collections-building project, and will further, in exciting ways, the Guggenheim's engagement in and thinking about the region," stated Alexandra Munroe. "This program, together with our Asian Art Initiative and Guggenheim UBS MAP Global Arts Initiative, is encouraging innovative practices that promote the study and awareness of contemporary global arts and new models for transnational art history."
About the Curators
Hou Hanru
A prolific writer and curator based in Rome, Paris, and San Francisco, Hou Hanru is the Artistic Director of MAXXI, National Museum of the 21st Century Arts, Rome. Educated at the Central Academy of Fine Arts in Beijing in the 1980s, Hou moved to France in 1990, and after a period as an independent curator and critic, he became Director of Exhibitions and Public Programs and Chair of Exhibition and Museum Studies at the San Francisco Art Institute (2006–12). Over the past two decades, he has curated and cocurated more than one hundred exhibitions at institutions and events around the world, including biennials and triennials in Shanghai, Guangzhou, Gwangju, Istanbul, Venice, Lyon, Auckland and Johannesburg. Hou consults for numerous cultural institutions, frequently contributes to journals on contemporary art and culture, and lectures at many international institutions. He is the author of such publications as Curatorial Challenges: Correspondences between Hou Hanru and Hans-Ulrich Obrist (2013), On the Mid-Ground (2012), and Paradigm Shifts (2011). He is also a founding member of the Guggenheim's Asian Art Council, a curatorial think tank.
Xiaoyu Weng
Xiaoyu Weng served as the founding director of the Kadist Art Foundation's Asia Programs, Paris and San Francisco. There, she launched the Kadist Curatorial Collaboration, which organizes exhibitions that stimulate cultural exchange, and she also oversaw artist residencies and the building of the contemporary Asian art collection. Previously, she worked as Program Director of the Asian Contemporary Art Consortium in San Francisco and as a curator at the Wattis Institute for Contemporary Arts at the California College of the Arts (CCA). Educated at the Central Academy of Fine Arts (CAFA) in Beijing and the CCA in San Francisco, she has organized exhibitions and public programs for venues including the Asian Art Museum of San Francisco; CAFA Art Museum, Beijing; Guangdong Times Museum, Guangzhou; Minsheng Art Museum, Shanghai; University of California, Berkeley Art Museum and Pacific Film Archive; Witte de With Center for Contemporary Art, Rotterdam; and Yerba Buena Center for the Arts, San Francisco. She is a contributing editor of Leap, a bilingual magazine dedicated to contemporary Chinese art. Her essay "Working with Archive" won the Artforum Critical Writing Award in 2011. Her writing also appears in prominent art periodicals, books, and exhibition catalogues, including those published for the 5th Auckland Triennial, 2012 Gwangju Biennial, and 7th Shenzhen Sculpture Biennial. As The Robert H. N. Ho Associate Curator of Chinese Art charged with implementing the project, Weng will be based at the Guggenheim Museum, New York.
Collaboration History
The Robert H. N. Ho Family Foundation focuses much of its philanthropy on Chinese and Buddhist visual art and culture, from ancient to contemporary periods. The Guggenheim's Asian Art Initiative explores and presents modern and contemporary Asian art and contributes to the ongoing development of a global curatorial vision for the museum. Through their collaboration, the two institutions have significantly enhanced one another's programs, exploring Chinese contemporary art today and offering an intellectual framework within a global context.
The first exhibition of The Robert H. N. Ho Family Foundation Chinese Art Initiative, Wang Jianwei: Time Temple, was presented at the Guggenheim from October 31, 2014–February 16, 2015, and included seven sculptures, two paintings, one film, and a two-part performance piece. The commissioned works entered the Guggenheim's collection, and editions of Wang Jianwei's film The Morning Time Disappeared (2014) will be donated to the following four museums: M+, Hong Kong; Vancouver Art Gallery; Centre Pompidou, Paris; and MAXXI, Rome.
Over the course of the fifteen week installation, the exhibition attracted almost a quarter million visitors. More than a thousand distinguished guests from China, the United States, and Europe attended the opening events and the culminating performance sold out. Nearly a thousand guests participated in public programs and educational activities organized around the exhibition. Wang Jianwei: Time Temple was organized by Dr. Thomas J. Berghuis, the first Robert H. N. Ho Family Foundation Curator of Chinese Art.
Previously, The Robert H. N. Ho Family Foundation was the lead sponsor of the Guggenheim's 2008 exhibition Cai Guo-Qiang: I Want to Believe and supported the 2009 exhibition The Third Mind: American Artists Contemplate Asia, 1860–1989, both award-winning projects.
The Robert H. N. Ho Family Foundation
Established in Hong Kong in 2005 by Robert Hung Ngai Ho as a private philanthropic organization, The Robert H. N. Ho Family Foundation works to foster and support Chinese arts and culture and to promote a deeper understanding of Buddhist teachings and their application in everyday life. The Foundation supports efforts that make traditional Chinese arts accessible and relevant to audiences worldwide. The Foundation also supports the creation of new works that bring innovative perspectives to the history of Chinese art, and that improve the quality and accessibility of scholarship on Chinese art. Guided by a belief that the insights of Buddhism have a vital role to play in approaching the challenges facing contemporary society, The Robert H. N. Ho Family Foundation has committed substantial resources to expanding the understanding, interpretation, and application of Buddhist philosophy.
The Solomon R. Guggenheim Foundation
Founded in 1937, the Solomon R. Guggenheim Foundation is dedicated to promoting the understanding and appreciation of art, primarily of the modern and contemporary periods, through exhibitions, education programs, research initiatives, and publications. The Guggenheim network that began in the 1970s when the Solomon R. Guggenheim Museum, New York, was joined by the Peggy Guggenheim Collection, Venice, expanded to include the Guggenheim Museum Bilbao, which opened in 1997, and the Guggenheim Abu Dhabi, currently in development. The Guggenheim Foundation continues to forge international collaborations that celebrate contemporary art, architecture and design within and beyond the walls of the museum, including The Robert H. N. Ho Family Foundation Chinese Art Initiative and the Guggenheim UBS MAP Global Art Initiative. More information about the Solomon R. Guggenheim Foundation can be found at guggenheim.org