ISTANBUL'S HISTORIC SHIPYARDS TO BE OPENED UP TO THE PUBLIC FOR THE FIRST TIME FOR THE 16TH ISTANBUL BIENNIAL
The 16th Istanbul Biennial, organised by the Istanbul Foundation for Culture and Arts (İKSV) and sponsored by Koç Holding, running from 14 September to 10 November 2019, is pleased to announce the key locations for this year's programme.
Curated by Nicolas Bourriaud, the 16th Istanbul Biennial entitled The Seventh Continent, will feature the work of more than 60 artists. The full list of participating artists will be announced in June.
The vast 600 year-old Istanbul Shipyards, founded in the natural harbour of the Golden Horn in Istanbul in 1455 by Sultan Mehmet will be the main Biennial location this year, with a series of major art commissions throughout the site.  For over 450 years, the area served as the main construction and repair centre of the Ottoman Navy. In the 16th century, Istanbul Shipyard had the capacity of performing simultaneous construction of 200 ships and was known as one of the largest shipyards in the world at that time. Istanbul Shipyards (Tersane Istanbul) is now the subject of a large-scale masterplan to create new housing, infrastructure and public buildings over the next decade.
In addition to the Shipyards, the biennial will present its programme in two other significant locations in Istanbul: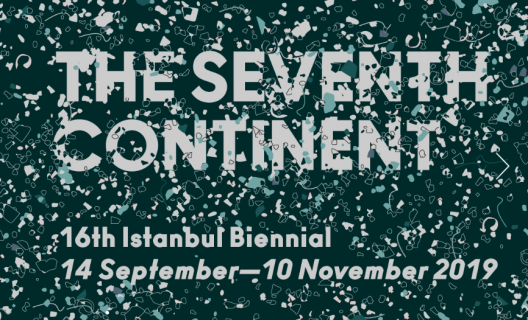 The splendid neo-classical building of the Pera Museum, in the heart of the city, featuring a historic collections of orientalist paintings, Anatolian weights and measures, and Kütahya tiles and ceramics, will be the second venue for the biennial. Just a short walk from the shipyards, the museum will be transformed into an anthropological museum for parallel worlds, a place for fictional archaeology, where artists will reinvent the past.
The third significant location will be Buyukada, the largest of the nine so-called Princes' Islands set in the Sea of Marmara, a short ferry ride from the mainland with a total population of just 7,000 people and featuring the remains of a Byzantine palace and monastery. Buyukada became known as the Prince's Island as a result of its notoriety, history and beauty as early as the 9th century AD.                                            Artworks will be located in houses and old buildings across the island.
Commenting today, Bige Örer, Director of the Istanbul Biennial, said: "We are delighted that we have been able to secure these important and diverse locations for the 16th Istanbul Biennial. Each venue corresponds to a specific aspect of the exhibition, giving the artists an opportunity to create an exciting dialogue with the city to inspire visitors and enrich understanding of the many cultures that the Istanbul Biennial represents."
Media Preview: 10-13 September 2019
Professional Preview: 12-13 September 2019
To apply for media or professional accreditation: https://bienal.iksv.org/en/press/accreditation