Museum 2050
2018 Annual Symposium
Looking to new institutional models
China's cultural landscape by mid century
June 9 -10, 2018
[Press Release]
Call for Papers
Application Deadline: April 1, 2018 (end of day CST)
Location: Long Museum, Shanghai
Recent years have witnessed a dramatic and much-documented rise in museums in China, with the number of private museums having tripled from 277 in 2009 to 864 by 2014. The recent advent of this phenomenon as well as its extensive scope have prevented us from fully understanding its complexity and social implications. What cultural and social impacts will this exponential growth have by mid-century, and how will this growth affect audiences and ideas about existing museum frameworks?
In this inaugural symposium, we seek to critically examine the diverse museum practices in both official and private domains of the Greater China Region. We welcome papers that investigate how institutional frameworks are fostered by the unique social and cultural dynamics at play in China. In doing so, we hope to bring forth discussions to challenge the existing models through which China's cultural development has been considered. By looking at the intersection of these various threads, we seek to reveal the unique audience experience that is emerging in China, offering a particular focus on the complex cultural and temporal dimensions of museum-going and its relationship to sociality and contemplation.
From questions of audience development to examinations of international influence, the symposium will address the unique and unexplored potential at stake in China's developing institutional landscape. What are the implications of institutional innovation on the audience experience in China? What is the impact of China's 'heritage boom' on the future development of museums globally? How do social and structural dynamics come into play when considering funding structures and consequently programming directives? How does private sector support for museums away from first-tier Chinese cities affect the audience experience? What role do museums play in China's soft power objectives? In what ways do Chinese institutions cater to the growing middle class and how are such institutions shaped by these new audiences? What does international interest mean for Chinese
museums? What opportunities does China have for institutional innovation? How can these opportunities best be utilized?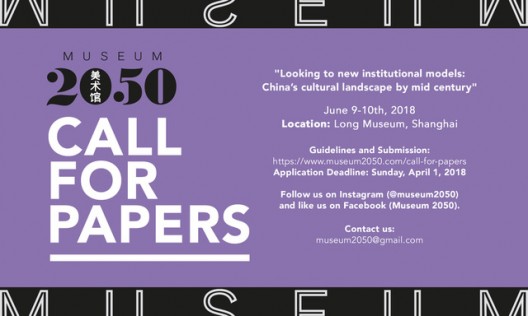 Application Procedure:
The Organizing Committee of Museum 2050 in collaboration with the Columbia Art Business Association is calling for abstract submissions on the theme "Looking to new institutional models: China's cultural landscape by mid century". Our inaugural annual conference will be held in Shanghai, on 9th of June, 2018. We will accept mostly paper presentations but also a limited number of presentations delivered through other media, such as films, music, and performance art.
We invite innovative research on a wide variety of topics that address the intersection of fields including but not restricted to:
- Anthropology, Sociology and Cultural Studies
- Architecture and Design
- Art and Visual Culture
- Education
- History
- Literature
- Media Studies
- Museology
Application file:
All proposals should include a paper title, and an abstract of 250 words in PDF format and may be submitted in either English or Chinese.
To apply, please send all proposals directly via email to by April 1, 2018.
All applications, whether selected or not, will be personally contacted before April 16th, 2018.
**Selected abstracts will be invited to submit full manuscripts for consideration of inclusion in our June panel discussion or parallel special issue publication.
Limited travel stipends are available based on merit. For inquiries, please do not hesitate to email us at museum2050@gmail.com.
Best,
Museum 2050 Committee