Recovering the Social Imaginary—Art, Archives and the Knowledge Commons
[press release]
Speaker: Marysia Lewandowska (Artist-in-Residence at AAA and Professor at CUHK)
2016 Guangdong Times Museum + New Artrends Talk Series 1
Time: 15:30–17:30, January 30, 2016
Venue: Guangdong Times Museum, Times Rose Garden III, Huangbianbei Road, Baiyun Avenue, Guangzhou (Exit D, Huangbian Station, Line 2 of Guangzhou Metro)
(The talk will be presented in English, with consecutive E-C interpreting)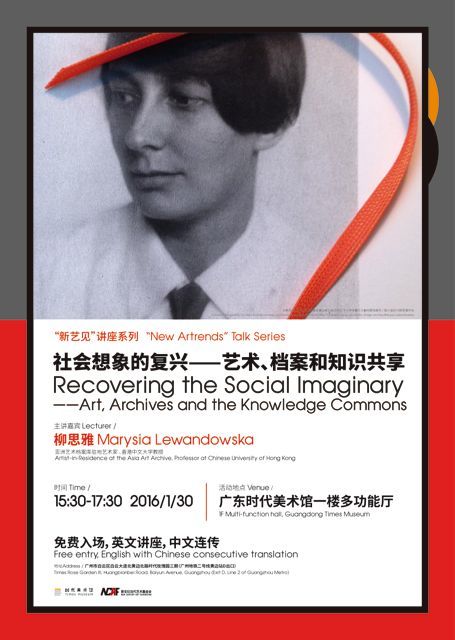 "It is what we have in common not only with those who live with us, but also with those who will come after us."
Hannah Arendt, 1958
Archives, like collections, are built with the property of multiple authors and previous owners. But unlike the collection, an archive designates a territory—and not a particular narrative. There is no imperative, within the logic of the archive, to display or interpret its holdings. There is a creative potential for things to be brought to the level of speech, as they are not authored as the curator's narrative or someone else's property. In the archive interpretations are invited, which might be the reason why many artists are interested in responding and activating materials contained within them.
Ownership is a central concern for a contemporary archival practice. After all creativity is never solely the product of a single author, it always owes debts to the inspiration and work of others, whether they are writers, artists, teachers, lovers or friends. Art practice as a fusion point of these singularities cannot survive in a social nothingness. All ideas depend upon the social life, and it is the values that we associate with public life that ensure their longevity, relevance or extinction. During the year-long residency at the Asia Art Archive in Hong Kong, Marysia Lewandowska's efforts have centered around exploring the notion of the public realm both as conceptual construct as well as through investigating historical and contemporary complications in building vibrant public institutions in Asia; Institutions committed to establishing a critical forum open to debate while encouraging a wider participation in creating cultural values beyond spectacle of consumption. Her interest continues in identifying alternatives in the production of art culture appreciating differences connected to specific local conditions.
She proposes the museum to be seen as a contemporary production site with the archive as its engine. The force of the archive moves in the direction of the past, of what has been stored and captured, and I insist on looking towards its future as a place of recovery, of potentiality, of the social imaginary.
About the Artist:
Marysia Lewandowska is a Polish born artist based in London since 1985 who through her collaborative projects has explored the public function of archives, collections and exhibitions. She has been collaborating with Neil Cummings between 1995 and 2008. The Value of Things (Birkhauser/August 2000). Her works include Capital (2001) Tate Modern. Enthusiasm (2004-2006) CCA Warsaw, Whitechapel Gallery, London, Kunst-Werke, Berlin, Tapies Foundation, Barcelona; Screen Tests (2006) The British Art Show. Generosity Broadcasting House (2006) Kunsthaus Graz; Post-production (2008) Manifesta Bolzano; Museum Futures: Distributed (2008) Moderna Museet, Stockholm; Tender Museum (2009) Muzeum Sztuki, Łódź; Women's Audio Archive (2009); How Public is the Public Museum? (2010) Moderna Museet, Stockholm; Open Cinema (2012) with Colin Fournier, Guimaraes European City of Culture (2013); Architecture Triennale, Lisbon (2014); Shanghai Exhibition Histories Dictributed Osage Foundation in Shanghai (2015); a new film Triple C. Editing the Century for the Vienna Biennale at the Museum Angewandte Kunst (MAK). Her solo exhibition Re-Negotiation was at Artspace, Auckland, NZ. Forthcoming is Unlimited Edition project celebrating 40 years of the Institute of Modern Art (IMA) in Brisbane, Australia. She is co-editor with Laurel Ptak of Undoing Property? (Sternberg Press 2013). Currently she is an Artist–in-Residence at the Asia Art Archive and Professor at Chinese University of Hong Kong.
Artist as Visitor/Collector
——2016 Guangdong Times Museum + New Artrends Talk Series :
Curated by: Nikita Yingqian Cai
Cooperated with New Century Art Foundation, Guangdong Times Museum holds "Artist as Visitor/Collector — 2016 Guangdong Times Museum + New Artrends Talk Series" in 2016. The Talk Series focuses on how artists respond to different political, economic and cultural context as well as institutional histories and structures, by creating not just artistic proposals or site-specific projects, but also by shifting their own roles from detached visitors to agents who observe, collect and intervene with social phenomena, cultural events and political issues with discrepancies. Instead of adopting the conventional mode of "production-display", more artists tend to transfer these visits into opportunities of social investigation, information collection and cultural research in order to break away from the perspective of the Other as a cultural visitor and producer. Most of the speakers of this talk series are emerging/mid-career Chinese artists who have participated in international programs and exhibitions. They will share their own trajectories of art practice by reviewing their experiences as "visitor/collector" in various platforms. International artists who have been living or working temporarily in the Pearl River Delta are also invited to put forward their own research perspectives and projects about the rich yet complicated geo-political landscape.
Founded by art collector Wang Bing in early 2014, New Century Art Foundation (NCAF) aims to study and promote Chinese contemporary art. NCAF provides support for Chinese contemporary art outside of the existing art ecology. Through observation, research, and collaboration, NCAF offers multiple platforms to promote the work of young artists.
Current exhibitions and projects:
Redefine: Multiple Perspectives and Possibilities in Network
2015.12.13——2016.1.31
Open Lab: Chinese and Japanese Garden
2015.12.13——2016.1.31
Chain of Smell Molecules: Times Museum Art on Track
2015.11.22——2016.3.27
For more updates and further information, please subscribe to Times Museum wechat account, or closely follow our Sina Weibo, Douban and official website.