The Best Story-Teller from the UK – Ryan Gander China Premiere to be presented at Cc Foundation in March 2017
Ryan Gander, one of the most acclaimed contemporary artists from the UK, will have his first solo exhibition Human / non Human / Broken / non Broken in China in March 2017. Presented by Cc Foundation, in collaboration with Lisson Gallery, the exhibition will feature new sculptures and a site-specific installation conceived specifically for the gallery space in Shanghai.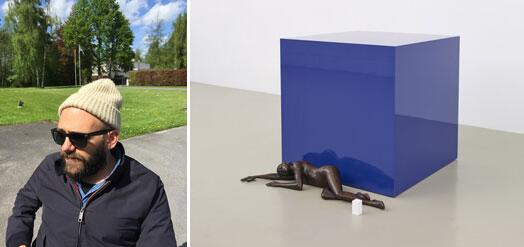 Born in 1976, Gander is one of the most productive artists in the UK and his practice covers a wide range of media including installation, sculpture, photography and publications. His ingenious use of materials and penetrating creativity have earned him wide attention from the global art scene. Recent solo exhibitions have been held at the Australian Centre for Contemporary Art (Melbourne, Australia), Solomon R Guggenheim Museum (New York, USA), Ikon Gallery (Birmingham, UK), the Stedelijk Museum (Amsterdam, the Netherlands) and the major international touring exhibition Make every show like it's your last. Gander has also shown in group exhibitions at the Shanghai Biennale, Documenta, the Venice Biennale and the Sydney Biennial.
Gander's complex and unfettered conceptual practice is stimulated by queries, investigations and what-ifs, rather than strict rules or limits. For example: what if children were asked to reassemble the wood pieces originally constructed as Crate Furniture designed by Gerrit Rieveld (Rietveld Reconstruction, 2006)? What if all the pieces in a chess set were remade in Zebra Wood, so that neither side was entirely black nor white (Bauhaus Revisited, 2003)?
Recognised as a cultural magpie in the widest sense, Gander polymathically taking popular notions apart only to rebuild them in new ways. Language and narration play an overarching role in his work, not least in his attempt to slip a nonsensical, palindromic new word "mitim" into the English language. He is a keen observer of human beings and their life, which makes him a "story-teller", his works, vehicles of these stories, and his audience, the readers of the stories. According to the artist, good art allows audiences to enter it from different angles and in different manners. Occasionally his ludic concepts drift into more bodily, relational challenges, which can be seen in his work This Consequence of 2006, that involved the unsettling presence of a gallery owner or invigilator dressed in an all-white Adidas tracksuit, with an additional sinister red stain embroidered into the fabric.
Invitation and collaboration are also at the heart of Gander's fugitive art – whether he is exchanging fictionalised newspaper obituaries with an artist friend or taking pictures of people looking at pictures at an art fair – although arguably every solipsistic action he takes merely holds up yet another mirror to his ceaselessly voracious mind.
In March 2017, Cc Foundation in collaboration with Lisson Gallery, will present the very first solo exhibition of the artist in China. The exhibition will offer audiences in China the opportunity to experience Ryan Gander's intriguing and charismatic art.