The Opera
by Varvara Shavrova
[release]
At MOMENTUM
Kunstquartier Bethanien
Mariannenplatz 2, 10997, Berlin
www.momentumworldwide.org
20 – 30 April 2016
Opening Hours: Wed – Sun, 13.00 – 19.00

Brunch Finissage 30 April @ 13.00
Matryoshka:
Layers of Transformation in Peking Opera
From Gender-Bending to Science Fiction:
How Contemporary Artists Look at Traditional Chinese Opera.
Brunch and Artist's talk with Li Zhenhua & Varvara Shavrova.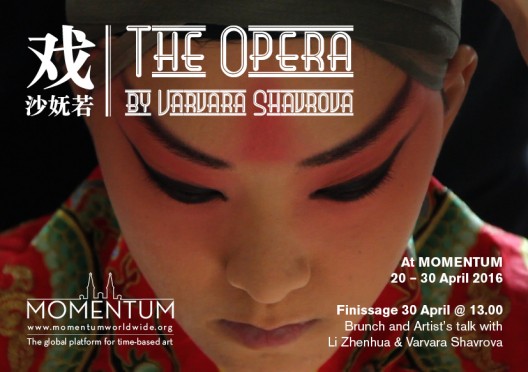 The Opera
Originally commissioned as a multi-channel video projection for the Espacio Cultural El Tanque, an empty oil tank in Tenerife, and subsequently shown at the Venice Architecture Biennale 2014, The Opera is an insight into the fragile world as well as social and human aspects of the Peking Opera, one of the most revered cultural heritages of the Chinese national scene.
The work focuses on the transformation of the Peking Opera artists from male to female, and from female to male. Although they are admired by society as artists, their true identities and personal hardships cannot be lived out openly. Looking into the archaic and often utopian world of Chinese opera, Shavrova investigates issues of personal identity, sexuality and gender bending as they are manifested by both traditional and contemporary culture in modern day China.
Balancing moments of pure visuality with the austere formal movement codes of traditional choreography, the video underscores the striking avant-garde qualities of this most traditional of art forms.
The Opera is accompanied by a specially commissioned music score written by the Beijing based composer Benoit Granier, that incorporates elements of traditional Chinese and contemporary electronic music.
Varvara Shavrova
 Varvara Shavrova was born in Moscow and studied fine art at the Moscow Polygraphic Institute. After 15 years in London, she moved to Beijing, where she lived and worked for over five years. Now based in Dublin, Shavrova has shown in numerous public institutions and has curated significant exhibitions in Russia, China, Ireland and the UK. Her work is in many important public and private collections worldwide.  The Opera projection in Berlin is supported by Culture Ireland.
Li Zhenhua
Li Zhenhua is a Beijing/Zurich-based multi-media artist, curator, writer and producer for international and Chinese contemporary culture. Li Zhenhua has been active in the artistic field since 1996, his practice mainly concerning curation, art creation and project management. Since 2010 he has been the nominator for the Summer Academy at the Zentrum Paul Klee Bern (Switzerland), as well as for The Prix Pictet (Switzerland). He is a member of the international advisory board for the exhibition "Digital Revolution" at the Barbican Centre in the UK in 2014, received as member of the international advisory board for Videotage and Symbiotica in 2015. Li Zhenhua has edited several artists' publications, including Yan Lei: What I Like to Do (Documenta, 2012), Hu Jieming: One Hundred Years in One Minute (2010), Feng Mengbo: Journey to the West (2010), and Yang Fudong: Dawn Mist, Separation Faith (2009). A collection of his art reviews has been published under the title Text in 2013. He is the founding-director of Beijing Art Lab, a virtual and physical platform for art, research, and exchange, as well as of co-founder of Chronus Art Center, Shanghai. He is currently head-curator of Art Basel Hong Kong's Film section (2015-16) and many other international initiatives.