Time_Art_Impact Dialogue #10
Time_Art_Impact Dialogue #10



The Contemporary JesterHumor,
satire and role-play in Doug Fishbone's politics of mass-media representation

Doug Fishbone in dialogue with Shen Qilan
22th March 2015
19:00
At MINSHENG ART MUSEUM, Shanghai
China, Bldg.F/570 West Huaihai Rd. 200050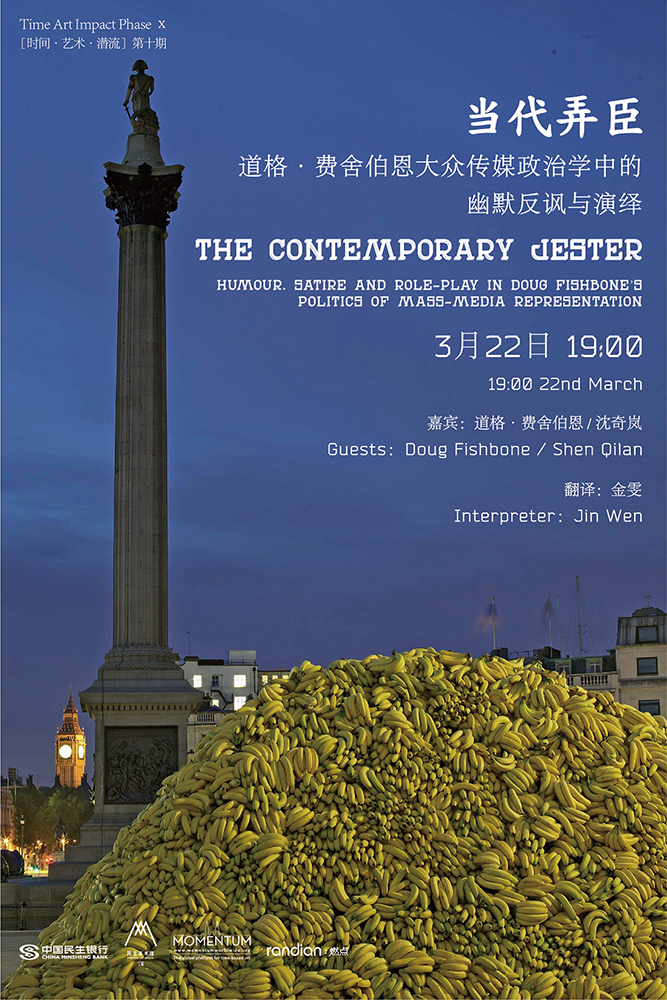 MOMENTUM Berlin and Minsheng Art Museum Shanghai are proud to present the collaborative project: Time_Art_Impact, a year-long education program of dialogues between media artists from the MOMENTUM Collection and key figures from the Shanghai art scene. Time_Art_Impact is the inaugural program of the new Media Library at Minsheng Art Museum, which will use the MOMENTUM Collection of international video art as a basis for a series of monthly cross-cultural dialogues via live-stream between Berlin, Shanghai and the rest of the world.
More information about the project here.
Read about the event on the MINSHENG ART MUSEUM web-site here.
ABOUT DOUG FISHBONE
CV – Website – Douge Fishbone in MOMENTUM Collection
Doug Fishbone, an American artist based in London, often uses satire and humor in his films, performances and installations to critically examine consumer culture, mass media, relative perception and context. His work frequently forces the viewer to confront his-or-her own interpretive backgrounds. By combining a variety of found images from Google Image Search, Fishbone illustrates and undermines his own confrontational, repulsive and funny monologues on contemporary media and its corollary, the underground and avant-garde.
Fishbone is best known for his project 30,000 Bananas, a mountain of ripe bananas installed in the middle of London's Trafalgar Square and later given away to the audience for free. In 2004, his work was included in the British Art Show 6, a national touring exhibition held every five years in celebrate of the best of contemporary British art. Fishbone had his first major solo project at Gimpel Fils in London in 2006, and he performed at the Hayward Gallery in 2007. He has since performed live at the ICA, exhibited at Rokeby, London, Tate Britain, the 2008 Busan Biennale and in Switzerland, Japan and Korea. He was heralded as one of the art world's "Future Greats" by Art Review magazine.
Most recently, Fishbone has recently produced a feature-length action film, Elmina, that connects two vastly different audiences of the Western art world and the African home video market. Filmed in Ghana with major Ghanaian celebrities, the movie's only artistic intervention is the insertion of Fishbone, a white American artist, as the lead role in a completely African production. The work fully adopts Ghanaian film making conventions, taking advantage of the shared language used and the low cost structure of the Ghanaian home video industry. In this new project Fishbone continues to examine the complex relationship between perception and reality and the politics of representation while simultaneously asking wider questions about race, globalization and notions of a shared visual language. (Rokeby Gallery, London).
Born in New York in 1969, Fishbone earned an MA in Fine Arts at Goldsmiths College in 2003 and was awarded the Beck's Futures Prize for Student Film and Video in 2004.
COMMUNISM (2008)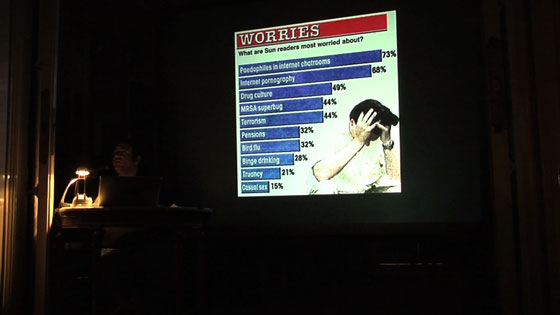 A documentation of a performance lecture, Communism uses found and open source images to illustrate Fishbone's essays on contemporary culture. Part stand-up performance, the work is in ongoing production, with MOMENTUM and Fishbone in collaboration on a future live performance. It was donated following its exhibiting in MONETUM's inaugural benefit show in Berlin.

ABOUT WU GUANJUN
Guanjun Wu is Professor of Political Theory in the Department of Politics at East China Normal University (ECNU), Shanghai, China. He also serves as Vice President of Department's Academic Board and Executive Editor-in-Chief of ECNU Review. He is the author of a number of books including The Great Dragon Fantasy (2014), The Eleventh Thesis (2014), The Philosophy of Living Together (2011), The Hauntology of Love and Death (2008), The Perverse Core of Reality (2006), and Multiple Modernities (2002).
Read about the event on MOMENTUM web-site.