Torrent: Magazine for Source Material by Artists
Edited by Linda Jensen and Daniel Kurjaković
With new contributions by Berni Doessegger, Sam Durant, Mariah Lookman, Adam Vačkář and Peter Voss-Knude.
Torrent magazine focuses on source materials by artists. The source materials include diverse types of documents constitutive of the artistic processes, and comprise preparatory materials such as project sketches, screenshots, newspaper articles, storyboards, photographs or diagrams, and many more.
Torrent magazine examines how these previously unpublished documents come to represent the circumferential sphere around conceiving and realizing works. The source materials hint at procedures, subtexts, informational noise, or potential extra-narratives of artistic practice.
Issue no. III (Winter 2015) features:
- Swiss writer Berni Doessegger on the museum, cultural forms of death and on de-revolutionizing art
- American artist Sam Durant on alternative futures and the Asian-African Conference of 1955 in Bandung, Indonesia
- Pakistani artist and researcher Mariah Lookman on the image of the body, geometrical theory, Arab arithmetic, observations of poets and the difficulty of translation
- Czech artist Adam Vačkář on the deep sound of history, synesthesia and family lineages in Eastern Europe
- Danish artist Peter Voss-Knude on power structures and male relations in the military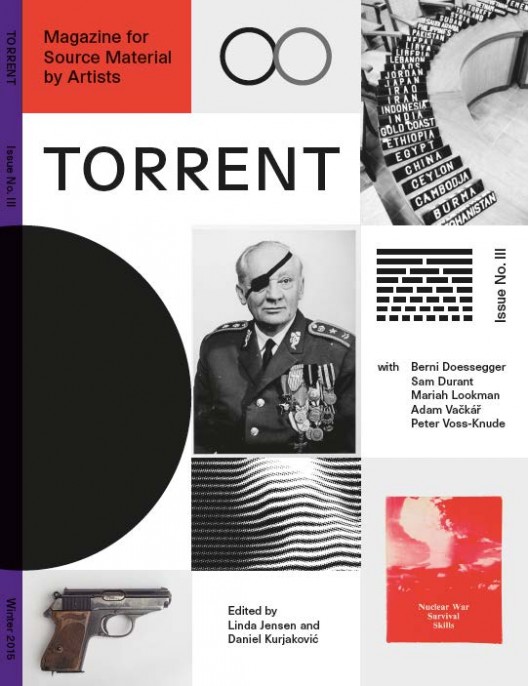 English
December 2015
ISBN: 978-3-033-05355-7
Softcover, 250mm x 180mm
100 pages
Images 34 color, 29 b/w
€18.00 / £ 12.50 / US 19.95 / CHF 20
Torrent is published by The Office, Paris and distributed by Idea Books, Amsterdam. Issue no. III will be available to purchase in Spring 2016 at www.ideabooks.nl
For more information visit:
www.facebook.com/torrent111
Direct orders and inquiries: torrent.magazine.info.now@gmail.com