VIP invitation to Art Nomads – Made in the Emirates on Friday, 9December at MOMENTUM
ART / NOMADS
MADE IN THE EMIRATES
Friday 9 December 2016 @ 17:00 – 19:00
Public Opening @ 19:00 – 22:00
SYMPOSIUM: 10 December 2016 @ 15:00 – 16:30
How Culture Builds Cities: Berlin and Abu Dhabi
EXHIBITION: 10 – 22 December 2016
@ Studio 1
Kunstquartier Bethanien
Mariannenplatz 2, 10997 Berlin
Artists:
​Khalid Al Banna // Ahmed Al Faresi // Reem Al Ghaith // Khalid Al Qasabi // Abdulqader Al Rais // Maisoon Al Saleh // Jamal Al Suwaidi // Maitha Demithan // Lamya Gargash // Dr. Najat Makki // Salama Nasib // Taqwa //
& the Sovereign MENA Art Prize Finalists:
Hazem Harb // Nadia Kaabi-Linke // Walid Al Wawi
Presented by Etihad Modern Art Gallery in partnership with
MOMENTUM and The Sovereign MENA Art Prize.
Curated by David Szauder, Zsuzsanna Petró, & Rachel Rits-Volloch
For the VIP Opening please RSVP to:
Janna Kübeck-Valente | 0176 662 47 093 | janna@art-nomads.info
​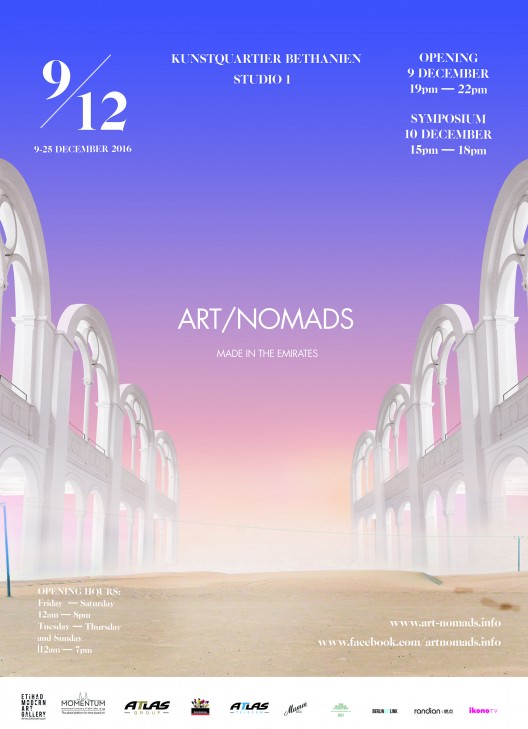 The United Arab Emirates is more than oil, desert heat, and monumental architecture. This young country has a lively culture with a rich and diverse heritage. The 14-day exhibition ART NOMADS – Made in the Emirates shows 15 contemporary artists from a variety of disciplines, reflecting on a culture that is undergoing rapid development. Together they represent a cross-section of contemporary art from the Emirates by emerging artists, influenced by cultural heritage and visual traditions translated into the 21st century, as well as by prominent artists of the older generation. In the centre of Kreuzberg, under the roof of the Kunstquartier Bethanian, a former hospital and chapel, these artists will come together to introduce their exciting new ideas into the Berlin art scene. The exhibition, presented by Abu Dhabi's Etihad Modern Art Gallery, is brought to you in partnership with MOMENTUM and the Sovereign Art Foundation.
For ART NOMADS – Made in the Emirates, MOMENTUM is proud to present, in partnership with the Sovereign Art Foundation's inaugural MENA Art Prize, their finalists from the UAE. The Sovereign Art Foundation is a charity founded in Hong Kong in 2003 with the purpose of raising money to fund projects using art as education, rehabilitation and therapy for disadvantaged children. The Sovereign Asian Art Prize is now in its 12th year and is the biggest, best known and most prestigious arts prize in the Asia region. In October 2016, SAF launched its inaugural MENA Art Prize in Dubai, for the Middle East & North Africa region. We are proud to present the finalists from the UAE in Berlin. For more information, see the Press Release attached.
< < JOIN THE EVENT > >
​
MORE ABOUT:
ART NOMADS
Website: https://www.art-nomads.info/#made-in-the-emirates
Facebook Page: https://www.facebook.com/artnomads.info/
MOMENTUM & ART NOMADS
Website: http://momentumworldwide.org/exhibitions/art-nomads/
Facebook Page: https://www.facebook.com/artmomentum/
THE SOVEREIGN ART FOUNDATION
Website: https://www.sovereignartfoundation.com
Facebook Page: https://www.facebook.com/SovereignArtFoundation/