WU KE
Another Shan Shui
Chelsea College of Arts, London
[Press Release]
Chelsea College of Arts (Cookhouse Gallery, UAL 16 John Islip Street, London) September 21 – 26, 2017
Pres View 3-6 PM
Private View  6-9 PM
Artist Q&A 7-7:30 PM
Wu Ke (b.1969), an established painter from China will present his unconventional creations of traditional Chinese landscape paintings to a British audience for the first time, at his forthcoming solo exhibition Another Shan Shui at Cookhouse Gallery Chelsea College of Arts this September (21st-26th).
Shan Shui (literally 'mountain-water') or the art of Chinese landscape is regarded as the highest form of Chinese ink painting, arising to prominence during the 5th century, in the Liu Song Dynasty. Shan Shui became so exalted, as it not only illustrates the striking natural beauty of China but also presents the mindscape of artists, conveying specific social, philosophical, or political convictions. Although the Chinese landscape has been transformed by millennia of human occupation, the ancient legacy of Shan Shui has been inherited and reinterpreted by Chinese artists down to the present day.
Wu Ke, born and raised in Shanghai, a bustling, thrusting thriving metropolis with more than 24 million inhabitants, paints images of rural nature, that are, visually and philosophically, as far away from the urban iconography of Shanghai that it is possible to imagine. Wu Ke's landscapes, unlike most of the British landscape paintings shown in the recent exhibition Places of the mind – British watercolour landscapes 1850–1950 at the British Museum, exist more in his mind, rather than in the physical properties of a landscape. As the artist explains, "I paint Shan Shui because of its power to express one's grandiose and profound mindset and to create the poetic artistic conception."
In Wu Ke's first London exhibition entitled ANOTHER SHAN SHUI, the artist will present 30 works created between 2015 and 2017, immortalizing these hard to access, Arcadian utopias, unveiling his understanding of the relationship between man and nature, and juxtaposing these ancient environments with the breakneck speed of urbanization in China over the past 30 years.
Moving his studio from downtown Shanghai to Zhujiajiao, on the outskirts of the city, a beautiful ancient water town of thousands of years of history, Wu Ke longs for a harmonious and consistent balance between Shan Shui or nature and modernity.
"The side effect of urbanization and industrialization in China does make our life more and more challenging every day. It is because of the reality of our living environment, I feel the will and responsibility to make it a better place. 'Shan Shui' painting serves as a carrier to express such desire of an ideal living environment", says Wu Ke.
According to the curators of the exhibition — Lang Xiao, Director of ARTouch Consulting, and Chen Rui, curator of Chinese ink paintings from the Art Museum of Nanjing University of the Arts – "Wu Ke gives Shan Shui painting a new look or another way of seeing, by combining elements from modern and contemporary art with the essence and spirit of traditional painting". The creative blending of ink, water and the colors in Wu Ke's work, will offer a British audience an opportunity to see "Another Shan Shui".
On the opening evening, Dr. Katie Hill, Chinese art expert and Programme Director of Contemporary Asian Art at Sotheby's Institute of Art London, Mr. Andrew Kalman, expert in British landscape painting, Owner of Crane Kalman, will join Wu Ke in a conversation about landscape painting in China and in the West.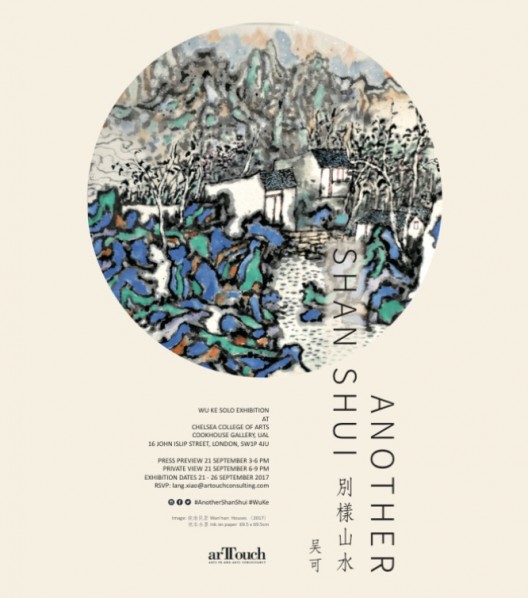 About WU KE
Wu Ke was born in Shanghai, China in 1969. He currently lives and works as a professional artist in Zhujiajiao, an ancient water town on the outskirts of Shanghai. He started learning Chinese ink painting in 1986 and graduated from fine art department of East China Normal University.  Studying Chinese Shan Shui (or mountain-water) paintings under Master Shi Chan and Master Huang Azhong, Wu Ke explores the skills and the artistic conception of Shan Shui paintings, which are considered as the highest form of tradition Chinese paintings. By applying ink and brush, Wu Ke presents his individual understanding of nature, mindset and emotions through his imagined landscape. Paintings by Wu Ke have been acquired by leading museums and art institutions in China, such as the Art Museum of Nanjing University of the Arts (AMNUA), Jiangsu Art Museum and Zhejiang Art Museum.
英国艺触咨询 中英艺术公关| 艺术咨询
www.artouchconsulting.com | info@artouchconsulting.com