Zara June Williams – Fuse
COMA, Sydney
COMA (First Floor, 71-73 Stanley Street, Darlinghurst, Sydney, Australia) November 13– December 17, 2020
comagallery.com
Intrigued by the feeling of bewilderment that ensues contradiction, Zara June Williams' explores the cyclical and cumulative nature of painting through an impulsive and often destructive approach to making. Compelled by incongruous encounters, the artist not only seeks to untangle problems but to create them. Her recent work combines painterly abstraction with collage, bringing together disparate parts in order to mimic and hence reflect on the fractured and disorderly nature of the self.
The act of collage is likened to mental thought processes where information is fractured, options are suspended, analysed and then forged together in new configurations. Material used for collage is not found or bought but rather generated over a significant amount of time spent in the studio. Multiple surfaces are tended to simultaneously however each has a unique trajectory. Those which are abandoned along the way are broken down into parts which serve to enrich the surface of others. Each work is an accumulation of time and holds evidence of events both intentional and accidental.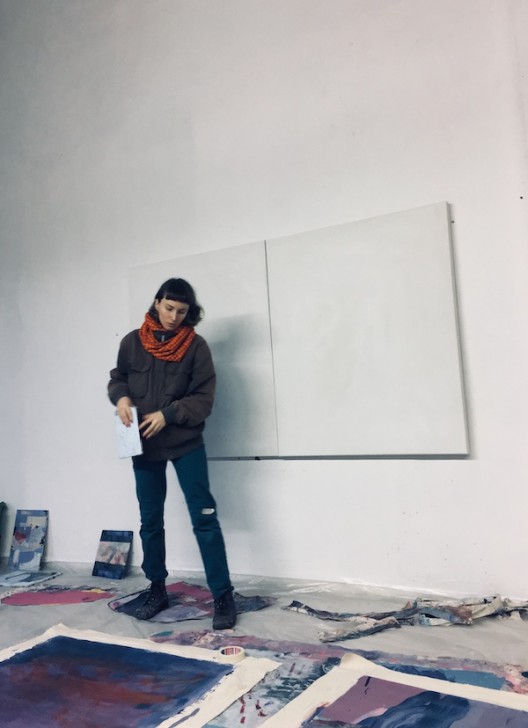 Fuse presents a series of works borne of a steady oscillation between that which is contrary. A fuse, when attached to an explosive, is partially responsible for separating matter and yet to fuse describes a process of parts coming together to form a single entity. The subtle contraction inherent in the word is reflective of the cyclical process of destruction and construction from which the works stem.
Zara June Williams (b. 1990, Australia) completed a Master of Fine Arts at the National Art School in 2018 and received the Lift Off Award to support her ongoing practice. Last year she undertook an international artist residency at Pilotenkueche in Leipzig, Germany, where she continued to live and work throughout 2020. She has been involved in numerous group shows throughout Sydney and Leipzig. Her works are held in various private collections across Australia.
About COMA
Located in the eastern suburbs of Sydney, COMA aims to bring a dynamic and engaging focus to contemporary international art since establishment in 2016. In addition to an attentive curatorial approach, it is characterised by a comprehensive understanding of artists exhibited and presented, aspiring to bring stimulating and forward-thinking arts to the public.
COMA科马画廊为于澳大利亚悉尼市东区,自2016年创立以来致力于对国际当代艺术动态和参与式的关注。除了经心于策展实践之外,COMA尤其呈现出对合作和代理艺术家的全面理解,以期带来令人兴奋和具有前瞻性的艺术品和展览。