Art Stage & Singapore Art Week report card
Dear Mr & Mrs Singapore,
Your children, Art Stage and Biennale, have successfully completed the year and may enter the next class. Here is our report card. They are performing stronger but still have some work to do.
Math
There were 45,700 visitors and 158 exhibitors. These are good numbers, by any measure. But art fairs live by their sales and here the picture is mixed, though in line with a developing market. Taipei gallery, Lin & Lin sold a Zao Wuo-Ki at USD1.2 million to a local Singaporean collector. Michael Schultz sold a Gerhard Richter for EUR580,000. There were numerous sales in the USD 100K-500K range, including at White Cube (Liu Wei), Galerie Perrotin (MR. and Jean-Michel Othoniel), Galleria Continua (Anthony Gormley), Sundaram Tagore Gallery (Donald Sultan) and iPreciation. Smaller galleries with works at lower prices did better. Chan Hampe had a sell-out exhibition of young Singaporean painter, Ruben Pang.
Numerous galleries had limited sales but saw their participation as strategic. Some did less business than they would have wished. London and Hong Kong gallery Ben Brown Fine Art apparently sold little, despite having what might be described as a perfectly curated booth for an art fair, including Marc Quinn, Yayoi Kusama and Not Vital, but they did sell works by Yunizar and Wang Keping. Director Andreas Hecker, while noting that "the fair looks and feels good," commented that "maybe one needs to focus more on Asian Art to achieve sufficient sales." Grade: B+
Presentation
Art Stage this year looked great and the administration and management was efficient. Grade: A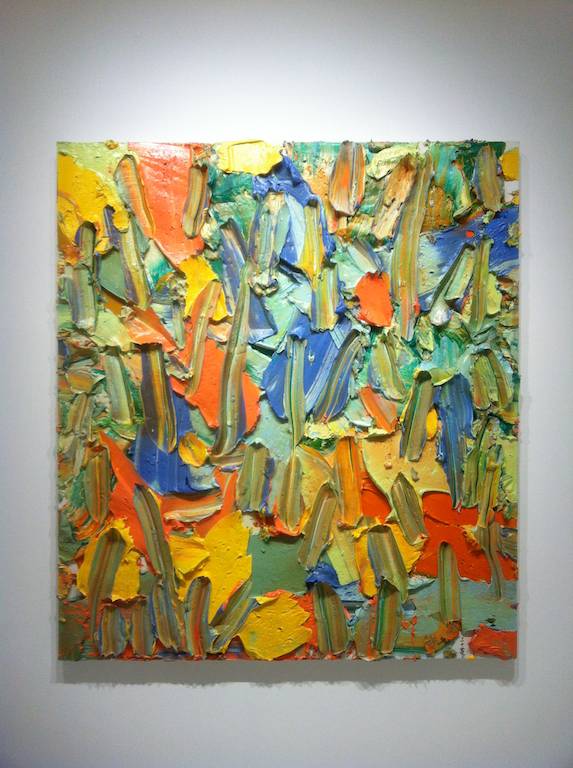 Chinese
The Chinese gallery presence was strong, including ShangART and Pearl Lam Galleries (both of which have exhibition spaces in Singapore), C-Space. Hong Kong was represented by de Sarthe, Contemporary by Angela Li and others. From Taiwan, there was Lin & Lin and Liang Gallery. From Chengdu were A Thousand Plateaus and K Gallery.
Prominent Chinese collectors (e.g. Budi Tek) and collectors of Chinese art (e.g. Uli Sigg) were present but not in the same numbers as previous years. More needs to be done to get these collectors to travel and then to stay in the region, even for Chinese new year. Grade: B
Art
Exhibition visitor: "What is your work 'Le juge' about?"
Zhou Tiehai: "It's about France."
The Singapore Biennial, Art Stage, Singapore's leading commercial galleries, both local and international in Singapore, and visiting regional galleries, all show that the art scene in South East Asia is developing incredibly quickly. The story is no longer just about Indonesia but just as much about Singapore itself, the Philippines, Thailand, and even Cambodia and Myanmar are showing fascinating developments (just glance through our various photo tours). Grade: B (to some a harsh mark, to others generous—I am judging on international standards: the good was very good, the bad was just that.)
Art History

The Centre for Contemporary Art (CCA) at Gillman Barracks finally opened, with a spare exhibition of three video art installations. With the National Art Gallery reopening next year, a small but vital institutional ecosystem is emerging. The "Platforms" curatorial program at Art Stage was both a hit and necessary. Grade: B
Teacher comments
"…so you see what is probably also a discussion coming in the West, where for a long time the art world was driven by academies, critics, museums. Today we have almost no art critics: we have market reports with rankings. Especially in Asia where we have this 'investment thinking,' I think we have to bring back the content," Lorenzo Rudolf said in discussion with the author and another randian editor Iona Whittaker.
Behavior
The one big curatorial failure at Art Stage was the display of Gu Wenda's "Yanhuang Genetic Landscape No. 1." Admittedly it is a very long work but the corridor opposite the toilets was not the answer. A better compromise would have been a 4-wall room display. Grade: E.
History
Again and again it is forgotten how new the "Asian art market"—in a recognizable, international model—is, and how quickly it is still developing. Twenty years ago there was only a limited Japanese market and Chinese artists were just beginning to be acknowledged. Of course art market growth in Asia mirrors that around the world in the last two decades but, unlike in the West, in Asia it started from close to nothing. And South East Asia, as a discrete market, is developing quickly too. Particularly strong are Indonesia, Singapore and now also the Philippines. With the aid of artist Sopheap Pich's prominence and gallery Sa Sa Bassac Cambodia is emerging too. Myanmar has a way to go yet, but it should be noted that prominent Italian gallery, Primo Marella (which had one of the first galleries in Beijing's 798 district) now represents Aung Ko. Grade: A
Chemistry
There is no perfect recipe for art fair success because every location is different. Parties, talks, curated exhibitions are all part of the mix but like a game of golf, partly business success lies in the players being able to get away from one another during the game. Thus Singapore Art Week needs to be even more integrated, including dedicated transport between art institutions (Art Stage, Singapore Art Museum [SAM], Gillman Barracks, and even the Singapore Freeport, as well as the downtown gallery district near SAM).
More also needs to be done with Gillman Barracks. Singapore's Economic Development Board (which runs Gillman) needs to let Art Stage incorporate it into their program (not do it for them). Only one day during the week was dedicated to Gillman—it needs to be the whole week. And there should be an outdoor program, possibly for outsized works. And a party should be there every evening, possibly with a video art—it has to be the place everyone wants to end up at. Grade: C+
Biology
Whether we speak of artists, museums, biennials or art fairs, Singapore has come lately to the international art circuit, but enthusiastically. Anyone who doubts that the conservative island state can cope with the provocations that go along with biennales and art fairs, is misreading the situation. Singapore is evolving very quickly. The people are well traveled and highly educated (frequently at leading institutions around the world). Its combination of infrastructure—airline, finance and art storage—is unrivaled. No doubt the government wasn't thinking about this at the time but all this evolution is resulting in some very interesting and (sometimes vocal) artists, including Heman Chong, Suzann Victor, Ho Tzu Nyen, Ming Wong, Ang Song-Ming, Donna Ong, Genevieve Chua, and Michael Lee, among others. A quick roll-call of international and leading local galleries in Singapore also speaks volumes: ShanghART (Shanghai, Beijing), Pearl Lam Galleries (Hong Kong, Shanghai), Arndt and Michael Janssen (both Berlin), Sundaram Tagore (New York), Mizuma Gallery, Ota Fine Arts and Tomio Koyama (all Japan), and from Singapore, Yavuz Fine Art, S.T.P.I., FOST, Silverlens, ArtPlural and Future Perfect, and now also Lisson Gallery. Grade: A
Social Studies
There were a few major international galleries present, most prominently White Cube and Galerie Perrotin (both of whom have important exhibition spaces in Hong Kong). During the fair, Lisson Gallery announced the opening of an office near Singapore Art Museum (apparently after deciding against Gillman Barracks). Art Stage wants to be the leading art fair in South East Asia, as opposed to the leading Asian art fair, which is Art Basel Hong Kong. Whether it needs lots of international gallery brands to succeed is an open question. The fair director Lorenzo Rudolf commented:
"In the end you have to grow in the direction of where you are—have to create a brand that is unique…. I don't know why we need everywhere the White Cubes and Gagosians….Not only [does] it become boring, but there is not so much great art available."
Homework
Singapore and the region desperately need more serious art writers, academics, critics, particularly home-grown. Not art market parrots but people who can look closely and critically, and explain what they see, what it means, its history, philosophy and politics and put it in context, both global and local. Grade: D
Next year
There were many surprises and discoveries at Art Stage, in the Biennale, and the wider Singapore art community. East Asia needs more than a handful of biennales and just one high-quality art fair: it needs a network of them across its spectrum. The Singapore Biennale and Art Stage are here to stay. And that is more than just good, it is necessary.
Religion

There were two (still unconfirmed) reports of censorship. 7 of 9 T-shirt works by Rirkrit Tiravanija were refused display at Art Stage because of slogans on them deemed offensive (although previously exhibited at Art Basel last year). The members of Pussy Riot, the Russian activist punk-band recently released from prison, were apparently told they would be monitored, while journalists at the press conference for Prudential Eye Awards for contemporary Asian art (for which Pussy Riot was nominated) were asked to restrict their comments to art. The award itself was a bit of a fizzer, with a random selection of artists—randian is still trying to figure out the connection between Pussy Riot, Sun Yuan & Peng Yu and winner Ben Quilty. And The short-listing of Pussy Riot and the awarding of an "Outstanding Contribution to Asian Art" award to prominent Chinese artist, Liu Xiaodong, however well intentioned, seem like a naked grab for attention by the awards in an attempt to gain cool and credibility by association. It didn't work. Grade: C-