Light, Dark, Other: Mit Jai Inn solo Exhibition
Dates|2018/10/27-2018/11/25
Venue|TKG+ B1, No. 15, Ln. 548, Ruiguang Rd., Neihu Dist., Taipei, Taiwan 114
Reception|2018/10/27 (六) 4:30 p.m.
Over the years, TKG+ has been undertaking the mission to promote influential Asian artists with great potential to the public. Having been working with many well-known artists worldwide, this time, TKG+ collaborates with Thai artist Mit Jai Inn, who overwhelmingly drew international attention in Biennale of Sydney, with his first ever large-scale solo exhibition in Taiwan, "Light, Dark, Other."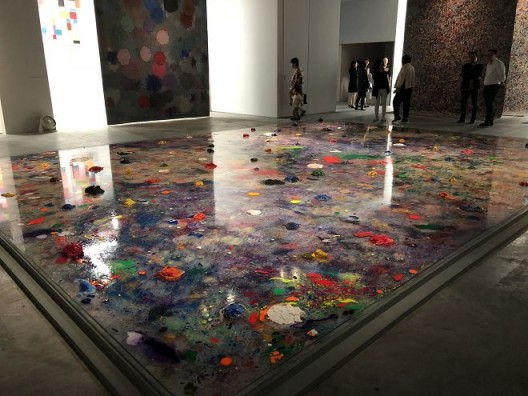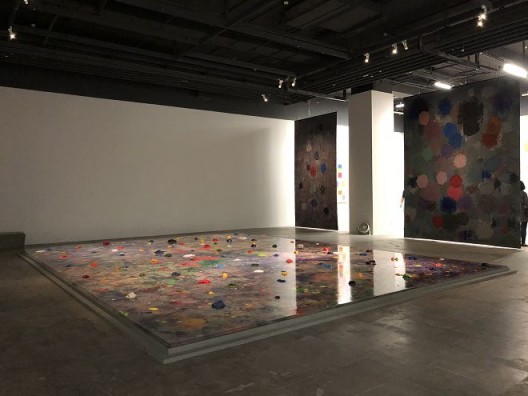 Mit Jai Inn's world-famous abstract spatial art pieces come in rough and organic oil pigment clumps condensed upon the huge untrimmed linen canvas, which usually give off a sense of wildness and freshness as well as the vibrant and saturated shades characteristic of the tropical rainforests to the audience. His art work display can be diverse: sometimes the pieces are hung from the wall in the exhibition space, suspended in midair, swaying to and fro with the turbulence of air flow following the audience's traversing in between the scrolls; sometimes his pieces are spread flat on the cement ground of the exhibition hall, allowing the audience to walk on his work and appreciate its contour from underneath their shoes. Through his unconventional application of painting media, Mit Jai Inn creates a different visual approach to art, in which the cultural concept of color is involved, and leaves his audience to ponder and reflect upon the politics of space with respect to aesthetic, social and political histories.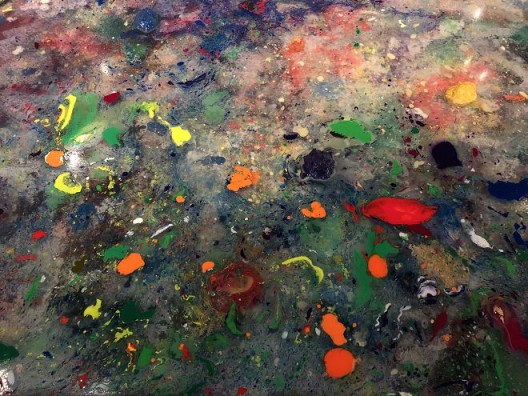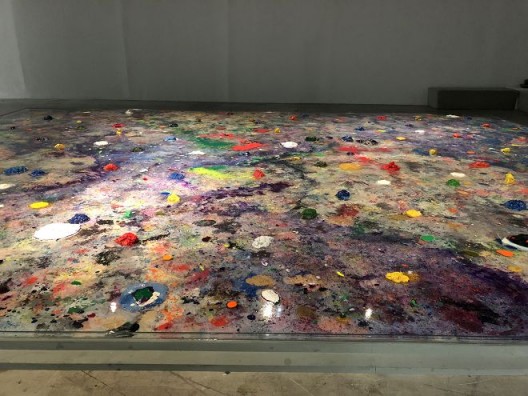 A sense of space is an indispensable trademark in Mit Jai Inn's creation, and this iconic feature can be traced back to his life as a student in Vienna when he worked as a creation assistant for famous artist Franz West. Awarded a Golden Lion for Lifetime Achievement of Venice Biennale, Franz West is known for his art work series in various forms from sculptures, abstract painting to design. His works are always highly interactive and defy the conventional art forms. Heavily influenced and enlightened by West's discourse philosophy and artistic approach, Mit Jai Inn started to delve into the possibility of art intervention into the society and environment. This manifestation takes toner, pigment and canvas as the fundamental element of painting, and weaves cultural codes into the metaphor for sociopolitical context through the combination of color blending as well as media texture, so as to illustrate the viewing aspect in the space of abstract paintings and further build up an immersive field for painting viewing.
Returning from Europe, Mit Jai Inn further transformes art intervention into a political social creation and becomes a pioneering figure in the development of contemporary art in Chiang Mai, Thailand.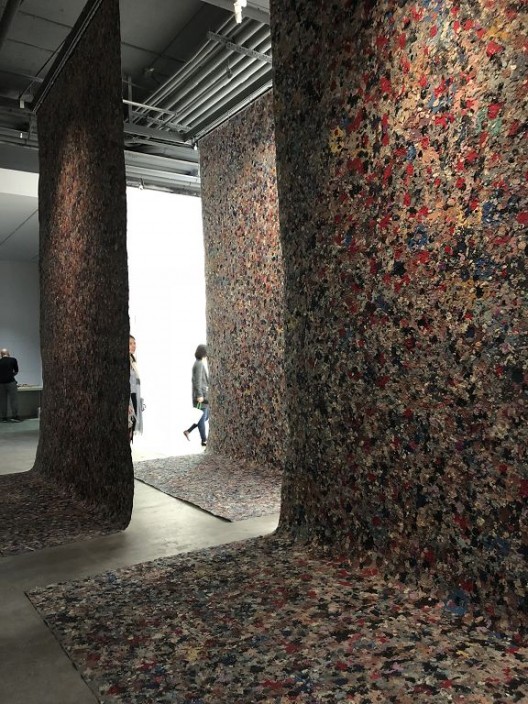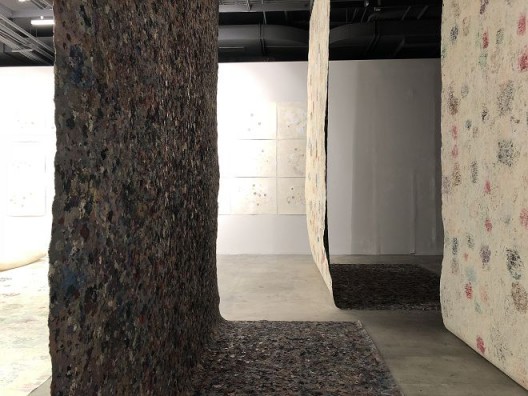 In 1992, together with other world-renowned artists such as Navin Rawanchaikul, Kosit Juntaratip and Uthit Atimana, Mit Jai Inn took up the leading role and called for scholars and social activists of all fields to form an artistic group, Chiang Mai Social Installation (CMSI), which marked as a revolutionary event in the history of contemporary art development in Thailand. The members of CMSI devote themselves to the daily scenes of all walks of life and manage to transform, challenge and rebuild the politics of space in different fields through art vocabulary of all forms. At the same time, they actively perform diverse action art, showing up randomly in various daily scenes in the urban space to make themselves heard, grow their community and exert their social influence as well.
Mit Jai Inn takes this belief into his creation in the form of rigorous and repetitive laboring process: when he is painting, he repetitively mingles, covers and applies oil pigment to the canvas and pushes this process to the extreme, with the intention to represent what is on his mind and in his sight along with his physical movement in time and space during his creation. The temporal and spatial gaps between the creation process and the viewing process can be linked and bridged together, providing a unique yet exquisite viewpoint to interpret art.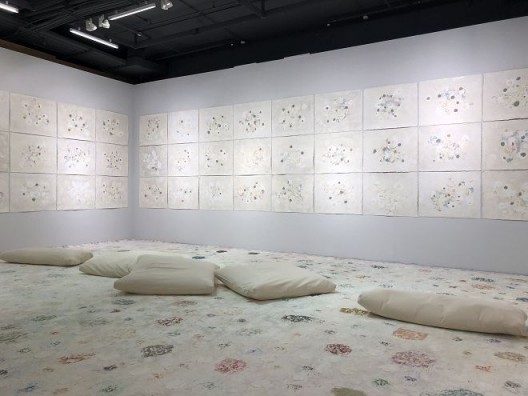 In his solo exhibition, Light, Dark, Other, Mit Jai Inn composes a rhythmic melody for spatial reading with light and dark zones in the exhibition space, providing the viewers with a different viewpoint to interpret colors under the transition in lighting. The thick and plump oil pigments on the canvas illustrate the exquisite and long-standing references to color in the rich tradition of Thailand, reflecting the nation's ever-changing cultural political outcomes through various patches and juxtaposition of different hues. He adopts the aesthetic vocabulary in western abstract art to translate his painting installation into a spatial medium, materializing light, color and space, the three strands of intangible sources of energy in the exhibition hall to compare and contrast the discrepancies between Eastern and Western cultures in color reading, which in turn activates the politics of color beneath the cultural identity. This chromatic space from Chiang Mai seems to encompass the vibration and spectrum of the sun, and recounts the traditional Thai aesthetic awareness together with the mutual cultural history of East Asia through intensely hued, well-arranged colors. In the space constructed through the perception of colors, the ambiguous temporal concept along with the reference to cultural variation seems to communicate in an approachable language specific to Thai context, converting the "viewing" experience in art into an engaging one, inviting the viewers to join this silent dialogue of light, color and space, encouraging them to further explore the "otherness" in aesthetic awareness and cultural perception through their physical engagement in art.