LA, the New Art Frontier
Los Angeles, the sunshine city on the West coast of the US, is having its moment now. There is much debate about whether it can rival New York to be the next global art capital. But it is a mistake to compare Los Angeles with New York, Beijing or London, because Los Angeles is what they are not. It is their idiosyncratic counterpoint.
Los Angeles is sunny, spacious and decentralized. This sprawling city embraced by mountains, deserts and the ocean, and littered with vast rugged and untamed urban parks allows space for incredible growth, both mentally and physically. Hiking, surfing, skateboarding and backyard farming are activities possible all year round. As the gallerist David Kordansky comments, "Access to the outdoors, to all that light, is a big part of what makes Los Angeles such a great place to look at things." 1
In contrast with the stiff rents, dense population, breakneck pace, and market-driven attitude in New York or Beijing, Los Angeles is affordable, spread out, and laid back. The sheer size of the city affords artists and gallerists large, sun-lit spaces for relatively little money, so that they can make different kinds of art and exhibitions without being bogged down by financial pressure; they can think and experiment in solitude, or simply escape into nature within a few minutes' drive. The burgeoning Los Angeles art scene has attracted a huge influx of artists including Amy Yao, Liz Craft, Sam Falls, Thomas Demand, Ryan Trecartin, and countless more. On the sidelines of the mammoth film industry and celebrity culture, the art community consciously maintains a different aura characterized by an affected, easy-going attitude. Attending an opening is no different from rolling into a dive bar: jeans and t-shirts are alright, and pot smoking is welcome. Los Angeles has always been an artist's city, but unlike Berlin, Los Angeles does have cohorts of collectors who nonetheless do not necessarily collect in a traditional fashion. And they do not mind driving to seedy locations to visit artists and galleries. As LA Weekly's Catherine Wagley observes, the art scene here has "no center and no rules—and that's a good thing." 2
Aside from its West Coast vibes, Los Angeles offers unique access to Hollywood, production companies, tech companies, the porn industry, innovative art schools that have been the engines for the new American art scene, and the leading art research institute in the world: the Getty Research Institute. The current rush to Los Angeles seems very logical. More than 50 new galleries have popped up with brisk regularity over the past two years, attesting to the birth of a new future.
Historically, Los Angeles galleries have operated with a nomadic tendency and an evolving ethos. Every few years, many would migrate to a new territory in the metropolis. The present constellation of galleries has formed four clusters: Culver City where the ever expanding Blum & Poe is situated, Mid-Wiltshire, where Sprüth Magers unveiled its West Coast outpost in February, and two newly-established arteries: the Los Angeles River on the east edge of Downtown and Highland Avenue in Hollywood — both were neglected and crumbling areas only a couple of years ago. The following guide highlights a few trailblazers in the latter two new frontiers of the Wild Wild West.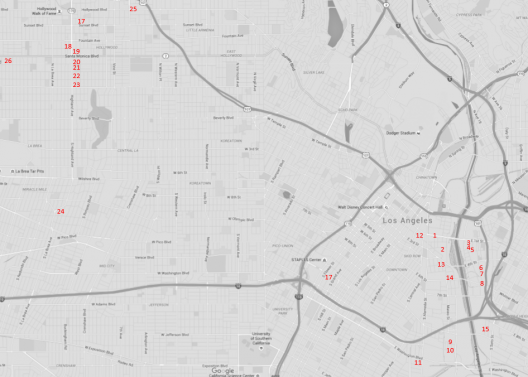 The LA River Artery
The LA River Artery comprises three avenues that run north-south along the river: Santa Fe Avenue, Mission Road, and Anderson Street. The once rundown warehouses and factories are now largely populated by hip, groundbreaking and sometimes nebulously-defined spaces with a couple of blue-chip galleries mixed in. Big, raw, and unsterile is the name of the game; this is where the cool kids make the scene. The sprouting of galleries and creative spaces has transformed the outlook of heavily industrial, graffiti-bombed, and desolate urban blocks. The opulent and exclusive members-only social club Soho House will soon move in from its current West Hollywood location, signaling drastic gentrification  on the horizon.
805 Traction Ave., Los Angeles, CA 90013
The brainchild of Mara McCarthy, Paul McCarthy's daughter, the Box was the first gallery to transplant itself to this part of town. McCarthy was lured to the current location by its proximity to MOCA's Geffen Center. The gallery represents a number of historical figures in American art history, particularly from the generation of Papa Paul, such as Papa Paul himself, Simone Forti, Barbara T. Smith, Wally Hedrick, and Howard Fried, among others. The exhibitions are multidisciplinary, cross-generational, engaging, and always provocative. If you want to see what matters in art history, visit The Box.
901 E. 3rd St. Los Angeles, CA 90013
Art world heavyweight Hauser & Wirth teamed up with Paul Schimmel, the former chief curator at MOCA, to open their outpost on the West Coast in March. This colossal facility of 100,000-square feet is almost as big as the newly opened Broad Museum a few blocks to its west. The first exhibition featured nearly one hundred sculptural works by female artists from the past seven decades.
300 S. Mission Rd., Los Angeles, CA 90033
After running her gallery in New York for fifteen years, the sensational art dealer Michele Maccarone recently graced Los Angeles with a 35,000-square-foot gallery on Mission Street. It is the only pristine structure in the entire neighborhood. Aside from an outdoor sculpture garden and indoor exhibition space, she also built two studios on-site for her artists Oscar Tuazon and Alex Hubbard. This ambitious gallery snatched Cecily Brown away from Gagosian last year. Other artists on the roster include Otto Muehl, Sarah Charlesworth, and Hanna Liden.
356 S. Mission Rd., Los Angeles, CA90033
"If you go to only one gallery in LA," says Bloomberg Business, "Go here!"3 The 12,000-square-foot warehouse that once stored Liberace's pianos is now a joint venture between New York gallerist Gavin Brown and LA artist Laura Owens with Wendy Yao's Ooga Booga Book Store situated in the front room, greeting visitors. Cool kids, hipsters, young dealers and curators all converge here at night after rolling through other openings and parties. You can be as loud as you want because the neighborhood is not only autonomous, but also miles away from residential areas. The gallery has shown Laura Owens (of course), Sturtevant, Larry Sultan, Eric Wesley, and Shahryar Nashat, among other internationally renowned artists.
1427 E. 4th St., Unit 2, Los Angeles, CA 90033
A protégé of San Francisco's publishing house Little Big Man Books, Nick Haymes, the publisher and gallery owner, is committed to defying conventional photography and introducing works by Asian and international artists from Nobuyoshi Araki to Motoyuki Daifu to Stacy Kranitz to counterpoint traditional narratives and genres. The exhibitions tend to redirect our gaze towards more intimate, erotic, and idiosyncratic human relationships.
571 S. Anderson St., Suite 2, Los Angeles, CA 90033
Perhaps the most under-the-radar gallery and the best kept secret for collectors and curators in Los Angeles, Nicodim Gallery has been a tastemaker and trendsetter for a decade. Many Los Angeles collectors bought their first pieces by young emerging artists here. Trained as an artist in his native Romania, Mr. Nicodim has carved out a singular niche devoted to discovering and cultivating promising artists from North America, Europe, and China, including Adrian Ghenie, Ciprian Muresan, Przemek Pyszczek, Daniel Pitin, Jack Lavender, Zhou Yilun and Lü Song. 26-year-old Chinese artist Tong Kunniao will make his Los Angeles debut with wild sculptural machines and kinetic objects in the fall of 2016.
601 S. Anderson St., Los Angeles, CA 90023
Who does not know Adam Lindemann? The maverick wears many hats. He is a billionaire, financier, art critic, collector, and successful gallerist from New York. If this isn't exhausting enough, after the rapid success of his 980 Madison Avenue gallery, he soon unveiled a branch in Los Angeles across the street from Nicodim. The gallery collaborates with prominent foundations and galleries to exhibit artists across a wide spectrum, from Katherine Bernhardt to Maurizio Cattelan, Peter Saul and Andra Ursuta.
670 S. Anderson St., Los Angeles, CA 90023
The London gallery has been expanding its presence into Los Angeles' urban fabric for over a year. Magnus Edensvard, the gallery director, is determined not only to add his young and hot artists to the Los Angeles art scene, but also to introduce them in Asia. He has collaborated with Gallery Exit in Hong Kong, and brought Christophe Orr, Olivier Richon and Christoph Weber to Art Taipei, and Jack McConville to M Woods Museum in Beijing.
2276 E. 16th St., Los Angeles, CA 90021
Davida Nemeroff and Mieke Marple moved their gallery from a Lincoln Heights strip mall to a massive warehouse location renovated by architect Peter Zellner. Aside from constantly bringing fresh talents on board, they are famous for their booze-soaked and buzz-making revelries that draw a huge crowd to see and to be seen. As LA Weekly's reporter Carol Cheh observed, the highly charged social scene is "integral to the experience, with a varied network of artists and friends regularly gathering in the lounge and chilling out into the parking lot during the opening." 4 You are not cool until you set foot in Night Gallery.
2245 E. Washington Blvd., Los Angeles, CA 90021
Sharing a parking lot with Night Gallery is probably the most publicized gallery in Los Angeles: François Ghebaly Gallery. His exhibitions consistently receive critical reviews in major publications and art journals. The French-born gallerist is known for taking risks with young artists and putting together bold, curious, and highly intelligent multidisciplinary programs. The gallery is a place to spot new trends in the art world. It is also a rendezvous point for local talents and collectors. Kelly Akashi, Neïl Beloufa, Channa Horwitz, Patrick Jackson, Andra Ursura, and Charlie White, among many other cutting edge artists, are on his roster.
1811 E. 20th St., Los Angeles, CA 90058
A quick hop from Ghebaly to south of Freeway 10 is a non-profit space founded by entrepreneur and curator Cesar Garcia, who is turning 30 this year.  Garcia brings artists and curators from around the world to show in an old garment factory redesigned by Mexican architect Alfonso Medina as a 4,500-square-foot art space. In a 2015 collaboration with Vitamin Creative Space, the Mistake Room exhibited Cao Fei's two video works RMB City and Haze & Fog. To keep the space afloat and to fund challenging programs and intellectually invigorating exhibitions, Garcia has assembled a powerful board with deep pockets and extensive networks to reach out to Los Angeles magnates and beyond.
Other galleries deserve that attention in the area:
358 E. 2nd St., Los Angeles, CA 90012
1242 Palmetto St., Los Angeles, CA 90013
1452 E. 6th St., Los Angeles, CA 90021
1326 S. Boyle Ave., Los Angeles, CA 90023
406 W. Pico Blvd., Los Angeles, CA 90015
The Highland Avenue Artery:
The galleries along the Los Angeles River are known for their rough and funky charm, whereas most of the new spaces in Hollywood fully embody the idea of modern-day art institutions: white, stern, august, and sleek. Only a few years ago, the intersection of Highland Avenue and Santa Monica Boulevard was occupied by colorful characters including the homeless, drug addicts, and transvestite prostitutes; then, Shaun Regen moved her eponymous gallery from West Hollywood to a 21,000 square foot building here. Many galleries, particularly those run by women, then followed suit.
6693 W. Sunset Blvd., Los Angeles, CA 90028
Set in two converted storefronts and run by former Regen Projects director Lisa Overduin, this gallery was the first to find a home in the heart of Hollywood nearly a decade ago. Overduin & Co, has made a name for itself with an ambitious program of compelling mixed-media projects and conceptually-stimulating exhibitions that are often reviewed by the likes of ArtForum, Frieze, and the New York Times. The artists in their stable include Julia Rommel, Erika Vogt, Will Benedict, and Michaela Eichwald.
1227 N. Highland Ave., Los Angeles, CA 90038
A fixture of the Los Angeles art scene for over three decades, Michael Kohn, former Flash Art editor, has represented historically significant figures such as John Altoon, Bruce Conner and Wallace Burman. Over his long career, his eponymous gallery has organized exhibitions for Andy Warhol, Richard Prince, Keith Haring, and Kenny Scharf, as well as Mark Ryden, Dasha Shishkin, Eddie Martinez, Will Cotton, and Rosa Loy. In 2014, Kohn moved his longtime West Hollywood gallery to this brand new palatial 12,000-square-foot space with 22-foot ceilings. Kohn Gallery is not a place where you come to see what is trendy at the moment, but what matters historically.
6757 Santa Monica Blvd., Los Angeles, CA 90038
Tucked in a corner of a seedy strip mall directly across from Regen Projects is Erica Redling's gallery, representing emerging conceptual artists from Los Angeles and beyond. A concise but strong roster includes Matin Kersel, Liz Glynn, and Dawn Kasper. Curatorially heavy-handed but nonetheless discerning exhibitions there have received much critical attention. Many curators, artists and art historians have braved this raffish corner in Hollywood to visit the gallery. UCLA art history professor George Baker regularly takes his class to Redling.
6750 Santa Monica Blvd., Los Angeles, CA 90038
After twenty years of running her West Hollywood space, veteran gallerist Shaun Caley Regen, whose late husband was the son of New York dealer Barbara Gladstone, moved into the current building that once was a production complex constructed in 1947. Regen Projects, one of two indigenous stellar galleries, has gained international attention since the 1990s with its groundbreaking programs that can satisfy an amalgam of artists and collectors alike. The stellar roster includes Doug Aitken, Matthew Barney, Anish Kapoor, Marilyn Minter, Wolfgang Tillmans, and Daniel Richter.
1034 N. Highland Ave., Los Angeles, CA 90038
Sarah Gavlak is considered a pioneer in the gallery world. After having lived in Los Angeles and worked at institutions such as MOCA, she opened an eponymous gallery in Florida, exhibiting distinctive local and international artists including Marilyn Minter, Lisa Anne Auerback, Simone Leigh, Marnie Weber, and Hong Kong artist Bovey Lee. Ten years later, she opened her second gallery in Los Angeles that brings her back to the West Coast to join many other galleries establishing a footing in the city.
1010 N. Highland Ave., Los Angeles, CA 90038
You might have not heard about Hannah Hoffman, but it should not discourage you from paying attention to her — if only for her pedigree. The daughter of the late collector Robert Hoffman, Hannah took an apprenticeship at Gavin Brown in New York before deciding to open her own gallery in Los Angeles, where she had not previously been. Hoffman, a new kid on the block, has so far attracted artists, collectors, critics, and curators with her impressive lineup. She has brought to Los Angeles works by Sam Falls, Isabelle Cornaro, Jörg Immendorff, Daniel Buren, Sigmar Polke, and Francis Picabia among many others.
812 N. Highland Ave., Los Angeles, CA 90038
Speaking of young and bold gallerists participating in the landgrab in Hollywood, Esther Kim Varet is one of them. Her newly purchased and renovated space features a permanent facility for sound installations and a large courtyard for outdoor sculpture and activities. The gallery has already become a place for popular exhibitions and events in Hollywood. Mrs. Varet is hoping to shake up things in Los Angeles with her artists, as among them Anna Sew Hoy, Mernet Larsen, and Joshua Nathanson. She held a solo show recently by Los Angeles native Amy Yao, who will mount an exhibition at BANK MAB Society in Shanghai in the spring of 2017.
5130 W. Edgewood Pl., Los Angeles, CA 90029
A little farther down south, about 10-minute drive away, is David Kordansky, undeniably a rising star in the international gallery world. A former MFA graduate from CalArts, Kordansky studied under Michael Asher, Charles Gaines, Martin Kersels, and Thomas Lawson. A decade ago he transplanted his gallery from Chinatown to Culver City, then recently to its current 20,000-square-foot space that was redesigned by hot architecture firm wHY /. Kornansky embodies the ultimate image of Californian dealers: young, gym-fit, sun-kissed, laidback, outspoken, and successful. He smartly positions his gallery between the young and hip and old and wise — an approach manifest in his choice of artists: Tala Madani, Rashid Johnson, Sam Gilliam, Evan Holloway, Aaron Curry, Ruby Neri, Jonas Wood… And he is counting.
6051 Hollywood Blvd., #107, Los Angeles, CA 90028
Slightly off the grid in another strip mall in Hollywood is Freedman Fitzpatrick, a gallery focusing on curated exhibitions of emerging European artists. Alex Freedman and Robbie Fitzpatrick were based in Berlin before they relocated to Los Angeles and established the current space. They quickly became a duo that energized the local art scene. They have not only staged critically acclaimed exhibitions and pop-up shows to connect the young generation of European artists with Los Angeles, but also teamed up with Liz Craft and Pentti Monkkonen to organize Paramount Ranch Art Fair (http://paramountranch.la/) on an old movie set amid the rugged Santa Monica Mountains.
7920 Santa Monica Blvd., Los Angeles, CA 90046
This is a gallery off the beaten path, both geographically and artistically. With a strong sub-cultural undertone, Marsea Goldberg, an artist and surfer chick in her youth, has created a colorful utopia at her small gallery for two decades, exhibiting artists whose works are influenced by folk art, skateboard culture, comic illustration, and graffiti. Her lineup includes Frohawk Two Feathers, Barry McGee, Kristen Liu Wong, Neckface, the Clayton brothers, and Kool Kid Kreyola. You might not fall in love with all the art shown there, but you will surely be entertained by a playful, eccentric, and mildly inchoate spirit that is authentically Californian.
1. Artsy Editorial, "David Kordansky Proves Artists Make Great Gallerists," Artsy, January 22 2014, accessed on February 15, 2016, https://www.artsy.net/article/editorial-david-kordansky-proves-artists-make-great-gallerists
2. Catherine Wagley, "L.A.'s Expending Gallery Scene Has No Center and No Rules-And That's A Good Thing," LA Weekly, Aprl 8, 2015, accessed on February 15, 2016, http://www.laweekly.com/arts/las-expanding-gallery-scene-has-no-center-and-no-rules-and-thats-a-good-thing-5475915
3. James Tarmy, "If You Go to Only One Gallery in L.A., Go Here," Bloomberg Business, March 30, 2015, accessed on February 15, 2016, http://www.bloomberg.com/news/articles/2015-03-30/365-s-mission-road-the-best-art-gallery-in-los-angeles-right-now
4. Carol Cheh, "Night Gallery Opens A New Space Downtown, Transitioning From Feisty Alternative Space To A Full-fledged Art Experience," LA Weekly, January 24, 2013, accessed on February 15, 2016, http://www.laweekly.com/arts/night-gallery-opens-a-new-space-downtown-transitioning-from-feisty-alternative-space-to-a-full-fledged-art-experience-2612715