A MODERN ADVENTURE – THE RENAULT ART COLLECTION A major exhibition tours China for the first time in 2015 and 2016.
[Press Release]
Today Art Museum in Beijing and Hubei Museum of Art in Wuhan will welcome over 100 artwork by major contemporary international artists from the Renault Art Collection.
The exhibition will start in Beijing in December 2015 and will travel to Wuhan in March 2016.
—————————–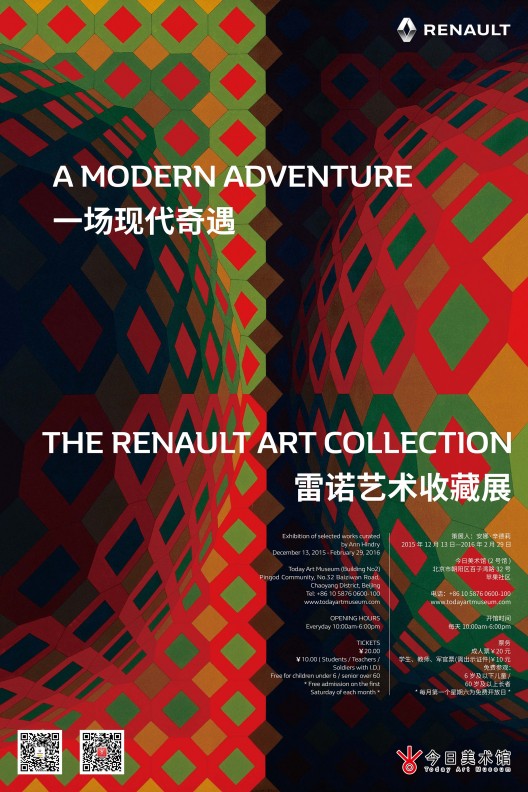 Following the success of the photo exhibition « Doisneau's Renault » which took place in Beijing in the spring 2014, the exhibition "A Modern Adventure" will showcase over 100 major works and span 60 years from the mid-60s to the present time, recounting, with this rich selection, the unique history of one of the main French industrial firms, the Renault Automobile company with contemporary art.
Started in 1967, Renault's modern art collection comprises around 300 works by some thirty leading artists, including Arman, Dubuffet, Tinguely and Vasarely.
Unlike a conventional corporate sponsorship, Renault did not seek to purchase completed works of art, instead it sought to foster active cooperation between innovating artists and Renault, a company created in 1898, that was an industrial powerhouse in a country in the throes of sweeping changes.
Renault provided the artists with technical, logistic and human support. The adventure started with Arman, whose work was based on objects taken from everyday life. He immediately agreed to come and work at the Renault plant. While  visiting the factories and worshops, he discovered new shapes and materials.
This life-size artistic workshop paved the way for other fruitful and unexpected collaborative partnerships: Vasarely required expert input from Renault engineers on his technical questions, while Dubuffet, Rauschenberg and Tinguely found inspiration for their ironic comments on industrial society.
Although the artists who contributed to the Collection enjoy global renown today, this was not necessarily the case when they worked with Renault. This shows just how bold the project was. It made Renault a pioneer in corporate sponsorship rather than just another art collector.  Today, the public can enjoy viewing the Collection through exhibitions and loans, in the Ateliers Renault, as well as in the world's greatest museums.
As a result of the unusual genesis of the Renault collection, and of the partnerships between the Group and the artists, an agreement was made by which the works made with Renault are inalienable: they cannot be sold, gifted or given away. The collection is preserved for future generations and is a part of the history of the Renault Group.