AI WEIWEI
Refutation
Tang Contemporary Art Hong Kong
[Press Release]
Tang Contemporary Art is proud to announce "Refutation," Ai Weiwei's second solo exhibition from March 26 to April 30, 2018 at the gallery's new space in H Queen's. Curated by Cui Cancan, this exhibition will be Ai's third collaboration with Tang Contemporary Art after "Ai Weiwei" in Beijing (2015) and "Wooden Ball" in Hong Kong (2015).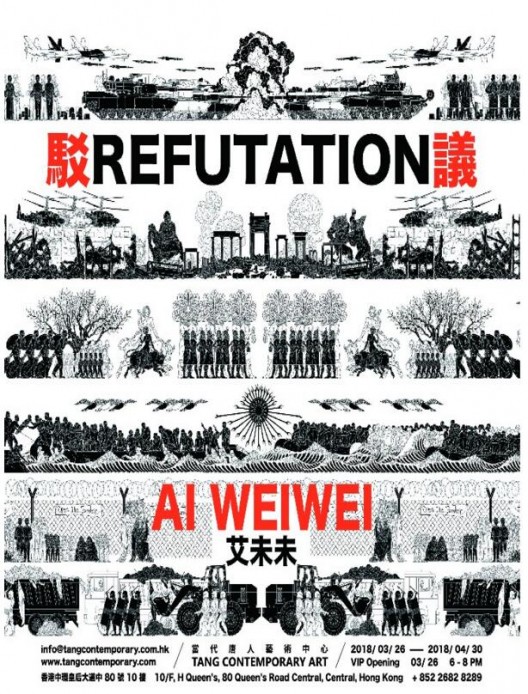 In July 2015, after receiving his passport back from Chinese authorities, Ai relocated to Berlin, Germany. In December 2015, Ai traveled with his son and girlfriend to the Greek island of Lesbos where he first encountered refugees face-to-face. He watched as boats carrying refugees began arriving on shore. He recorded video with his phone as the refugees, including the very young and the very old, climbed out of the simple inflatable boat. This event sparked his later actions, which are a direct response to the largest refugee crisis in human history. Since then, his team has shot nearly 1,000 hours of footage in 40 refugee camps across 23 countries. In 2017, Ai Weiwei presented the installation Law of the Journey, a black inflatable boat 60 meters long and 3 meters wide carrying 258 humanoid figures, at the National Gallery in Prague.
In March 2018, this black Noah's Ark full of refugees will stop in Hong Kong when Ai Weiwei's solo exhibition "Refutation" opens in this once-free port. Here, Hong Kong's hundred-year colonial history and Ai's long "underground life" have a wonderful consonance. This city and its current conflicts give this refugee ship a distinctive meaning.
Refugees are the core subject of this exhibition. Over the last two years, whether at "Maybe, Maybe Not" at the Israel Museum, at "Good Fences Make Good Neighbors" in New York City, or in his documentary feature "Human Flow", Ai has built new exhibition structures to continue his repeated emphasis on the global refugee condition, examining the issue from a range of perspectives.
At Tang Contemporary Art Hong Kong, journeys are a key theme in the exhibition space. The wallpaper on the walls of the gallery is an important element of the show. Odyssey draws from ancient Greece, but is closely related to the present reality of Syrian refugees; Ai used black and white images and simple lines, weaving myth, history, and reality. He presents flight from a war zone, ruined cities, sea journeys, life in purgatorial refugee camps, and various types of violence faced in Europe. Stacked Porcelain Vases as a Pillar moves these stories to another medium. This columnar installation is comprised of a set of six stacked blue and white Yuan-style vases painted with refugees' stories. The hand-drawn content is similar to that of Odyssey, depicting war, ruins, flight, ocean crossings, refugee camps, and conflict. He cleverly brings together dislocations in time and space, layering and re-situating tradition and reality to give them both new meaning. In this stacked porcelain installation, the six stories come from decidedly different realities, standing as metaphors for their respective times and places.
Another work in the show is Dropping a Han Dynasty Urn. Ai used Legos to create a series of portraits of over a hundred political prisoners from around the world. Dropping a Han Dynasty Urn could be seen as an extension of that installation. The original set of photographs was taken in 1995, as part of a series of images of Ai dropping the Han dynasty vessel.
Can the control of those in power stop the human desire for freedom? In a recent article in The Guardian, Ai Weiwei refuted this point, "In nature there are two approaches to dealing with flooding. One is to build a dam to stop the flow. The other is to find the right path to allow the flow to continue. Building a dam does not address the source of the flow – it would need to be built higher and higher, eventually holding back a massive volume. If a powerful flood were to occur, it could wipe out everything in its path. The nature of water is to flow. Human nature too seeks freedom and that human desire is stronger than any natural force."
On April 3, 2011, Ai Weiwei was arrested as he was boarding a flight from Beijing to Hong Kong. He would spend 81 days under secret detention before being released. In 2015, Ai's passport was returned to him and his freedom to travel was restored.