Alluvial——Huang Yuxing
[Press Release]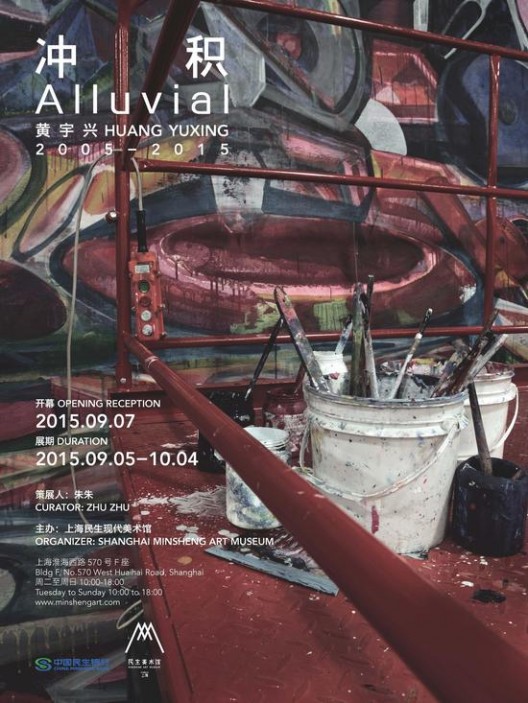 September 5—October 4, 2015
Curator:Zhu Zhu
Shanghai Minsheng Art Museum is honoured to present Huang Yuxing's solo exhibition Alluvial. The exhibition, curated by Zhu Zhu, is set to open on November 7, 2015. Over 30 works by Huang Yuxing since 2005 will be on display.
Unlike his contemporaries with their collective proclivity for conceptualism, Huang preserves and reveals the sense of touch, physical perception and emotional metaphors in his works with utmost effort. Every time it was life itself, rather than social concepts that prompted the artist to take a new creative turn. Yet his paintings are more than a passive reminiscence of modernism. Through personalized practices, he came into contact with and combined a series of subjects at the heart of modern art, including the incorporation of ready-made images, "the objectification of the creative process", media experiment, body politics, life science and post-abstract expressionism, etc.
Huang emphasizes the preservation of the creative process, allowing layers of brushworks and paints to stay on canvases like the deposition of alluvium that has been shaped again and again by water. His choice of shape and color is not unlike traditional Chinese painters' preference for "meticulous lines and rich colors." His language is one that deepens and transforms with his subjects. At the beginning, it takes on the look of expressionist rewriting of ready-made images, an outlet of adolescent rebellion and revelry. At the same time it seeks to dissolve cultural symbolism from a physiological perspective and then builds conflicting tension in the canvas-space with human anatomy and what Huang calls "structuralist architecture" elements. By this time the language becomes an expression of a sorrowful complex about ambitions. As the language becomes more subjective, it grows less dependent on images and the story-telling milieu and has, in recent years, welcomed colours' complete discharge, reconstructing, through geometrical cutting and writing, the inner experience that allows a person to expand.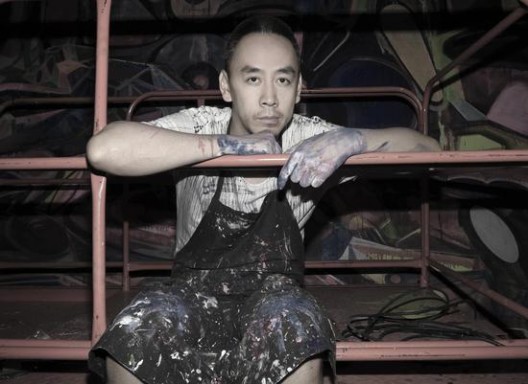 Huang Yuxing's artistic creation from 2005 to 2015 can be roughly divided into four periods: "Black", "Life history in changing", "Light and Habitat", and "Rivers". Such pattern of his creative periods has formed the framework of this exhibition although two or more of the phases might have alternated once in a while. Indeed, it is often the seemingly random elements that pop up in one period that foreshadow and lead to a new period.
The exhibition will be a comprehensive presentation and examination of Huang Yuxing's creative process, providing an extremely individual and inspirational example for China's modern painting narrative. The exhibition is on till October 4, 2015. Also ongoing in the museum during the same period is the photography exhibition by artist TsunShing Cheng, "Won't Somebody Bring the Light".
Artist bio:
Huang Yuxing, born in 1975, graduated in 2000 from Mural Department, the Central Academy of Fine Arts, now works and lives in Beijing.
Curator bio:
Zhu Zhu, poet, curator and art critic, born in September, 1969. His works have been translated into English, French, Italian and Japanese. He is recipient of Shanghai Literature Poetry Award 2000, the Second Ann Kao Poetry Award, and the Chinese Contemporary Art Awards—Critic Award 2011. He has published several poetry collections like Cruising to Another Planet (1994), Salt on Withered Grass (2000), Wisp of Smoke (2004, French edition translated by Chantal Chen-Andro), Leather Trunk (2005), Story (2011). His other representative works include Vertigo (essay collection, 2000), Empty City Strategem (collection of art essays, 2005) and two collections of art reviews: Artists in the Eyes of a Critic: a Case Study (2008, second edition in 2010 titled The Birth of a Painting); Gray Carnival: Chinese Contemporary Art Since 2000 (2013).