[ARARIO GALLERY SEOUL] Liang Manqi_Colometry | Shine Kong_Sugarfree
[Press Release]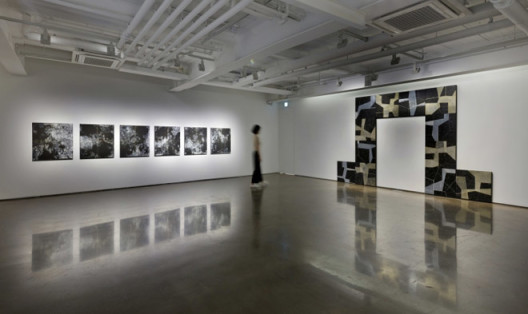 Arario Gallery Seoul is pleased to announce 2 Solo exhibitions, Shine Kong's "Sugarfree" and Liang Manqi's "Colometry" representing the unique formative language with a space motif from July 9 to August 30, 2015.
Shine Kong(b.1979, Korea) who expressed in paintings with everyday objects as a personal symbol represents about the boundaries of painting and sculpture, of plane and space presenting artist's concept of transferring three dimensional space into two dimensional plane or overlapping the spaces.
Liang Manqi(b.1986, China) who searched for relations between space and human, between public and an artist based on color and geometry expresses artist's distinctive style with works of inner feelings through spaces. Liang replaces an interest in abstract thinking about spaces and analysis of sensibility with pure vision.
Arario Gallery hopes you have an enjoyable time to examine the new discussion and a study regarding 'space' that have been digging into for a long time through this show of both young women artists that represent Korea and China, searching for a space with the subtle sensitivity.
Exhibition Summary
For the past ten years, Shine Kong (b.1979, Korea) has been capturing ordinary objects as private symbols in her paintings. The context of her earlier works, which illustrated the world around her and the object as psychological reflection in contemplative position, is further extended into the issue of boundary between painting and sculpture and flat surface and space, thus unveiling a new visage in this exhibition.
In preparation for this exhibition, Kong has been working at the Pak Kyong Ni Toji Cultural Foundation located in Wonju, Gangwon-do province. She has been expanding her study from shaping symbolic objects about the land, nature, space and memory to the issues of spatial concept and form. The change in her production method is also noticeable. The paintings in dark tones with black hue are produced by either tapping the surface of the canvas with black gesso like playing piano with fingers or sculpted with the method of scratching the paint (plane) with natural objects like pine cones and needles found in the vicinity. The new works in which the artist has experimentally applied different production methods, new form and material distant from her earlier works would be meaningful as a turning point in Shine Kong's career, and this exhibition will be a venue of introducing the artist's new paintings.
Flattening of the stage
I comprehend painting as
Answer to the floor
Answer to the Wall
And answer to the ceiling.
The slapstick-like silent conversation of the constant questions and answers
Does not appear or hide in its body
Yet this does not mean that it has completely lost the stage
Or the lights had gone missing.
Whether it has been forfeited or invaded
It only welcomes the given active frame
And still in conversation…
Artist's note, 2014
Shine Kong
About Artist
Shine Kong's paintings capture the narratives of all relationships in her life, as if to document them. Objects that appear in her works, such as trees, ladders, camels, stars and chairs are symbols that have been granted a specific meaning by the artist. Kong makes these objects with clay in which she blows in a breath of emotions, and puts them on a small theater stage. This setting staged through the artist's subjective symbolization is resurrected through painting. The symbolic objects condensed like poems are in themselves a site of communication for intuitive bonding. In Kong's works, contradictory values about communication, reconciliation, recovery and healing in all relationships cross over, reflecting the artist's meditation on the relationships in life that are always unfolding.