Capsule Shanghai – Gao Yuan: Eternal Return
[Press Release]
Capsule Shanghai is pleased to present "Eternal Return", emerging artist Gao Yuan's first solo exhibition in Shanghai. The exhibition runs from on March 11 to April 30, 2017. The exhibit comprises two parts: an animation created by Gao Yuan called "Lunar Dial" and a selection of paintings realized over a time frame of six years that the artist used as backgrounds in her animation. The exhibition is curated by up and coming curator Yang Zi. In April, sound artist Pan Li who created the soundtrack for Lunar Dial will perform "Meridian" in collaboration with electronic producer and multi-instrumentalist thruoutin.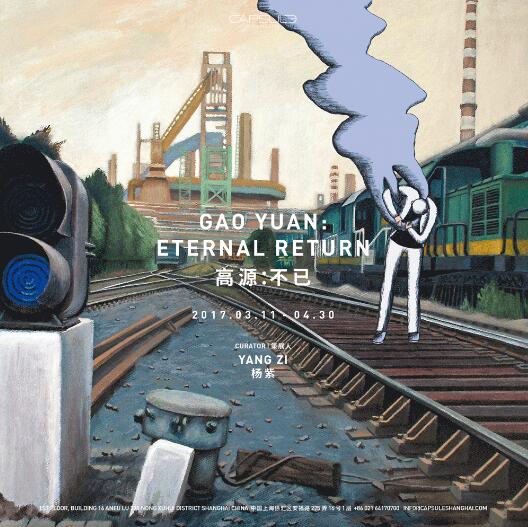 Lunar Dial received critical acclaim at the 2017 International Film Festival Rotterdam (IFFR) and will be screened at the Hong Kong International Film Festival in April 2017. The film is a montage of paintings and drawings that create a suspenseful temporal "wormhole". The artist excels at employing a cyclical narrative format, deftly incorporating visual, form, concept and metaphor. Themes include flowing water (water sounds, water droplets, a photograph of the ocean taken on a mobile phone and so forth), various lighting (moonlight, an incandescent light bulb, traffic lights, street lamps and a flashlight), and artifacts of knowledge (a human anatomy poster, library, flipping pages of a book and worn book covers). Through the balance of the duration, sequence and image of different themes, the artist exhibits a mastery of animation and montage that represents a peculiar view of time (the exhibition name "Eternal Return" refers to this)—the "present" continuously revisits both past and future.
Gao Yuan's paintings incorporate a rich "animated spirit". Interpreting the symbolism within her works is like a game of deciphering symbols, so the still picture in front of the audience "comes alive". To achieve this effect, Gao Yuan lets ideas contained within the objects captivate the viewers' attention—the appearance of the image is reduced to the extent that they can be identified, but not to mere lines and color. Eventually, the painting is preserved as an "image" that can be used to convey information, but with paradoxes. In order to emphasize the temporal element of the paintings, the soundtrack of Lunar Dial will play for the duration of the exhibition.