Chai Yiming: Landscape
[Press Release]
Opening Event: 5-7 pm, Sunday March 23, 2014
Exhibition: March 25 – May 14, 2014
FQ Projects is pleased to present Chai Yimings most recent works – a solo show of coloured ink wash paintings titled 'Landscape'.
The artist's ink wash paintings combine a blend of Chinese traditional art styles with contemporary experimentations, reflecting his devotion to understanding both philosophies of Zen and Oriental wisdom.
Although Chai Yiming's exhibited works share harmonic and romantic elements of tonal composition, they can be divided into three parts.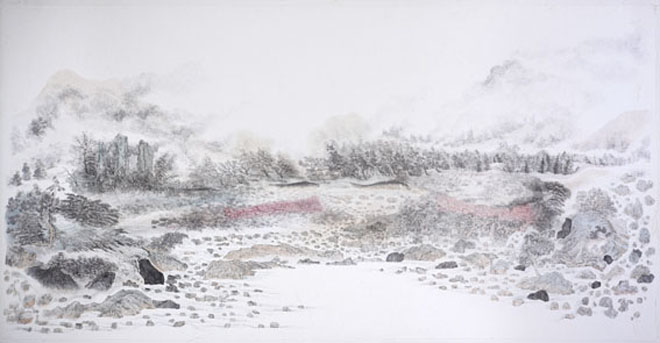 The first part represents the artist's typical style of meticulous brushwork, focusing on details of peculiar formed mountains full of hidden curiosities. Chai Yiming's work knows no restriction to form, material or style, allowing the audience to see and feel the freedom obtained from this method of creation. Amongst the overlapping mountains; between the meandering rivers; under the rushing waterfalls, lie hidden fairies, surreally formed beasts and precious stones resting on the seabed from ancient times. These elements, both individually and collectively, are used as metaphors to reflect ancient Chinese fairytales, literatures and legends. The works, whilst appearing both mystical and romantic also emit an atmosphere of honesty and innocence allowing the audience to feel like they are experiencing the quietness before the birth of a new world.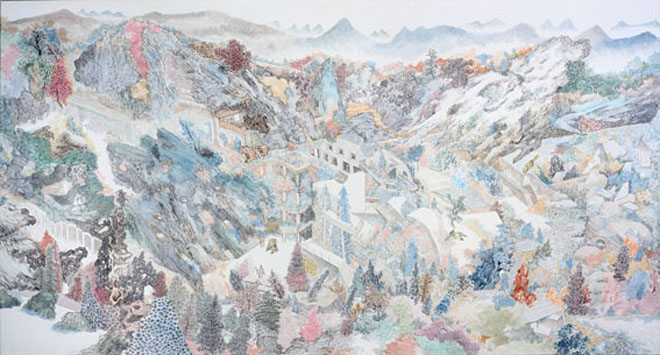 The second part contains a fairytale-like geographic landscape combined with a Song-Yuan intellectual aura. Differing from his other works they present a more minimalist, subtle and sensitive atmosphere. Areas of the rice paper are left intentionally blank but composed in layers to permit the audience to experience and, at times, almost taste the quietness and poetic nature within the pieces.
The final part of the exhibition expresses the magical kingdom associated with classical Tang Dynasty style of colouring. Utilizing traditional materials and strong colours, in combination with the artist's humorous spirit, he creates a playful context within a poetic environment. Within this context, Chai Yiming's paintings express his deep understanding of traditional Chinese culture, whilst creating an alternate and fresh interpretation of his work.
Whilst Chai Yiming is predominantly influenced by traditional Oriental aesthetics and closely follows the Chinese philosophy of Buddism and Taoism, he is simultaneously fascinated with Western literature, poetry, film and fine art. This has ultimately led to the evolution of his unique style of painting. His works are not planned, but instead composed of random occurrences reflecting his inner self expression. In his own words, "random, chaotic, confusion" regarding the Western physics writings of Chaos Theory, corresponds to the Book of Changes stating "orderly disorder, random inevitable".
Chai Yiming was born in Harbin in 1965. After graduating in interior design from the Shanghai Business Academy in 1987, he attended Huashan Art School and currently works and lives in Shanghai. He has participated in many solo and group exhibitions in the United States, Germany, Belgium, Italy, and Spain. His works have also been exhibited in the Shanghai Museum of Contemporary Art, the Toronto Art Museum, the Chongqing Youth Art Biennale, as well as many other National and International art galleries. Since 2012, FQ Projects cooperates with Chai Yiming, exhibited his works in dual show and summer group show. In 2013, FQ Projects presented Chai Yiming's Shan Haijing series at Art Stage Singapore. These exhibitions were all very well received. This exhibition Landscape is the first solo show of Chai Yiming at FQ Projects.