Chan Wing Nga & Claire Lee
[Press Release]
Mur Nomade is pleased to inaugurate its new space in Aberdeen with the exhibition Chan Wing Nga & Claire Lee.
This exhibition is an attempt to illustrate the idea that silence can speak louder than words. It features photographs and paintings by two Hong Kong female artists, both of them expressing violence and suffering in very subtle, gentle and aesthetic manners. Chan Wing Nga and Claire Lee share an interest in conducting in-depth research on the themes and issues they depict in their delicate yet thought-provoking artworks.
Chan Wing Nga is a young mixed-media artist and photographer. Her research is as psychological as it is aesthetic. For the series of photographic portraits featured in the exhibition, she studied nüshu, an ancient Chinese script used secretly by women, to deal with the theme of the female Chinese identity weighed down by its burden of suffering and tradition. Intent on incarnating as closely as possible the female condition, she has chosen to work with hair, a material that is both highly symbolic and ambiguous. Worn long by women, hair perfectly represents the weight of femininity handed on from mother to daughter.
About Chan Wing Nga's Intimates series, art writer Caroline Ha Thuc wrote:
'Five of the photographs that make up the series Intimates are portraits of the same woman wearing this heavy, pernicious ornamentation that either entwines around her neck or stifles her senses. "As soon as they can speak, [girls] are directed towards a life of submission, taught to say yes in the humble tone that is suitable for women" (Marcel Granet, La Civilisation chinoise, 1968). Her mouth is therefore obstructed, her eyes covered and her ears shrouded, thus blocking all possibility of communication and attempt at self-expression. Before her betrothal, a girl is traditionally cloistered and made to wear a sort of rope around her neck, which is apparent here in the form of this tentacular necklace like chains of subjugation. The black-and-white tones of the photography allow the viewer to concentrate on the emotional charge of the works and to become aware of the expression of the invisible through a profusion of nuances.
The mouth, ears and eyes – the young woman's senses – have been transformed as a result of her female nature, smothered by society and, perhaps, also by herself. The burden she bears is as much imposed upon her as it is created or imagined by herself. Almost an apotropaic figure, this muzzled character is in fact a projection of woman, an expression of all the myths, traditions and fantasies the artist is aware of. When we know that each lock of hair contains the DNA of a particular person, we imagine hundreds of living women wrapped around the model's neck, oppressing her. It would therefore be women – not men – that enslave one another.'
(extract from: Caroline Ha Thuc, Chan Wing Nga: Intimates, Hong Kong, April 2013)
Also interested in addressing psychological issues, Claire Lee is a poet and visual artist. Her paintings are depiction of the contradictions in life and nature. The exhibition presents a selection of works from her last four series, allowing visitors to review the development of her artistic approach over the years past.
About Claire Lee's ambiguous paintings, independent curator Celine Ho wrote:
'With a sensitive eye and a keen interest in the hidden contrary, or irony, in our daily life, Claire ventures through the world of darkness. "What interests me is not the things in front of our eyes, but the other side of it, the shadows or the hidden sides in humanities." Deriving from this idea, she juxtaposes trashes against a snow-white background in Calm Before the Storm series, and depicts bleeding animals in the good-will asking ceremony in Sacrifice series. Also seen in the newest works in the project Tofu & Violence, Tofu, A Gentle Hand shows a loving elderly couple walking hand-in-hand away from the viewers. They may have left a trail of love but it also hints the death ahead; and one simply cannot avoid being stunned as they see the suggestive wound in An Abused Tofu, A Survivor despite its elegance and the charm of the feminine silhouette. Some kinds of unsettling and disturbing elements can be seen in her work among silence and stillness.
What is also contrasting in Claire's work is her presentation of heaviness in life. Contrasting to the subject matters of violence, death and sorrow, her colour palette mostly consists of white with a tint of red and black. Occasionally, the colour may invade into the white and makes it dusty and dirty, but the vast white area remains. It reminds one of the ancient Chinese painting practice which leaves blankness to imagination and openness, except that the white on Claire's canvases are whiter and brighter to a state that dazes its viewers. White to Claire symbolizes a boundless space and nothingness.'
(extract from: Celine Ho, On Claire Lee and Our World of Contradictions, Hong Kong, 2013)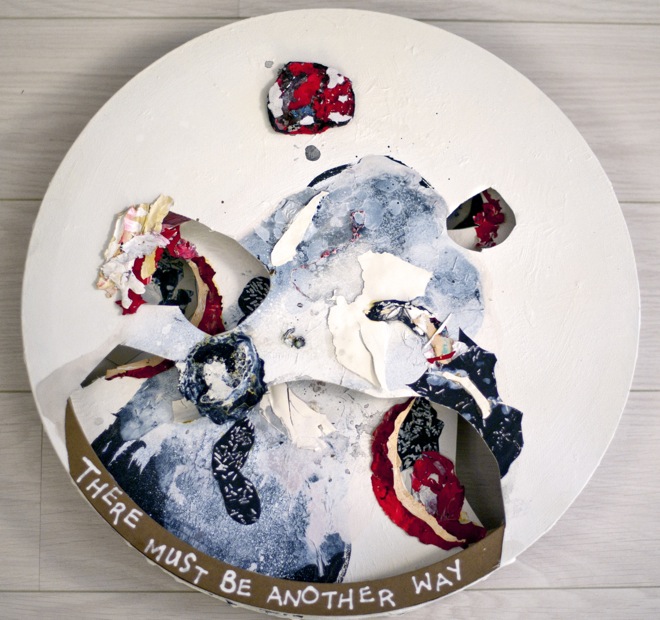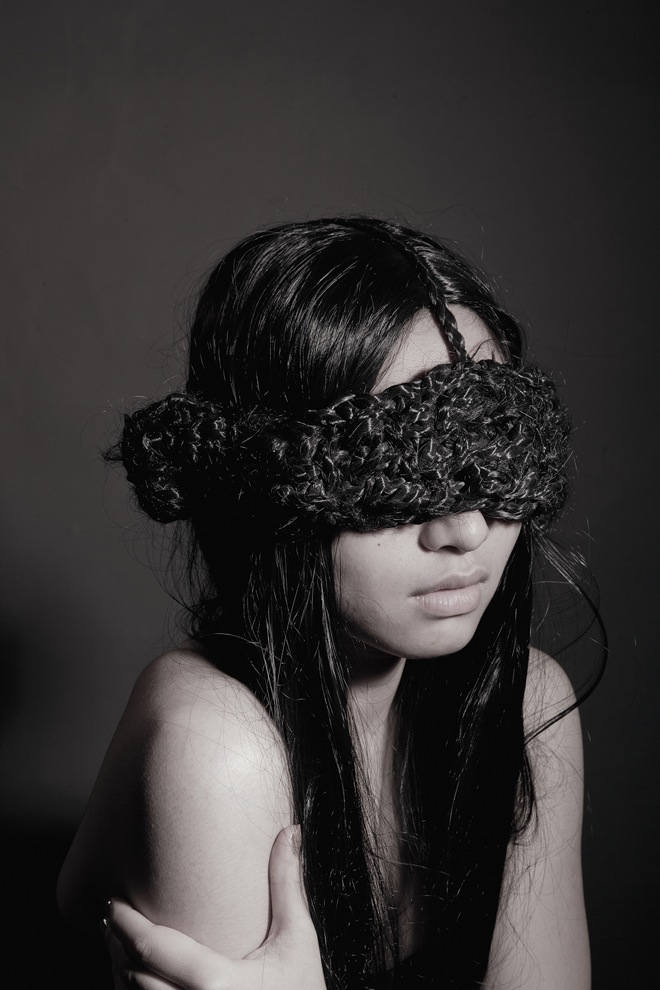 I About Chan Wing Nga I
Chan Wing Nga is a young mixed-media artist and photographer. She lives and works in Hong Kong. She obtained her B.A. in Visual Arts with Honours from the Academy of Visual Arts, Hong Kong Baptist University in 2012. Her work has been presented in several group exhibitions and art fairs in Hong Kong.
In Chan Wing Nga's artistic practice, the research and process are as important as the final output. She is particularly interested in the gender issues. Although her work explores her Chinese roots, it aims at raising wider questions on the themes of identity, desire of freedom, and the contradictions inherent to our modern societies.
I About Claire Lee I
Claire Lee was born in 1976. She lives and works in Hong Kong. She is a poet, curator and visual artist working across the media of painting, mixed media and photography. A graphic designer by training, she also studied curatorship at the Hong Kong Art School. She previously exhibited in solo at the Fringe Club, Cattle Depot, New Gallery On Old Bailey. Her last project Tofu & Violence was presented at PubArt Gallery in Central at the end of 2013. She has been publishing her poetry and giving readings at forums and performances since 2008. Her poems were included in Not a Muse: Poetry to Seduce the Senses, a selection of poems written by female poets by Haven Books Publishing in 2009.
Claire Lee is concerned about the artwork itself as much as the presentation and its relationship with the space and the audience. The entire spatial experience is her creation. Even the titles of her artworks are extensions from her poetry work. Claire Lee is drawn to subjects dealing with psychological struggles and personal strength, and her world is full of contrasts. Imagery of flora and fauna, and at time found objects inhabit her mixed-media paintings.
I About Mur Nomade I
Mur Nomade is a curatorial office and gallery. Our name is the French translation of 'nomadic wall'. We present site-specific projects in selected venues all around Hong Kong, in addition to regular exhibitions at our gallery space in Aberdeen.
We work closely with artists to imagine and conceive exhibitions and programmes such as artist residencies, collaborative art projects, travel grants, workshops and outreach initiatives.
Mur Nomade focuses on projects encouraging cultural exchanges and creative encounters. We like bold ideas and we are convinced that cultural exchanges support creativity, stimulate emulation and encourage experimentation.