CHARLES PETILLON / "INVASIONS" SOLO SHOW
[Press Release]
Magda Danysz Gallery presents for the very first time in China French photographer Charles Petillon. After the thundering success of his installation inCovent Garden (UK), which attracted thousands of Londoners in 2015 and his exhibition at the Maison de la Photographie in Lille (France), Charles Petillon goes this time on an adventure in Shanghai with his series Invasions and an all-new installation, specially made for the gallery. Inspired by Land Art, Charles Petillon makes the places he photographs his own, creating incredible installations. He accumulates white balloons, of various size, and forms impressive sculptures that seem to be floating in the air. Petillon offers a metaphorical discourse on the spaces he photographs. Petillon shares « these balloons aim to change the point of view on these places we see every day without really paying attention .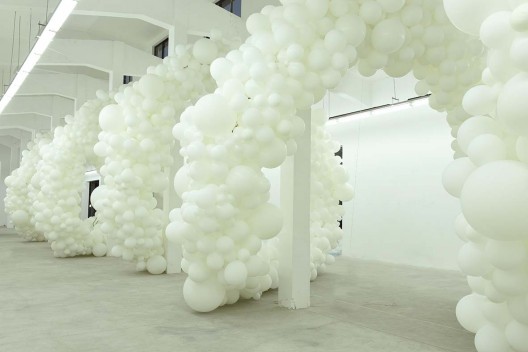 In his series "Invasions", his complex and bright creations invade different spaces. From the salty desert of Uyuni, giving an immaculate landscape, to a family house, holding memories of past generations, Charles Petillon sparks visual emotion. His white clouds highlight these spaces in which they underline particularities. He addresses disappearance, he evokes memories and questions man's actions as much on nature than architecture. The artworks of the Invasions series translate these ephemeral installations into photographs of a great elegancy.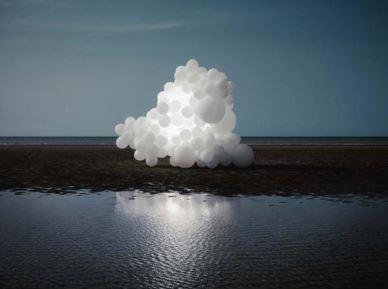 Apart from these pictures, Charles Petillon presents an all-new installation, created for the gallery monumental exhibition space. Integrating itself in the gallery powerful architecture, this artwork formed with thousands of balloons immediately attracts the eye of the visitor. One becomes part of the structure, walking through it. Symbolizing an infinite spiral, the immaculate balloons installation gives us the ability to totally immerge in the photographer's work , to walk into the vortex that is a never ending life.