Christy Lee Rogers "The Eternal Aquatic" – ART LABOR
ART LABOR Gallery is very pleased to announce Christy Lee Rogers' debut exhibition in China, featuring her post-modern water works. For over a decade Rogers has imagined elaborate scenes of otherworldly colors and entwined bodies that celebrate humankind's vigor, warmth and source. She crafted her vision by using models submerged underwater in deftly designed scenarios, photographed in her native home of Hawaii, that conjure the deepest depths of our world, our origins, our composition, in a profoundly human context. These single shot un-retouched images convey both the decidedly contemporary edge of experimental photography and a classical romanticism, with the gorgeous tones, dramatic lighting and composition celebrated in early baroque painting from Titian through Caravaggio and onto Rubens.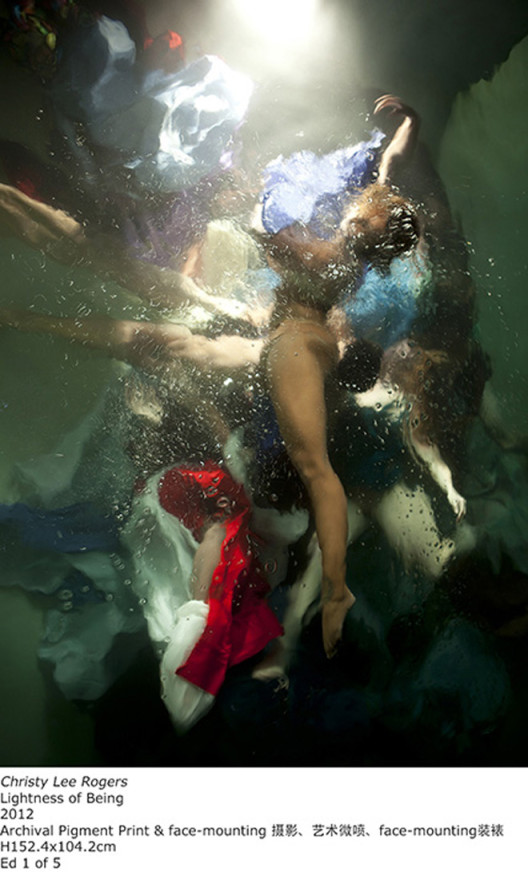 Rogers photographs aspire to a post-modern version of the sublime, exploring water in a way which shows the beauty, freedom and conversely the struggle and complexity of the human condition (a recurring motif in Rogers' work). Her drive to push the boundaries of our reality; experimenting with one of our most cherished elements –water, is the backbone of her technical and formal process. With trust and improvisation overpowering the basic rules of photography, she creates her images in an organic way, working alone with her models in the dark of the night.
Christy Lee Rogers is a visual artist from Kailua, Hawaii. Her work has been exhibited internationally at Lazarides Outsiders Gallery in London in 2014, across the globe from Monaco to Mexico City, and has been featured in many international media, including Harper's Bazaar Art China, Eyemazing, The Independent, Casa Vogue, Photo Technique and others. The London Independent described her work as "a mix of Masters – the vivid hues of Titian, the straining bodies of Rubens, the sun-dappling chiaroscuro of Caravaggio, but also the loose brushstrokes and fluid movement of Delacroix. Rogers is currently a finalist for the Contemporary Art Price at the François Schneider Foundation, France, and her "Reckless Unbound" is housed at Longleat House, which is the seat of the Marquess of Bath, and also home to Renaissance gems of the Italian masters, like Titian's "Rest on the Flight into Egypt."