Chronus Art Center (CAC) is pleased to present Nail to Go, anexhibition by the Chinese artist YE Funa
[Press Release]
Chronus Art Center (CAC) is pleased to present Nail to Go, an exhibition by the Chinese artist YE Funa.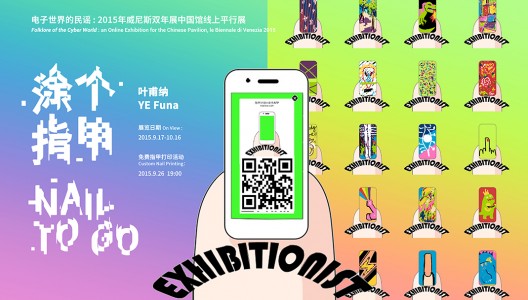 Nail to Go is the fifth work of a series of parallel online projects under the theme of Folklore of the Cyber World organized by Chronus Art Center, the new media art partner institution of the Chinese Pavilion, la Biennale di Venezia 2015. Folklore of the Cyber World extends the Other Future envisioned by the Chinese Pavilion to cyberspace, revealing the vigor and brio of the younger generation of Chinese artists in their critical engagement with the pervasive media society and creative use of new technologies.
In this project YE Funa calls out for a "congressional assemblage of manicures" , escorting a passion for beauty beyond the pageantry: "Draw nail pattern online and print them on your nails" , letting known autonomy can be as easy as whimsically exercised.
Exhibitionist:Curated Nails
2015 | Ye Funa | Interactive Online and Offline Version
On View: 2015.9.17-10.16
Enter online interactive version
'Exhibitionist: Curated Nails" is a project for curatorial experimentation on nails and its surrounding area. Artist YE Funa, founder of "Curated Nails" , invite curators to manifest exhibition themes and concepts on the tiny space of nails, breaking the barriers of "daily display" and "art exhibition". You don't have to be a professional curator or exhibition-maker to submit, all welcome!
Nail decorating first appeared in religious ritual, people depicted the totem they worshiped on nails as a way of blessing. Nails are an important part of our body, and the parts of the human body that are in most contact with the outside world. They are also an essential feature of appearance, manner and trend. In daily life, nails have become a unique exhibition space of personality. Traditionally, girls tend to use their nails as another way of showing off their beauty. However, regardless of race, gender, age and profession, everyone has their own taste, preference, and things they like, and nails offer are great space to show. We invite you to submit your proposals to the "Curated Nails" project.
In this exhibition, Curated Nail will cooperate with online graffiti platform "Tushou", to present "100,000 Nail Planet People's Drawing Board". Everyone could draw a pattern for nail via website, then upload. In off-line program, Curated Nail will provide print service, to print all the patterns on participants' nails. By the power of theInternet, Curated Nail will go to everyone, and harvest the folk Wisdom.
About the artist
YE Funa (b. 1986), graduated from the Central Academy of Fine Arts, China and Central Saint Martins college of art, UK. YE's practice is mainly concerned with the relationship between the realities of every day life, the perceived connection between authority and many areas of social life such as different power structure, ethnic groups, and the fictional space of propaganda for the concept of 'perfection' in an ideological system, and utopian landscape. Therefore, the work is politically charged, subtly engaged in pastiche as a satirizing style of propaganda. The work of Funa is rich in reference, parody and irony of the uniformity cultures.
YE Funa is currently based in Beijing and teaches in the Central Academy of Fine Arts, China.