CIRCLES VIBRATION — BRACKET BRIDGE: Inga Svala Thorsdottir and Wu Shanzhuan
[Press Release]
Hanart TZ Gallery is proud to present 'Circles Vibration—Bracket Bridge' a new exhibition of collaborative conceptual works and installations by the seminal conceptual artists Inga Svala Thorsdottir and Wu Shanzhuan.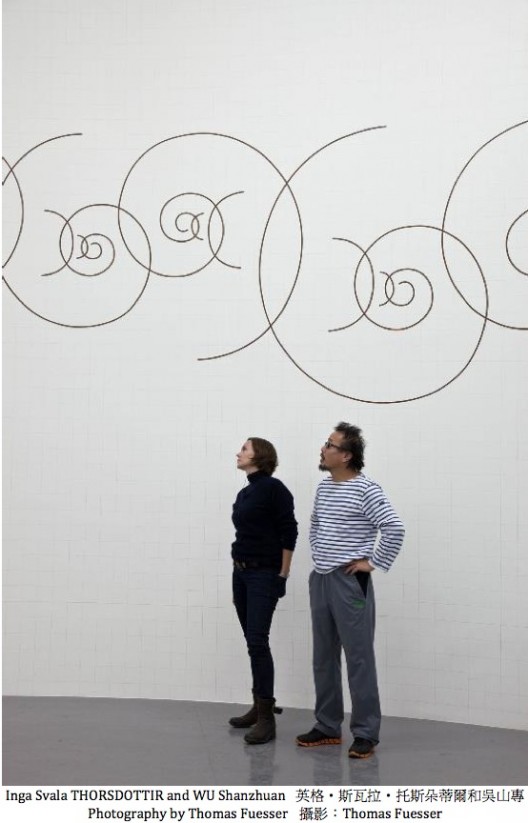 In Circles Vibration—Bracket Bridge, Inga and Wu create a series of intriguing installations whose forms are inspired by a combined sense of mathematical purity and philosophical playfulness that characterizes their creative thinking and methodology. 
Among the signature works in the exhibition is a series of delicate paintings that demonstrate the geometric process by which the artists have discovered intricately structured bridge-like forms within the overlapping images of a vibrating circle. In another series of works, The Bridges Pythagoras, the artists give these almost magical forms a concrete presence by transforming them into tensile steel sculptures. The mixed media series, Little Fat Flesh, features paintings of semi-abstract forms that are a further exploration, or extrapolation, of Thorsdottir and Wu's seminal concept of the 'Perfect Bracket' — a visual and a philosophical construct that questions the way we possess, contain and integrate knowledge. In Little Fat Flesh, paintings of the 'Little Fat Flesh' form are mounted on magnetized steel boards and manipulated like jigsaw pieces into a variety of tessellated structures, echoing the natural process of cellular growth or the synaptic networking of thought patterns.
With this new exhibition, Circles Vibration—Bracket Bridge, Thorsdottir and Wu create a world of physical forms and conceptual constructs which reaches beyond the senses to tickle the deeper levels of the thinking mind; and resonates with the larger questions of contemporary existence.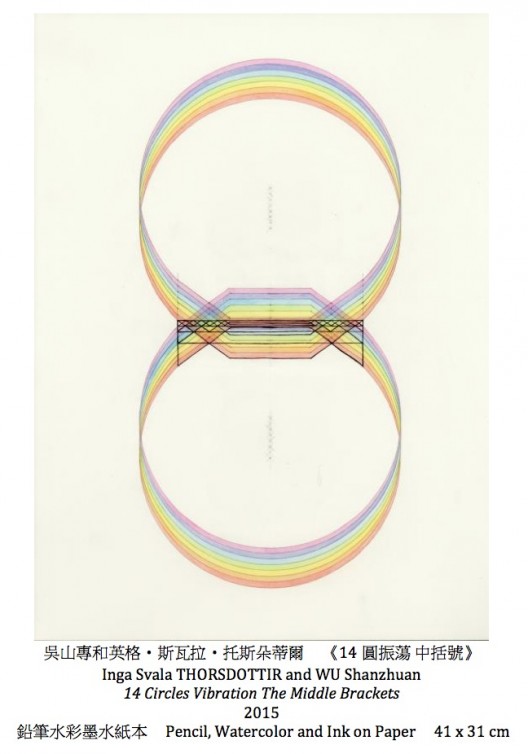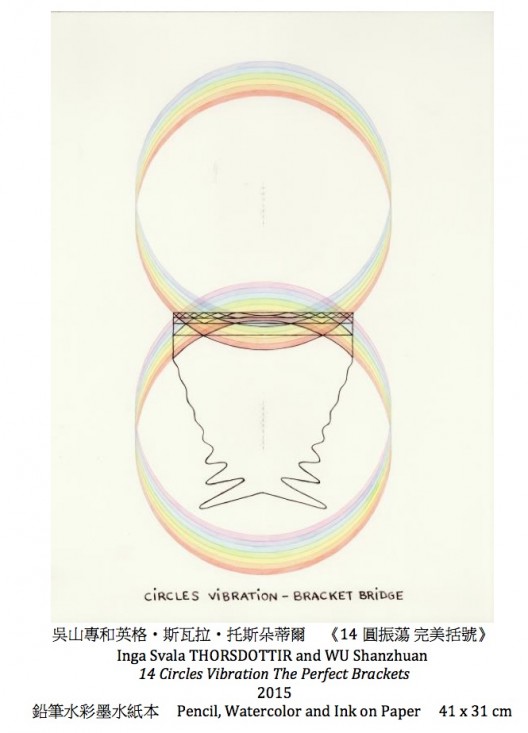 Inga Svala Thorsdottir was born in Iceland in 1966. She graduated in 1991 from the Painting Department of the Icelandic School of Arts and Crafts, and in 1995 from the Hochschule für bildende Künste in Hamburg. In 1993 she founded Thor's Daughter's Pulverization Service, and in 1999 she founded BORG.
Wu Shanzhuan was born in China in 1960. He graduated from the Education Department of the Zhejiang Academy of Fine Arts in 1986 and in 1995 from the Hochschule für bildende Künste in Hamburg. In 1985 he founded Red Humour, and in 1990 he founded Red Humour International.
Since 1991 Thorsdottir and Wu have been working and exhibiting collaboratively. They live and work in Hamburg, Shanghai and Reykjavík.
Inga Svala Thorsdottir and Wu Shanzhuan's recent solo exhibitions include: The Printer, The Paper, The Layer, The Thing's Right(s), The Little Fat Flesh, Singapore Tyler Print Institute, Singapore (2014); Artic Fox Arc – Temperature War – Large Collage, Hanart TZ Gallery, Hong Kong (2013); What A Form –  : A Reportage, OCT Contemporary Art Terminal, Shenzhen (2013) and kuo xuan, Long March Space, Beijing (2011). Their recent group exhibitions include: Tales from The Taiping Era, Red Brick Art Museum, Beijing (2014); Surplus Authors, Witte de With, Rotterdam (2012) and Place ·Time ·Play: Contemporary Art from the West Heavens to the Middle Kingdom, Shanghai (2010).