Conceal • Unveil
[Press Release]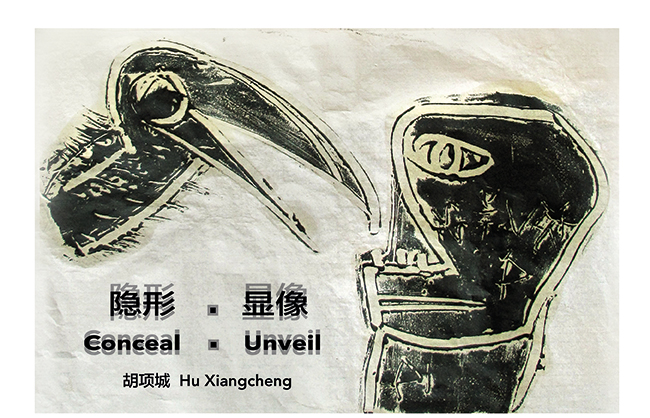 Human beings have always been endeavoring to look for truth. What is truth? What is seen is often discrepant with what it true. Such discrepancy is by no means uncommon. Things are always in a state of flux. Sometimes it's invisible and inorganic. Such is the case both on the material and spiritual levels. It's hard to distinguish truth from illusion and void. Some invisible forces are just beyond man's comprehension.
- Hu Xiangcheng

Conceal • Unveil is the second solo exhibition artist Hu Xiangcheng presents at Shanghai Gallery of Art since the last one three years ago. The title originates from his probe into the truth. He always shows a great interest into the invisible forces hidden behind things. Energy that is at a somewhat critical state is what he wants to represent the most. In his early career, he spent some time working on realism and abstraction. But he soon shifted his attention to the investigation of the origin of plastic arts. By taking the nature as a subject of dialogue, he has long been engaged in the experiments with how art intrudes with the nature. The creation of an "image" of the nature is what he intends to pursue through his practice. "Images" made from simple materials compose a serious of codes that seem like some kind of mysterious patterns from another world and that can hardly be interpreted.
After graduating from Shanghai Theatre Academy, Hu Xiangcheng spent time living in Tibet, Japan and Africa. He now lives and works in Shanghai. His painting and installation works have been exhibited at various international exhibitions, including Shanghai Biennale; International Exhibition of Sculptures and Installations in Venice, Italy; Yokohama Triennial in Japan and São Paulo Architecture Biennale in Brazil. Hu's practice also extends to the preservation of traditional culture and customs. For over a decade, he's been working in suburb districts around Shanghai (i.e. Jinze Town and Zhujiajiao Town), committed to the preservation and re-creation of an ideal land in his mind. Based on extensive social survey, the project consists of a serious of reconstruction/revival cases that are closely related to our social life. Covering a variety of realms including paving featuring old-style commercial bazaar layout, architectural restoration/re-creation, historical arts and crafts, traditional Chinese festivals, space, utensils and rituals, the project endeavors to make the elegance and beauty of Chinese traditional culture and customs approachable to all walks of life. Through his efforts and action, Hu Xiangcheng makes a clear stance that a contemporary artist should not only address social issues but also actively look for solutions through personal engagement.According to his plan, he would like to go back to Africa in 2015 to concentrate fully on his artistic practice. We look forward to seeing what kind of mysterious invisible forces he may find on that vast and glorious land.