DING LI
Robert Song
MadeIn Gallery, Shanghai
[Press Release]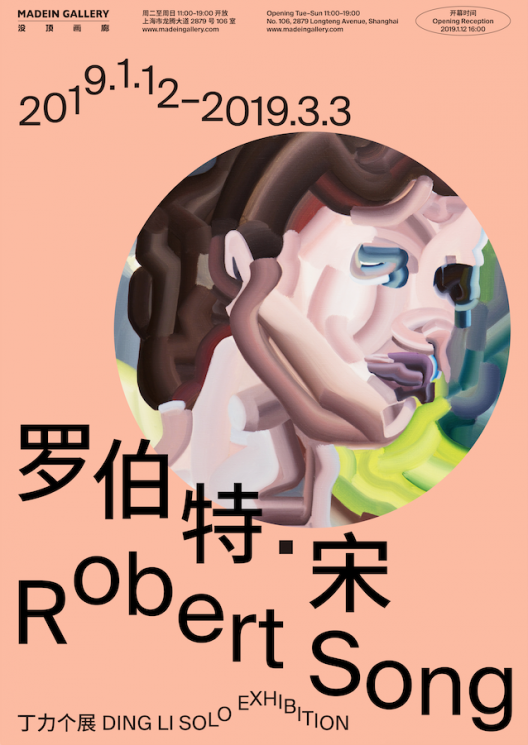 On the 12th of January, 2019, MadeIn Gallery will launch "Robert Song" an exhibition by Ding Li, marking the first solo exhibition of the artist in the gallery. Fusing painting experiments of the past few years – from the exploration of the media and matter, to the gradual clarification of its language – this exhibition will feature a new series of works, mostly portraits, presenting a new visual language created from brushstrokes.
Ding's early painting style reveals his background in photography and plastic arts. After graduating from Paris' École nationale supérieure des Beaux-Arts in 2008, he returned to China where he started teaching and painting. In 2015, in the three artists' show "Not Impulsive Enough Is the Devil", Ding re-assembled for the first time works that were achieved in the past, juxtaposing paintings into single artworks, breaking the original composition and visual balance. In the following year, he expanded his practice to the scope of photography and computer graphics, and realized collages of different media between painting and installation. In 2017, he returned to oil painting, his most familiar creating media. Through a complex layout, the works compose a subtle space with a strong pictorial depth by making use of various kinds of brushstrokes accumulated in numerous layers. The graffiti effect originating from the spray paint reflects the artist's innovating painting language.
Following the evolution of the artist's practice, new painting techniques appeared, progressively coming to the foreground of the picture. Voluminous brushstrokes produce a three-dimensional impression through gradation of colors, they present lines with digital reflects, depicting portraits in pure abstract strokes. These portraits responding to the artist's own aesthetics criteria, sourced from the Internet, are reproduced through data processing and sketching. The abstract lines form a figurative picture filled with inner emotions and energy. In this era of images, Ding extracts the strangeness of people using this method, and creates differences and new visual language from daily images.
Ding Li was born in 1979 in Shanghai, and graduated with a MA from the Oil Painting Department of the Academy of Fine Arts in Paris, France (École Nationale Supérieure des Beaux-arts de Paris). The works of Ding Li are based on repeated experiments with the aim of defining a pure expression of his own in this media. His practice focuses on the exploration of painting developed from materials characteristics and presents a new visual language through the reconstruction of oil paints, spray paints, brushes and frames.
Recent exhibitions include: The First Porsche "Young Chinese Artist of the Year" Nominees' Exhibition, Modern Art Museum, Shanghai, China, 2017; "Serendipitous Mission", MadeIn Gallery, Shanghai, China, 2017; "Form Consumption Over Substance Reflection", MadeIn Gallery, Shanghai, China, 2017; "Information Sculpture Superhighway", MadeIn Gallery, Shanghai, China, 2016; "Inventing Ritual", Bentu, Chinese artists at a time of turbulence and transformation, Fondation Louis Vuitton, Paris, France, 2016; "Not Impulsive Enough Is the Devil", MadeIn Gallery, Shanghai, China, 2015.