DonGallery – SU CHANG: Trails, November 7th 2015, 4-7 pm
[Press Release]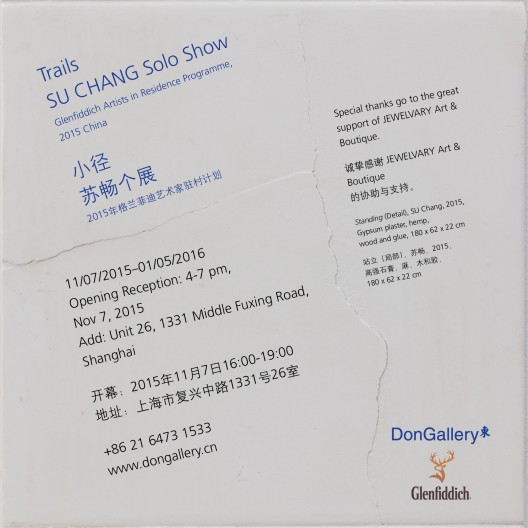 Don Gallery is happy to announce Trails, opening on November 7, 2015, a solo exhibition by Su Chang showing new works of sculpture. Su Chang was one of the recipients of only eight artists around the world of this year's Glenfiddich Artists in Residence Prize. Together with seven other artists he spent three months this summer living and working at the distillery in Dufftown, Scotland, encouraged to find inspiration from the pastoral setting in the Scottish Highlands and to share in a dialogue with other international artists. Works on display in this first exhibition after his residency are a mix of works produced back in his Shanghai studio and from the stay within the artist's community.
Engaged in the exploration of urban textures, Su Chang's works are in close relation to the thinking modes of urban life, concealed by the sense of a habitual logic. "Although this exhibition is about the city, even more it is about people, our moods and related motions, " he points out, which forms the context and much of the motivating force behind the works in this exhibition. Using controllable means and familiar materials, the objects are from iron, mud and plaster, textures he has been refining over the years; and asphalt, a new added material in his process-based practice. The artist's recent experience of dislocation, sensitized to a new place, climate and a different daily rhythm, further adds form and reference to the objectified landscape of moods and motions.
Su Chang was born in Songjiang, Shanghai in 1985, where he lives and works. In 2007 he graduated from the Department of Oil Painting, Academy of Fine Arts at Shanghai Normal University. Over the past years he held the dual solo shows "Habits", Don Gallery, Shanghai (2014), "Youth" Don Gallery (2012) and "In-Sight", Vanguard Gallery, Shanghai (2012); participated in important group exhibitions such as "The Second CAFAM Biennale", CAFA Art Museum, Beijing (2015), "Existence–+Follow", Museum of Contemporary Art, Shanghai (2013) and "Reversed Images: Representations of Shanghai and Its Contemporary Material Culture", Museum of Contemporary Photography, Chicago, (2009). He was selected for the 2015 Glenfiddich Artists in Residence Programme.
Part of Su Chang's works produced during the Glenfiddich Artists in Residence Programme in Trails will be exhibited at JEWELVARY Art & Boutique from November 6 –9, 2015. Special thanks go to the great support of JEWELVARY Art & Boutique. Address: No. 842 Hengshan Road, Xuhui district, Shanghai.