Doublethink: Kata Legrady and Wang Luyan
[Press Release]
[Press Release]
Please join us: Kata Legrady and Wang Luyan: Doublethink
Exhibit at Hong Kong Arts Centre and Pekin Fine Arts (Hong Kong)
Exhibition Dates:   24 Oct – 10 Nov, 2013
Opening Reception:   24 Oct, 2013, 5 – 8 pm
Venue: Pao Galleries, 2 Harbour Road, Wanchai, Hong Kong
Curator: David Spalding
Exhibition Dates: 26 Oct 2013- 19 Jan, 2014
Opening Reception: 26 Oct, 2013, 2 – 6 pm
Venue: Pekin Fine Arts(Hong Kong):Union Industrial Building, 48 Wong Chuk Hang Road, 16 /F, Aberdeen, Hong Kong
Tel: (8610) 5127 3220
Exhibition Overview
Bringing together a selection of new and recent works by artists Kata Legrady, born in Barcs, Hungary, and Wang Luyan, born in Beijing, Doublethink presents a dialogue between two artists who are fascinated by the paradoxes that underlie our commonly held beliefs and desires. Taking its title from George Orwell's classic dystopian novel Nineteen Eighty-Four (1949), "doublethink" describes a mental maneuver in which the brutal contradictions of everyday life are neutralized through a process of self-deception and willed forgetting. The term also suggests two distinct artistic practices unified by their ability to make viewers think again about our unexamined assumptions. Doublethink marks the first time that Legrady and Wang have shown their work in Hong Kong.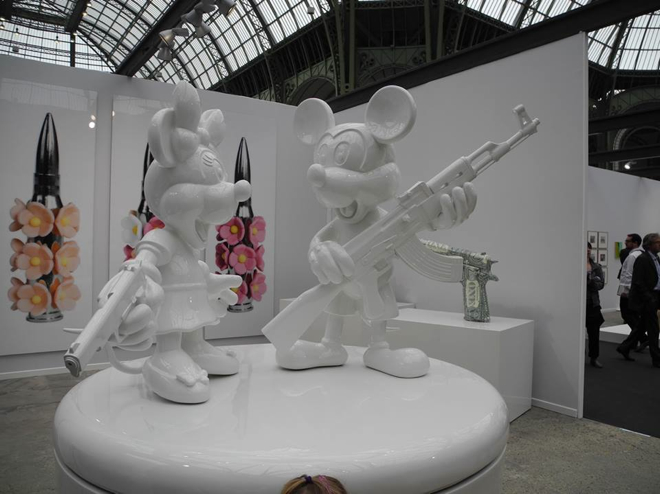 Kata Legrady and Wang Luyan have more in common than one might initially assume. Both artists came of age immersed in the powerful propaganda of Hungary's Communism and China's Cultural Revolution, respectively. As a result, Legrady and Wang both share an aptitude for manipulating iconic forms and an abiding distrust for overreaching ideologies. Like all children educated under the Soviet model, the artists wore the red neckerchiefs of the Young Pioneers—a mandatory, Communist-themed youth club that, for Legrady, also meant firearms training and marksmanship competitions. Throughout their educations, both Legrady and Wang were encouraged to focus their talents on "objective" pursuits, excelling in mathematics and geometry, skills that are today reflected in the careful drafting of their works on paper. Rather than studying the visual arts, both engaged in additional training marked by discipline and exactitude: Legrady as an operatic soprano and Wang as a mechanical engineer. Today, both artists share a common set of references that, once unquestionable, crumbled with the "fall" of the Soviet Bloc in 1989 and wholesale transformation of Mainland China. The ideologically charged countries of their youth now exist only in memory.
With her fur-covered grenades, large-scale photographs of flower-encrusted bullets and candy-coated landmines, Kata Legrady links terms usually considered antagonistic: beauty and violence, childhood games and warfare, conspicuous consumption and mass destruction are just three of the uneasily aligned dyads that emerge through her striking juxtapositions. Handguns are hollowed out and covered in a rainbow of colorful treats (Candies and Guns, 2008–ongoing) or carefully wrapped in U.S. one dollar bills, suggesting that capital can also be wielded with blunt force. While Legrady unites contradictory elements in her troubling, appealing creations, Wang Luyan's work draws from the visual language of engineering to reveal the paradoxes we live by. In Wang's paintings and sculptures, war never brings the promised stability, while religion begets bloodshed rather than peace. A caged bird (in the painting W Birdcage, 2008) is trapped by an elaborate system of pulleys, assuring that any attempt to free it is immediately neutralized by countervailing forces. In Wang's work, there are no victors: every action simultaneously triggers its opposite.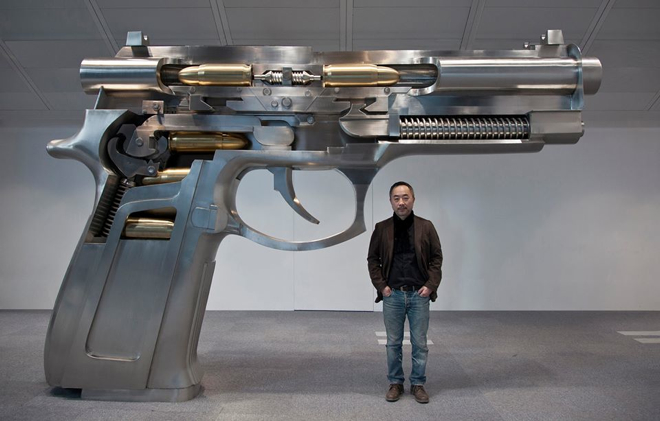 Legrady pairs the allure of luxury with the tragedy of mass casualties, perversely coating what appear to be bombs in pink paint inspired by a designer lipstick shade (Chanel 217, 2011) and a high-gloss gray usually reserved for Ferraris (Little Boy, 2009) — the title of the latter and the shape of both works directly reference another "Little Boy," the eponymous nuclear bomb American forces dropped on Hiroshima. Reminiscent of Picabia's machinist works, Wang's paintings of wristwatches—also a sign of status—depict the interlocking gears of geopolitical maneuvers, reflecting the inseparability of national forces caught in the checkmate of reciprocal aggression.
Rendered on canvas with remarkable precision, works such as Wang's Cold War Watch lay bare the mechanics of international
relations—in this case, North and South Korea sit at the center, the axis for a large constellation of countries who must carefully respond to every their every movement. Throughout the exhibition, both artists transform guns and other weapons into artistic materials. This critical engagement with weaponry is not meant to be laudatory. No good can ever come of Wang's oversized W Fire at Both Ends Automatic Handgun (2013); like all of the firearms in Wang's works, it has been redesigned to shoot in both directions when the trigger is pulled, assuring mutual destruction. Legrady's Government with Saddle on Socket (2012) is an enormous handgun outfitted with a custom-made Hermès saddle, as if we might ride our consumer obsessions toward a brutal end. Neither artist condones violence, celebrates guns or seeks to minimize the consequences of living in an increasingly dangerous world. Instead, both Legrady and Wang deploy weapons and a variety of other symbols in order to reveal the doublethink that perpetuates the violence around us.
About the Artists
Kata Legrady (b. Barcs, Hungary; lives and works in Hanover, Budapest and Paris) trained as a lyric opera singer at the Pécs Music Conservatory and studied drama at the Gor Nagy Maria Drama School, participating in various musical and film project.s before launching her career in the visual arts. Since 2010, she had been making and exhibiting her work throughout Europe and beyond.
Legrady has been featured in several group exhibitions, including Le Cabinet de Curiosités de Thomas Erber (Browns, London, 2011 and Andreas Murkudis, Berlin, 2012); Le Luxe, mode d'emploi, (Passage de Retz, Paris, 2012); Hybride 2 (Ancien Hôpital Général, Douai. 2013) and the upcoming Caravana Negra (La Bocca, Buenos Aires, 2013). Recent solo exhibitions include Bombs & Candies and Masks & Guns (Galerie Rabouan Moussion, Paris 2010 and 2011); Kata Legrady (Galerie Pari Nadimi, Toronto, 2011); Kata Legrady (Fondazione Mudima, Milano 2011); Bombs and Candies – dulce et decorum (Denkerei Bazon Brock, Berlin 2012); Bombs