"Graffiti and Calligraphy: 6 Abstract Artists in China"
Arario Gallery
Arario Gallery is pleased to announce the opening of a group exhibition titled Graffiti and Calligraphy: 6 Abstract Artists in China on September 8, 2017. The exhibition presents 6 established Chinese artists,including Yu Youhan, Ma Kelu, Qi Haiping, Tan Ping, Huang Yuanqing and Chen Guangwu. From various generations of 40s, 50s to 60s, each exhibited artist enters into the calligraphic abstraction via their different opinions,approaches and viewpoints. With devoting themselves to shape their own artistic value and refine their artistic language continually, their works simultaneously embody the essence of "Graffiti and Calligraphy", but maverick approach from others.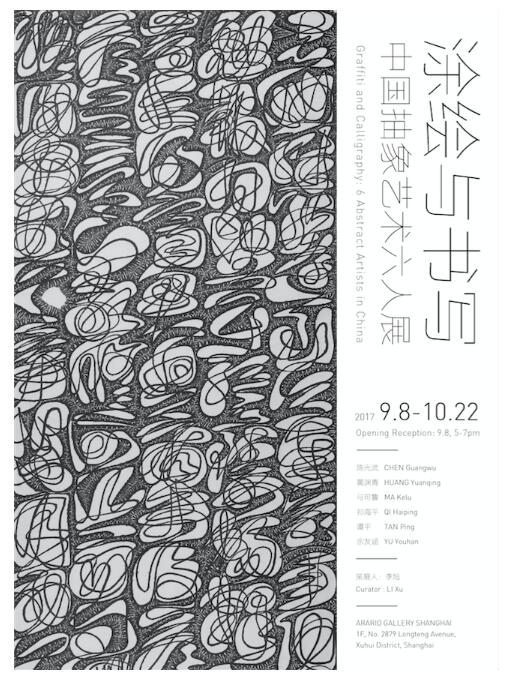 Apart fromshowcasing the aesthetic exploration of exhibited artists, Graffiti and Calligraphy also contains two fundamental motions ofpainting. "Graffiti" generally associates with the spreading out color andspace on surface which is similar to objects shaping for painting; while "Calligraphy"most often be seen as line motion trace of various brushstrokes which isanalogous to handwriting movement of calligraphy. In terms of culturalattribute, "Graffiti" is more close to the Occidental artistic expression, like"doodle", with intuitive and spontaneous; however, "Calligraphy" is approachingto Oriental visual creation, just like "Calligraphy" itself, with inerratic andcontrollable artistic standard. To review the Chinese ancient theory of "paintingand calligraphy homologous", the exhibition intends to equate "Graffiti" and "Calligraphy",meanwhile, continue to discuss the possibility on equifinality for abstract artbetween western and eastern.