Haffendi Anuar – Migratory Objects
Richard Koh Fine Art
[Press Release]
Richard Koh Fine Art (RKFA) is pleased to announce a solo exhibition by Haffendi Anuar at Richard Koh Fine Art, 229, Jalan Maarof, Bukit Bandaraya, Bangsar 59100, Kuala Lumpur scheduled to run from 21 September to 7 October 2017. Migratory Objects is Haffendi's fourth solo exhibition with the gallery and will present 28 works on painted panels as an extension from the artist's recent solo feature in VOLTA New York earlier this year. The Opening Reception will take place on Thursday, 21 September 2017, from 5 – 8pm.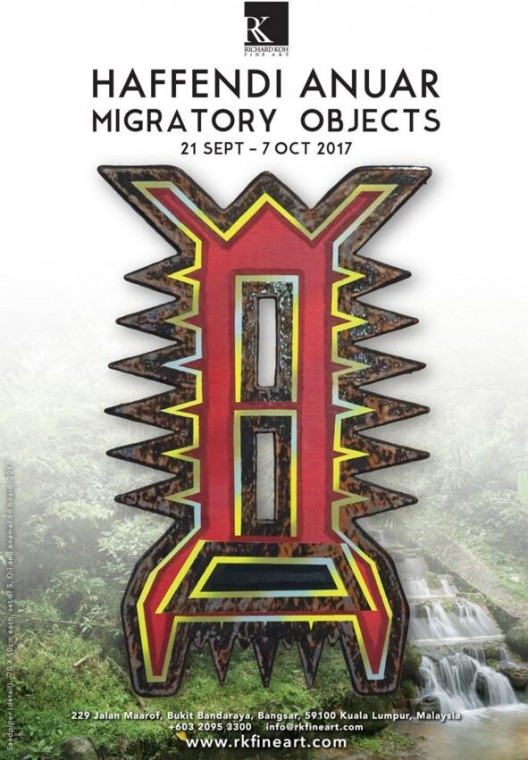 Haffendi continues to expand on his New York feature of the same title through clusters of anthropomorphic panel pieces evocative of masks. Displayed as free standing sculptures and wall-mounted pieces, the works come together collectively as an immersive installation in Migratory Objects. A novice mask collector himself, Haffendi first encountered tribal masks through his travels. Having further invested in this interest, the plethora of ceremonial and tribal masks made available internationally through the internet reminded him of the movements and dissemination of seeds, scattered across the globe by the migration of birds.
Haffendi puts emphasis on the translation of cultural artifacts into currency through the use of a wallpaper of lush green landscape captured in Lake Gardens, Kuala Lumpur. This is reminiscent of the artist's encounter with an eco-tourism campaign of his homeland Malaysia in Central London during his student days. The seemingly familiar visual of lush forestry set against a foreign and displaced environment sparked in him to survey the idea of the "tourist gaze", a by-product of commercial tourism posters disseminated for promotion of a country, and how this is being consumed. The panel pieces are the artist's idea of pixelated Dayak and Iban masks as a result of a fictitious movement, the upload and download of these images through online trade portals.
The series is accompanied by irregular silhouettes of wooden sculptures made up of conjoined souvenir ready-mades, with their surfaces painted over and sanded down. Migration Objects is an object-based presentation that surveys the symbolic mutations of cultural objects, authenticity of tourist souvenirs and the cultural debris as a result of displacement, movement and digitalization for economic interests.
Haffendi Anuar (b. 1985, Malaysia) is an artist based in Kuala Lumpur. He produces sculptures, paintings, installations and drawings. He initially studied at Rhode Island School of Design in Providence and completed his BA Honors at Central Saint Martins College of Art and Design in London. Haffendi's multidisciplinary practice mines history of art, digital technology, nature and local contexts to create object-based works that recycle found images, objects and artistic styles from digital and physical sources.
Haffendi is the joint winner for the first outdoor sculpture commission which will be unveiled on 26 September 2017 for the Battersea power station development in partnership with the Cass Sculpture Foundation. His recent institutional exhibitions include Personal Structures (2017) by the European Cultural Centre, Palazzo Bembo, Venice, The Unreal Deal, Six Decades of Malaysian Abstract Art (2017), Bank Negara Malaysia Museum and Art Gallery, Kuala Lumpur, Malaysia.