Haffendi Anuar
Midday Stanza
Richard Koh Fine Art
[Press Release]
Richard Koh Fine Art (RKFA – SG) is pleased to announce Haffendi Anuar first solo exhibition in Singapore, Midday Stanza, scheduled to run from 23 Jan – 16 Feb 2019 at Richard Koh Fine Art (Singapore) Blk 47 Malan Road, 01-26 Gillman Barracks, Singapore 109444. The artist will be showing an installation, consisting a diverse language of objects and materials, from wall sculptures to floor pieces that resemble architectural fragments. This show is an extension of Anuar's 3-month residency programme at Acme Studios, London, in 2018. The residency is a programme under Khazanah Residency programme (KAAR), and initiative by Khazanah Nasional Berhad.
In Anuar's latest body of work, the artist creates a surrogate landscape within the gallery space. A landscape that is in a way a reflection of the artist's capital city, Kuala Lumpur, with its distinctive urban fabric, vernacular architecture and seductive "glossy image". In this exhibition, Anuar looks at the city in a different perspective, viewing at how the structures and monuments around the city centre suggest a sense of position and prestige through verticality and materiality, as well as reflecting on the political paradigm shift of late.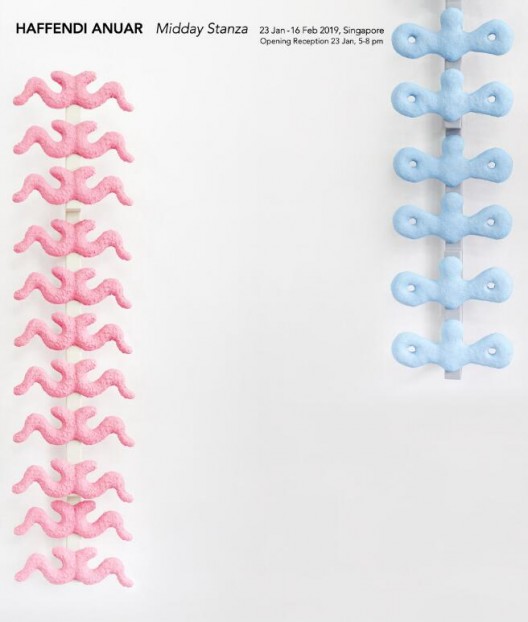 Midday Stanza acts as a metaphorical cityscape which is a composite of bits and pieces of the city, from its shimmering exteriors to interiors. Its aesthetics could be reinterpreted into a sculptural language of power and seduction. Anuar invites the audience to explore and read the work experientially, by navigating his or her body in the gallery space in relation to the objects, similar to a tourist discovering a novel setting. Within this exploration, the audience is confronted with an image and a tactile quality simultaneously, and the combination of both creates unique ways of reading. In addition, traditional support structures such as frames and pedestals are activated as dynamic components of the installation and artworks, with the pedestals' designs based on the floorplans of luxury apartments found in upscale districts and the frames mimicking architectural profiles.
Anuar's practice is renowned for its fluidity as it is constantly responding to the times and context of locality. As Malaysia experiences sweeping changes – politically and socially – Anuar reacts to the new value system and freedom of expression that has arisen. The artist states, "What I hope is that this work would represent this moment of uncertainty and hope in Malaysia and with Kuala Lumpur being the centre of the country, it is in a way, serves as her 'heart', and in this shifting times, the heart should be the most sensitive to changing sentiments."