Han Feng: Somewhere, ShanghART Gallery (Beijing)
[Press Release]
ShanghART Beijing is pleased to present artist Han Feng's Solo Exhibition – "Somewhere" on March 17th, 2017. As Han Feng's first solo exhibition in Beijing, this exhibition features Han Feng's latest painting works and installation works, including those installation works that were planned to carry out during the residency program in the Centre for Chinese Contemporary Art, Manchester, England.
The installation works, by stretching and transforming the daily view, the running clock and the up-going stairs, under a new context, liberate viewers from their regular state, adjusting the viewpoint subtly and drawing people into multiple metaphors – it is now and then; it is finite and infinite.
And these multiple metaphors have left their trace in many of his works. He depicts this three-dimensional reality with those planar traces typically belonged to those two-dimensional works. In those previous paintings, highway, tunnel and corridor, these were imagery pointing to many possible metaphors. In this exhibition, those irregular frames rekindle our attention on the effect of viewpoint on the definition of the concept. Moving in front of the painting awakens us to the limitation and the uncertainty produced by that definite concept.
The "ATM", "Stadium", "Gold Mine" and "Vortex" of "Somewhere" series found an order of tiering and enlarging, discovered a field of attraction and self-cycling. Then, we see the progressive power concealed in the structure — see the eternal order behind the chaotic surface of the world.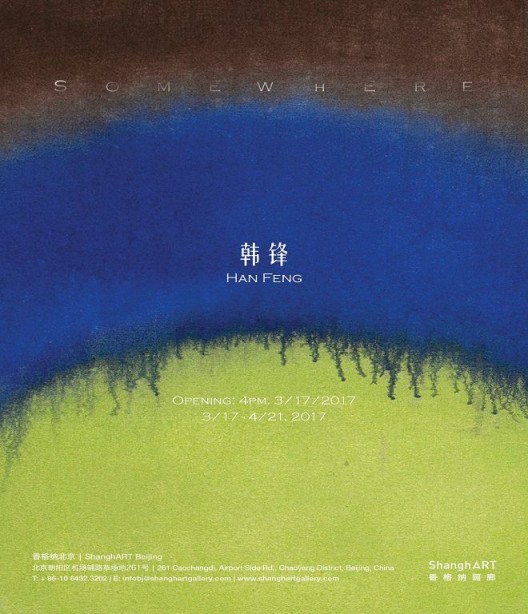 Han Feng was born in Harbin in 1972, graduated from Shanghai University of Art, MA. Now lives and works in Shanghai. His recent exhibitions include: "China 8″, Contemporary Art from China at the Rhine and Ruhr, Lehmbruck Museum, Duisburg, Germany (2015); "Han Feng", ShanghART(M50), Shanghai (2014); Aichi Triennale 2013, "Awakening-Where are we standing? Earth, Memory, and Resurrection", Aichi, Japan (2013); "Paper", Saatchi Gallery, London, UK (2013); "Han Feng Solo Show", Centre for Chinese Contemporary Art, Manchester, U.K.(2012), etc.