Huang Yan
The Shan-shui Worldview
LEO Gallery Shanghai
[Press Release]
"In the history of the 20th century, "nostalgia" has become a common treasure of mankind that transcends the ideological conflicts of the East and the West. The civilization of Shan-shui, which literally means mountains and waters in Chinese, is the nostalgia itself. It not only refers to the civilizations originated from the mountains and waters in China, but also refers to those around the Alps in Europe, the Mount Kilimanjaro in Africa, the Grand Canyon in North America, the Andes in South America, and the numerous rivers and lakes around the world. The spirit of Shan-shui and 'literati art' of China, have already become a universal worldview of art, which has been in causal relationships with the romanticist, impressionist, post-impressionist, new-impressionist, brutalist, cubist, dadaist, surrealist, abstract expressionist, pop art, earth art and conceptual art movements across the 19th and 20th century." —Huang Yan
Leo Gallery Shanghai is honoured to present the comprehensive solo exhibition of Huang Yan this September – "The Shan-shui Worldview", in line with the other solo exhibition of Huang Yan's photography "Tattoo Utopia" in Leo Gallery Hong Kong. It is Leo Gallery's third cooperation with artist Huang Yan, offering a retrospective view of the artistic context and diverse perspectives of Huang Yan's creative career.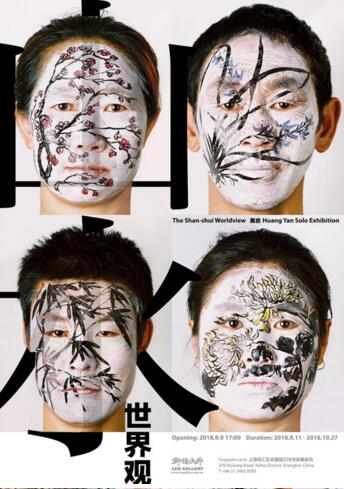 Beginning in the Tang Dynasty (618-907 AD) and flourishing in the Song (960-1279 AD) and Yuan (1271-1368 AD) Dynasties, from its very beginning, Chinese literati paintings have been bringing forward new and unconstrained waves of thoughts that have profound influences on the history of Chinese painting. Chinese artists of the current generation often come up with questions such as, how to deal with the intertwined relationship between Chinese and Western cultures, while finding oneself in an era of rapid social, art and information development? How to transform the tradition to the contemporary, and how to respond to the current society?…These are the fundamental issues that artists need to handle.
Huang Yan was born in 1966, in a Chinese city of rich Shan-shui landscape – Jilin. Rooted in traditional Chinese literati paintings, he puts writing brushes, ink sticks, paper and ink-stones, the carriers of traditional Chinese painting, into a contemporary transformation. With the appropriations of multi-media such as classic Shan-shui patterns on human bodies, photographs and canvases Shan-shui landscapes are shown. In addition literati figures, flower & bird paintings are his treatment of human civilizations in the East and the West and a model of reshaping the spiritual homeland of mankind in the 21st century. Not only by continuing traditional Chinese painting spirit, but also exploring the evolution of Chinese literati painting styles, his artistic approach is based on his strong recognition of his own cultural identity. In this way, Huang Yan's works redefine traditional literati art in a contemporary context.
It can be said that Huang Yan's nostalgia is a kind of sentiment related to Chinese spirit, life and origins of art. However, the artist has already transcended any regional restrictions, and has awakened a cultural nostalgia that is shared in a globalized world. As in Huang Yan's statement, the Shan-shui spirit and literati art originated from China have been in causal relationships with various schools of art in the West, and thus have become a universal worldview of art.
This cultural nostalgia carries not only a yearning for the world long past, but also a desire for the spiritual homeland, as well as the future world. A process of continuous pursuit and remodelling is the everlasting spiritual and cultural journey itself, which points to the ultimate destination of mankind.