Infrastructural Territory—
The Spatial Foundation of National Discourse
OCAT Shanghai
[Press Release]
Infrastructural Territory: The Spatial Foundation of National Discourse, an architectural group exhibition will be presented from June 30 to September 9 at OCT Art Terminal Shanghai. Co-curated by young critic and architect Tan Zheng and researcher Wang Yijia at the THUPDi, the exhibition invites more than twenty young architects, urban planners, artists and their teams, who have been actively engaged in this field in recent years. The exhibition is presented through installations, photographs, models, videos and other mediums in exploring the symbiosis between infrastructure and landscape, as well as their shared practices and cross-disciplinary overlaps among the sub-branches of architecture, urban planning and landscape design on the subject on "infrastructure".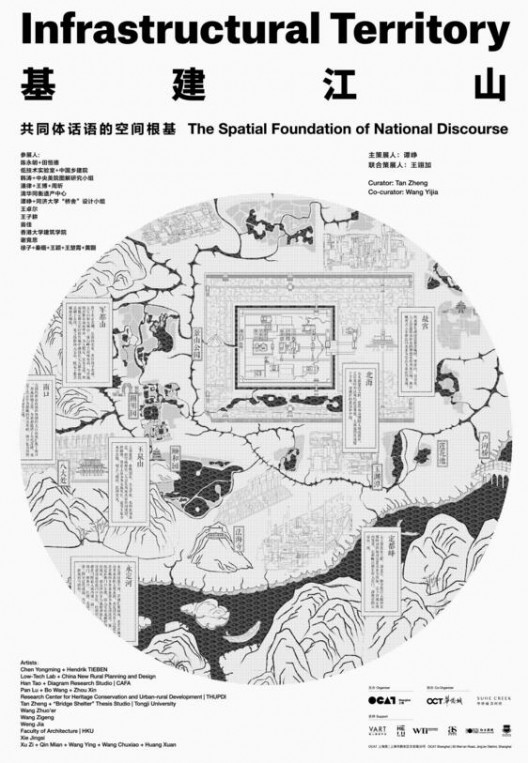 People's understanding of "infrastructure" is often tied to their experiences with the evolution of time. With the advent of the modernization process, infrastructure gradually departed from its initial function of providing exclusive services, and shifted towards a trans-disciplinary and cross-boundary mechanism of integration. Through multi-dimensional integration with the landscape, a new type of artificial typology is formed, that determines the comfort level, circulation and accessibility of public space. Urban planner Richard Weller once stated, "The landscape itself is a vehicle, by which all ecological evolutions take place. It is the future of infrastructure." Indeed, our conception of landscape should not be limited to the uncultivated "natural environment" – as the integrated landscape infrastructure is becoming a critical component of human territories in modern societies – here, humanity is reinventing landscape, typography and built environment with an intimate and mutually beneficial approach.
David Harvey, a scholar of cultural geography pointed out, "New possibilities introduced by future urbanism are not necessarily inspired by an understanding of forms, but rather from their "processes", in other words, how do things operate in time and space." Thus, the significances in examining the exhibition, "Infrastructural Territory: The Spatial Foundation of National Discourse" are, to conceive the practitioner's ways of approaching symbiotic issues of "infrastructure" and "landscape", and to reflect on the processes of transformation and formation of landscape, topology and built environment through "infrastructure" from global development and anthropological perspectives.
(Tan Zheng, the head curator of this exhibition, was first involved in the spatial reproduction and research of infrastructure about a decade ago. In recent years, he has adopted illustrations and allegories to search for the production potentials in infrastructure. He organized the international symposium "Infrastructure Architecture" in 2015, and thereon became founding editor for the special issue "Infrastructure Architecture" in the periodical "Time + Architecture", many participants of this exhibition are contributors to this magazine.)
OCAT Shanghai