"Inside China Group Exhibition" to Open this Autumn
[Press Release]
K11 Art Foundation and PALAIS DE TOKYO to jointly present first co-curated exhibition in Paris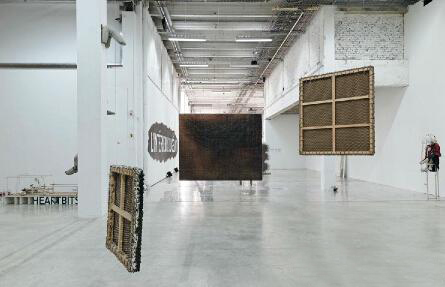 (Paris/Hong Kong, 27 June 2014) – K11 Art Foundation (KAF) and PALAIS DE TOKYO will present their first co-curated exhibition "Inside China Group Exhibition" in Paris this autumn, in a collaboration that will showcase art works by Chinese contemporary artists in dialogue with fellow French contemporary artists and boost cross-cultural exchanges between the two, and advance Chinese contemporary art on the international stage and to a broader audience.
The exhibition, due to open during FIAC in October 2014 and curated by Jo-ey Tang and Wang Chunchen of the Central Academy of Fine Arts Museum in Beijing, will feature five artists from China and three from France: Li Gang, Edwin Lo, Wu Hao, Yu Ji, Zhao Yao, Nadar, Renaud Jerez, and Aude Pariset. The exhibition will later travel to China, where it will be showcased to the Greater China public after it closes in Paris in January 2015.
"Inside China" will be the first of a series of co-curated exhibition tours under a three-year strategic cooperation agreement between KAF and PALAIS DE TOKYO that covers extensive and comprehensive collaboration between the two major institutions in Chinese and French contemporary art to expand and strengthen the international platform and nurture creative talents.
Adrian Cheng, Founder and Chairman of KAF commented: "This first-of-a-kind exhibition is, in effect, a venture into unchartered waters and an adventurous attempt to open dimensions of artistic and cross-cultural dialogues and debates for Chinese contemporary artists with fellow creative like-minded players on the world stage. We are very excited to be building this platform, which we hope will nurture more creative talents from Greater China to be seen, heard and appreciated, and in turn inspire us to think, live and contribute to our society better."
In a prelude to the "Inside China" exhibition, one of the participating Chinese artists Zhao Yao will create a window display at the high-end Parisian department store Galleries Lafayette from 7th to 30th July. The Vitrines sur l'art will be supported by KAF within the partnership framework with PALAIS DE TOKYO, and the Fondation Pierre Bergé-Yves Saint Laurent.
The "Inside China" exhibition is organised as a major highlight of the official programme of the 50th anniversary of Franco-Sino diplomatic relations, following the "Metamorphosis of the Virtual 5 + 5" exhibition due to open next Friday in Shanghai, and the "Master of Impressionism – Claude Monet" exhibition that recently closed with resounding success.
Inside China Group Exhibition
Date:   20 October 2014 – 11 January 2015
Venue:   PALAIS DE TOKYO, Paris