K11 ART FOUNDATION PROUDLY LAUNCHES NEW SOLO EXHIBITION OF CELEBRATED HONG KONG ARTIST ADRIAN WONG
[Press Release]
Hong Kong – 7 Feb 2017 – The K11 Art Foundation (KAF) proudly presents a major new exhibition of Hong Kong-based artist Adrian Wong. The exhibition, titled The Tiger Returns to the Mountain, is a large-scale, multi-sensory site-specific installation that references the cultural history of Hong Kong, offering a critical deconstruction of the city as a former colony and its self-anointed position as a global cultural capital. Timed to coincide with Art Basel in Hong Kong, the show is curated by David Chan Ho Yeung and will run from 20 March – 29 April 2017 at chi art space Central.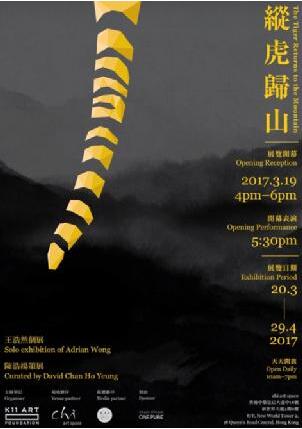 The encompassing installation takes as its starting point, a ferocious cement tiger, once situated at the centre of Tiger Balm Garden – a historic complex built by the inventor of the famous Tiger Balm ointment. Perched high on a rock above its ever-changing surroundings, the tiger was one of the few constants in the garden's history as it evolved from private residence, to Hong Kong's first amusement park, to psychedelic statuary, to what remains today: little more than a sprinkling of brightly colored fragments stubbornly clinging to the cliffside.
Inspired by the history of the tiger, the compositional elements in the exhibition are displayed in an arrangement reminiscent of a traditional Chinese garden, designed to be viewed from a set vantage point. Viewers are, however, invited to explore the installation on their own terms, journeying through time and space in an immersive experience. The result is a multi-layered work that encourages a diversity of readings. From one vantage, it presents itself as a study of Chinese landscape and ink painting; from another, artificial rock formations and arrangements of bamboo give way to a barrage of light and sound.
The tiger is at once a nostalgic memento of days gone by, a Taoist signifier of spiritual power, an immanent threat, and a somber reminder of failed cultural preservation efforts in a metropolis that thrives on the exchange of fortune and power. A Chinese proverb warns that "a tiger released to the wild guarantees future calamity". Through this exhibition, the once fearsome beast is given voice, and its ghost given new life. The multi-sensory juxtaposition of animation, sound and flashing light, contextualised within an artificial Chinese garden, functions as a critique of Hong Kong's search for a post-colonial identity. Investigating the city's psychological ambivalence towards heritage preservation as derived from Western conceptions of 'the Orient', this relational dynamic encourages the audience to contemplate the past when imagining a shared future.
Adrian Cheng, Founder and Honorary Chairman of the K11 Art Foundation says, "We are thrilled to present such an inspired exhibition of celebrated artist Adrian Wong at KAF, especially pertinent within such a critical juncture in Hong Kong's history. The site-specific commission sees Wong pushing boundaries in creative experimentation, presenting new medium, new discourse and new subject matter. We are equally proud to invite curator David Chan Ho Yeung to collaborate with Wong, stimulating cross-cultural dialogue and engagement, fundamental to KAF's vision. The project is testament to KAF's mission of incubating emerging artists and curators across Greater China, facilitating the production of creative works and fostering meaningful knowledge that enrich the contemporary art landscape."