LI Shurui
"LSR Deep White"
WHITE SPACE BEIJING
We are delighted to announce the opening of Li Shurui's third solo exhibition at WHITE SPACE BEIJING on September 2nd, 2017. Presented is the artist's practise from the last three years.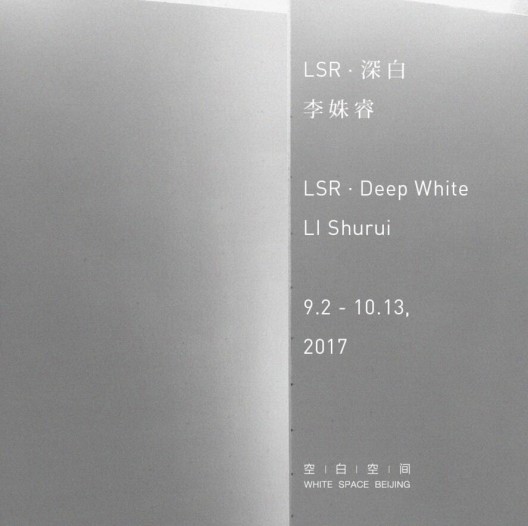 The dynamics and movement of light and color have always been at the core of Li's artistic exploration. The exhibition includes her latest project Deep White, a new series of Wave painting-installations, as well as a new development of the Mindfile Storage Unit series of painting-installations. In recent years, Li has further developed her methodology; her configuring of color systems and layering of multiple trajectories of color now have the distinctive effect of creating chord sequences. On the other hand, Wave and Mindfile Storage Unit are the result of the artist's continued interest in the formal aspect of religious architecture. With waves and spheric forms, Li depicts the amorphousness of consciousness to bring about resonance in and immerse the viewer.
Li Shurui (b. 1981, Chongqing) received her BFA at Sichuan Fine Arts Ins titute (SFAI) in 2004. Li was granted 2016 New York Fellowship Program of Asian Cultural Council (ACC). Recent exhibitions include Constellation, Georgian National Museum Dimitri Shevardnadze National Gallery, Tbilisi, Georgia (2017); No Man's Land: Women Artists from the Rubell Family Collection, National Museum of Women in the Arts, Washington D.C., USA (2016); Turning Point: Contemporary Art in China Since 2000, Minsheng Art Museum, Shanghai, China (2016); No Longer / Not Yet, Minsheng Art Museum, Shanghai, China (2015); Jing Shen: The Act of Painting in Contemporary China, Padiglione d'Arte Contemporanea (PAC), Milan, Italy (2015); 28 Chinese, Asian Art Museum, San Francisco, USA (2015); About Painting, OCT Contemporary Art Terminal (OCAT), Xi'An, China (2014). Li Shurui currently lives and works in Beijing.