CHU HING WAH
Living in Compassion
Hanart TZ Gallery
Hanart TZ Gallery is pleased to present Living in Compassion: The Art of Chu Hing Wah, a major retrospective exhibition by the celebrated Hong Kong painter Chu Hing Wah, including a selection of more than 60 masterpieces from the early 1960s to 2017. The featured works, largely in ink and wash created in Chu's distinctive palette, witness the transition of his painterly mood from darker depictions of confined and solitary souls, to the radiant warmth of community found amidst everyday neighbourhood life. His decades of painting reflect the delicacy and sensitivity of the artist's eye in his observations of the lives around him, and his paintings flash with moments of radiance and illumination through the layers of his ink work.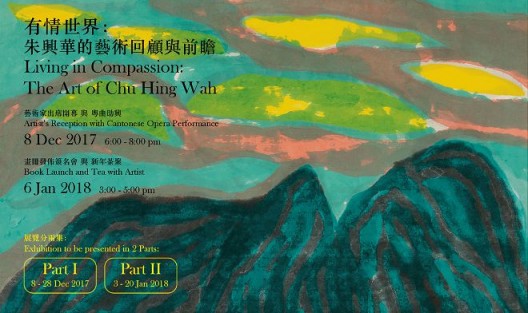 The exhibition will be presented in 2 Parts:
Part One
8 – 28 December 2017
Part Two
3 – 20 January 2018
Special events:
8 December 2017 (Friday)
Artist's Reception with Cantonese Opera Performance: 6 – 8pm.
6 January 2018 (Saturday)
Book Launch and Tea with Artist: 3 – 5pm.
Venue: Hanart TZ Gallery, 401 Pedder Building, 12 Pedder Street, Central, Hong Kong
Artist Biography
Born in Guangdong Province in 1935, Chu Hing Wah moved to Hong Kong with his family in 1950. Although deeply interested in painting in his youth, Chu Hing Wah chose to train as a psychiatric nurse, pursuing his degree at Maudsley Hospital in London from 1960 to 1965. From this time on, his professional career and his art-making developed side by side. After his return to Hong Kong he worked in the field of psychiatric care for over 22 years, at the Castle Peak Psychiatric Hospital and Siu Lam Hospital for the Mentally Retarded, respectively.
During his years of study abroad, Chu frequently visited art galleries and museums, an experience that inspired his life-long interest in art. In 1972, he completed the certificate course in Art and Design from the Extra-Mural Studies of University of Hong Kong. With his main interest in painting, he became an active participant in various art groups and held many exhibitions throughout Hong Kong. He was also selected a number of times over the years for inclusion in the 'Contemporary Hong Kong Art Biennial Exhibition' presented by the Urban Council and 'The Visual Arts Society Annual Exhibition'.
In 1992, Chu Hang Wah retired from the nursing profession and has been working as a full-time professional artist ever since. Recent exhibitions include Reunion (Rotunda, Exchange Square, 2017); Art Interaction Hong Kong, Taiwan: Artmatch 22nd Annual Exhibition (Jockey Club Creative Arts Centre, 2017); Ink Asia: Chu Hing Wah Charity Exhibition (Hong Kong Convention and Exhibition Centre, 2015); Three Elders: Gaylord Chan, Chu Hing Wah and Luis Chan (Hanart TZ Gallery, 2014); 'West Kowloon Bamboo Theatre (Opening Exhibition)' (West Kowloon Cultural District, 2011) and Hong Kong, Hong Kong: Works by Chu Hing Wah (The University Museum and Art Gallery of the University of Hong Kong, 2011).
Hing Wah uses Chinese pigments and ink applied with the technique of layering and diffusion to express his care for human feelings and the affairs of human life. Chu's style and technique have the innocent quality of the primitive painter, but at its core, his art is infused with a sophisticated understanding. The emotional tenor of his works is free of any sense of crass urbanity even as his imagery is drawn from scenes of urban Hong Kong life. Through his extraordinary colours, and clean and simple compositions, he pieces together his memories of old Hong Kong. With his keen sensitivity to the fragility of the human psyche, Chu understands that for ordinary people in the city, life's true pleasure is still found in the bonds of community and family. These are the strengths that enable us to withstand the corrosive quality of this commercialised age. They are the starting points from which we form a bond with our world. His depiction of traditional festivals and fragmented episodes in life also convey a strong sense of affection and contentment.