MA HAIJIAO
Tabula Rasa Gallery, Beijing
[Press Release]
Tabula Rasa Gallery is pleased to present the solo exhibition of Ma Haijiao: Happy Valley on March 24th, 2018. This is Ma Haijiao's first solo exhibition in China. It will showcase his works in the past five years, and will include his long-term video project "Landscape Project". The exhibition will continue until April 29th, 2018.
Ma Haijiao (b.1990) is an artist who writes poem with images, he observes surroundings, and is highly sensitive to poetic images and words. Ma is emotionally perceptive to what he sees. The long term project "Landscape Project" is the best representation of his ability to turn moving images to poem. The project started in 2014, it is based on the images he shot while traveling, then he filmed the dramatical clips at studio and juxtaposed the impromptu footages of landscapes with the restaged clips in the final works.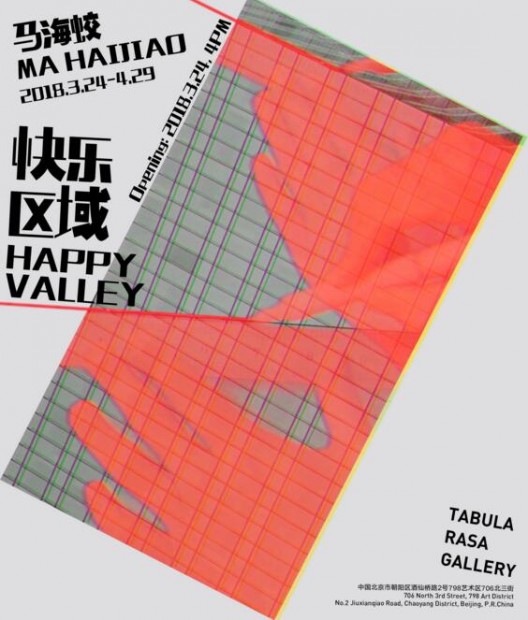 Happy Valley (2018) is the third work from the "Landscape Project", it will has its debut showcase in the exhibition. The work was based on the clips taken by the artist in Hong Kong in 2015. As a typical modern city, Hong Kong is filled with high-density population and buildings; the flow of people, their faces and identifies, as well as the reflections of urban landscapes with the glass walls of surrounding buildings, all had become the "scenic objects" in the artist's eyes. Through his personal experience, the artist attempted to address the existence of people in a modern city in the ways of "documentary interview" and "video collage".
The second piece of "Landscape Project" which named A Dream tells a Lie, a Lie tells a Dream will also be showcased also. Based on the footages of landscapes he filmed in Norway in 2014, the artist narrated the imagery of "landscapes in memory", "lie and truth", "dream and reality" by spatially overlaying. The landscapes out of the windows, just like many long film scenes, playing quietly. A man starting to relive his life in the interior space, the space-time interstice of his movement became a reason to fabricate a lie. The companying lines were taken from the Japanese novel Norwegian Forest.
The piece Hope, Hope, I am Almost Frozen, which was finished in Norway in 2014, will also be included in the exhibition. The artist took out the repetitive words from three poems named Hope, Hope, I am Almost Frozen, and replaced them by blank spaces. The poems are deconstructed, but formulated into images. In the work, the actors performed in sequence, showing their own personal imaginations about the extracted words, such as, "If you were a feather, how would you grow? If you were a gale, how would you exist?". In this context, the video is replenished with the blank of the poems.