MadeIn Gallery presents – Spring Outing in Xiaogang by Zhou Zixi
[Press Release]
MadeIn Gallery is proud to present Spring Outing in Xiaogang a solo exhibition by Zhou Zixi opening on September 6th, 2015.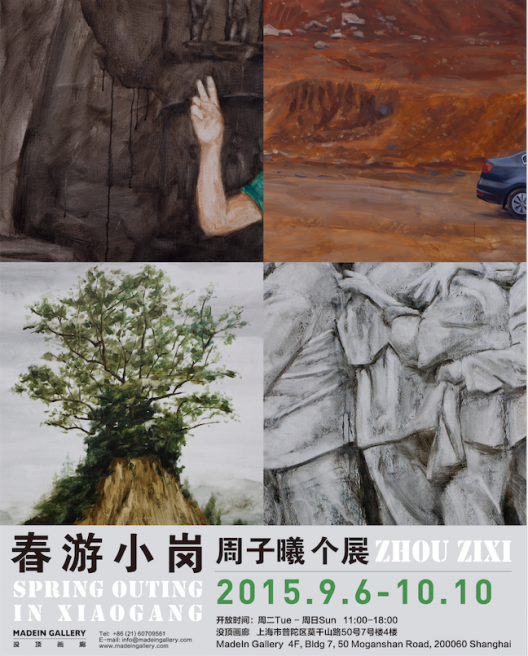 During the 80's, Zhou Zixi (born in 1970 in Jiangxi, living and working in Shanghai) first studied literature before shifting to oil painting. Zhou Zixi's works cover a vast array of topics and subjects: from his paintings realized at the end of the 90's such as Net View, Legend-The Tower with Its Top in the Heavens to his series Happy Life in 2005.
In his exhibition China 1946-1949 held in 2008, the artist presented a selection of works developed around metaphorical symbols on history. The absurd overlapping between reality and history in The Days of Liberated Area or Street Battle in the City and the revisited "communism" visual language in his "photographic" series – paintings inspired from old pictures – all present this "dark, ugly" yet "grandiose and dramatic" aesthetics characteristic to his paintings.
The artist neither considers that the relation between history and reality is a causal one, nor does he believes that it constitutes a connection of fragments. For him, they exist in parallel within a certain context. Zhou Zixi's sensitivity for "illusionary moments" results from a reflection on survival. In Spring Outing to Xiaogang, the artist depicts caves landscapes in Xiaogang. Past and present blend into uncertain boundaries, between fiction and reality, eroding into the desolate relief of the caves.
Zhou Zixi exhibition presented in MadeIn Gallery attempts to explore the representation of political landscape in art. These fictionalized political sceneries will further draw viewers' attention on the past.
About Xiaogang mountain:
Xiaogang is located in the center of a province in China, this quiet area dominated by the skies, mountains and dense forests, is barely accessible. A river flowing along the mountains is commonly called "clear water river" or "limpid river"
The river, in its remote and isolated environment, was fallen into oblivion. At the end of the 80's, local farmers accidently penetrated the site and discovered numbers of cave sculptures and reliefs, bringing them into light. Years after years, various governmental administrative departments decided to protect and open the caves to the public, current leaders in particular gave special consideration to the site and largely promoted it.
Since, the number of visitors to Xiaogang caves has regularly increased, it progressively became an important touristic destination. It isn't clear when the caves were built exactly. In good weather, the grottoes spreading on a few kilometers from South to North, reflected on the surface of the river smooth as a mirror, create a spectacular scenery. The alcoves in intense density contain more than a thousand unique sculptures, reliefs and frescoes of Buddhist characters in various postures and attitudes. The richness of the art constitutes a remarkable treasure inescapable in the history of Chinese civilization.
About the artist:
Zhou Zixi born in 1970 in Jiangxi, lives and works in Shanghai. Solo exhibitions include: One Afternoon…Zhou Zixi Solo Exhibition (ShanghArt Gallery, Sinapore, 2014), Late Spring and Early Summer (ShanghArt Gallery, Beijing, China, 2011), China 1946-1949 (ShanghArt Gallery H Space, Shanghai, China, 2008), Interiors (BuroFriedrich, Berlin, Germany, 2006), Under the Blue Sky (Grace Li Gallery, Zurich, Switzerland, 2006), Happy Life (BizArt Art Center, Shanghai, China, 2005). His works were also presented in: The First Kyiv International Biennial of Contemporary Art (Arsenale, Kyiv, Ukraine, 2012), China Power Station: Part IV (Pinacoteca Agnelli, Torino, Italy, 2010), China Power Station: Part II (Astrup Fearnley Museum of Modern Art, Oslo, Norway, 2007), Under the Skin (Universal Studios, Beijing, China, 2006).
About MadeIn Gallery:
Established in 2009, MadeIn Company, is a contemporary art creation company, focused on the production of creativity and devoted to the research of contemporary culture's infinite possibilities. In 2014, MadeIn Company founded MadeIn Gallery, a gallery dedicated to the promotion of talented international artists, holding high quality art events and exhibitions, with an accent on contemporary culture development and communication.