MILL6:
'LINE OF TIMES'
[Press Release]
A line is used to measure and describe the length of time. Artists may draw lines to represent the quality of time; changes resulting from various human acts from past to present. 'Line of Times' is an ambitious exhibition that attempts to spin distinct practices – from Aziz + Cucher, Yin-Ju Chen, and Morgan Wong – into thread.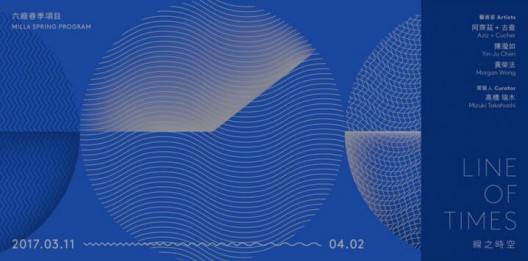 Referring to news photographs and taking the form of traditional art, Aziz + Cucher depict portraits of collective and probable historical events. Yin-Ju Chen sees human acts from a cosmic viewpoint, while Morgan Wong contemplates the time allocated for his own life through his everyday practice.
Their macro/micro perspectives interweave different layers of time, past, present and future, and travel between real and metaphysical worlds.
Woven up in cotton lines of thread, Aziz + Cucher craft landscapes hovering between the apocalypse and paradise. Inspired by Renaissance tapestries, Aziz + Cucher have executed a series of works entitled Tapestry Cycle. Each pixel of a digital image is manipulated by the artists, transforming into a tapestry pattern. Applying the digital image to the advanced jacquard weaving technique, Aziz + Cucher's tapestries render tactile an otherwise intangible vision of the future.
For Yin-Ju Chen, a line is an essential element when drawing the movements of planets. Through line, Chen sees the correlation between historical incidents and the laws of the universe. Her drawings of planets explore human actions as they relate to the law of the universe. In her immersive installation Extrastellar Evaluations II, for example, Chen's lines form circles and loops; symbols of non-linear time that make us contemplate human fate as led by celestial forces.
Morgan Wong has attempted to represent his personal perception of time through different mediums. He carefully observes the stream of present time and captures it through performance, sculpture and video. His work Time Needle Series is subtle and fragile, but tightly sews individual ontology onto an irresistible current of time to form a quiet history.