MR.
"Tokyo, The City I know, at Dusk: it's like a Hollow in my Heart"
Galerie Perrotin
Seoul
[Press Release]
Galerie Perrotin, Seoul is pleased to announce "Tokyo, the City I know, at Dusk: It's Like a Hollow in My Heart", the gallery's fifth exhibition with Japanese Neo-Pop artist Mr. For the exhibition, the entire gallery space will be transformed into an immersive environment, with the artist's new works interspersed throughout to activate the space. Following his recent artistic collaboration with Gucci at Gucci Ginza, Tokyo, Mr.'s first solo show in Seoul will provide an invaluable opportunity for the Korean audience to immerse themselves into the artist's kaleidoscopic and multiplex universe.
Mr.'s installations are essentially an embodiment of his artistic realm, offering a peek into the artist's secretive and imaginative mind influenced by Robert Rauschenberg's assemblages and the Italian Arte Povera movement. Against the backdrop of Tokyo at dusk, large cutouts of young girls' heads are sprawled across the disheveled and deteriorated room as if a tsunami had swept through. The installation's visual rhetoric is underpinned by the context of post-war Japan which has experienced a slew of disasters, starting with the big loss in WWII leading up to the tsunami and earthquake that devastated the country in 2011. A previous iteration titled "Give Me Your Wings: Think Different" was the core piece of the artist's first major U.S. exhibition, "Live On: Mr.'s Japanese Neo-Pop", at the Seattle Art Museum in 2014-2015. Under the guise of a seemingly peaceful and organized country lies a sense of anxiety and chaos that are embedded in the psyche of the Japanese citizenry. A disorder and entropy that ensue in the exhibition space can be seen as a mirror of this troubled condition.
Standing in contrast to this turbulent environment is a life-size statue of a young girl whose school uniform epitomizes her inherent purity and naiveté. Embodying the essence of moe—an intense attraction towards idealized characters appearing in anime and manga—the statue characterizes the artist's self-professed otaku identity. Flanked on either side of the statue is a series of paintings depicting bright, energetic girls whose heads seem to be floating around in an abstract, graffiti-like space. By treating the background in such manner, Mr. pays homage to his early days when the artist would portray manga characters on top of a takeout menu or used receipts. Reflecting the economic boom and the rapid rise of consumerism of that time, these nascent works mark the artist's inevitable foray into Pop Art and elevating the status of manga and anime to that of highbrow art as means to comment on contemporary Japanese society.
The birth of Mr.'s cute manga-style characters are also rooted in the psychological trauma inflicted from modern-day adversity, whether natural disaster, war or social anxiety, in addition to his obsession with the otaku culture. Following the WWII that left Japan in a state of uncertainty, anime and otaku culture proliferated. They are characterized by innocent, untainted young girls and boys as main characters who go on an adventure and successfully achieve their mission in the end. Their imperviousness to real world problems, embodiment of brighter future and intrinsic youth and power have appealed to people who "require a narrative in one form or another — whether it be religion or sci-fi — in order to cope with living on in the face of such a massive loss and sense of helplessness," according to the artist. In this context, Mr.'s doe-eyed young girls emerge as harboring a complex psyche, possessing layers of depth and interpretation that need to be sought out beyond their fragile and vulnerable appearance. A clash between a juvenile subject matter and the gravity of the message hidden beneath the installation transpires into a visually vivid and enticing scene for the viewers to consume and ponder.
Born in 1969 in Cupa, Mr. graduated from the Department of Fine Arts, Sokei Art School in Tokyo in 1996. He was one of Takashi Murakami's protégés and a founding member of Kaikai Kiki. Associated with the Superflat movement, Mr. has been praised for elevating low art that is manga and anime into a high form of expression, transforming a uniquely Japanese aesthetic into a global lexicon. Mr.'s work has been the subject of a major solo and group exhibitions, including among others "Animamix Biennale 2015-2016", Daegu Art Museum, South Korea; "Live On: Mr.'s Japanese Neo-Pop", Seattle Art Museum (2014); "Sweet!", Galerie Perrotin, Hong Kong (2013); Kyoto-Tokyo: "From Samurais to Mangas", Grimaldi Forum, Monaco (2010); "Animate", Fukuoka Asian Art Museum, Japan (2009); "KRAZY! The Delirious World of Anime + Comics + Video Games + Art", Vancouver Art Gallery (2008); "RED HOT: Asian Art Today from the Chaney Family Collection", Museum of Fine Arts Houston (2007); "Chiho Aoshima, Mr., Aya Takano", Musée d'Art Contemporain, Lyon, France (2006); and "Little Boy: The Arts of Japan's Exploding Subculture", Japan Society, New York (2005). His work is included in the permanent collections of major museums, such as the Philadelphia Museum of Art and Seattle Art Museum.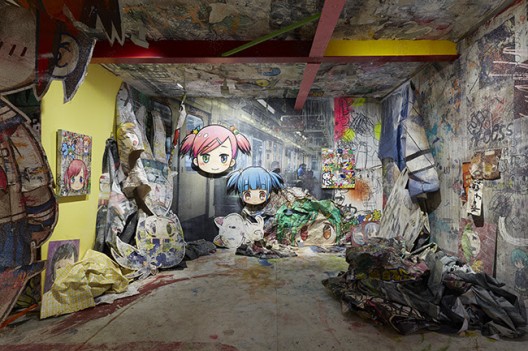 View of the exhibition
Photo: Keith Park
© 2016 Mr./Kaikai Kiki Co., Ltd. All Rights Reserved. Courtesy Galerie Perrotin